After enduring the stress of wedding planning, a honeymoon offers the right opportunity to destress and enter your new marriage fresh and light (without any stress baggages).  We heard some couples tell us how they started off their marriage (that is, post-wedding day) with arguments and fighting, and so regretted not taking time away for honeymoon.  The fear of many low-budget Nigerian couples is that honeymoons have to be expensive.  That is a myth, not true.  In this post, you will discover how to have an affordable honeymoon vacation that will not make you broke.
Don't even think of skipping your honeymoon, it is not an unnecessary expense and it can be as cheap as you want it – without anyone knowing. A honeymoon is your best excuse to unwind, de-stress and 'recover and refresh', after your wedding. It is also the best time to spend the most 'alone-time' to bond with your brand new husband (or wife). If you decide to stay home right after your wedding day, just be prepared to receive plenty of visitors/ well-wisher every single day, even up to 2 months after your wedding.
That's what the typical Nigerian/ African culture or etiquette demands of neighbors. And, also know that you would have to spend some money to entertain every visiting well-wisher – a bottle of coke or malt with some cake or chin-chin every now and then. Although you'll be pretending to smile at every well-wisher that visits, deep in your heart, you'll be feeling they're disturbing your 'privacy' while also costing you money. Besides, it's too stressful -after the wedding planning and wedding day stress, do you need another dose of stress dealing with visitors?
Use a Honeymoon to Escape Avoidable After-Wedding Expenses
So, you see you can think of your honeymoon as the best way to escape all those foreseen post-wedding 'wahala' – instead of spending the extra money to entertain well-wishers after a wedding, gather that money and take-off somewhere for your honeymoon.
Your honeymoon can be as cheap as you want it or can afford, and it doesn't have to be far away or abroad (even a small hotel near your house is okay). Even if you dream of a honeymoon abroad, such as a dubai honeymoon, there are many ways to save cost – for example, you can stay in a 3-star hotel or even a hostel, which is a lot cheaper. Just so you know, while some couples use in-person travel agents, many Nigerian couples are using travel booking websites to compare prices of say, three-star Dubai hotels and then choose from the cheapest and best reviews. The good thing is that you can even use the internet to see each hotel's reviews (good and bad) from past guests – to help you make a decision because cheap hotels can also have good services and some costly hotels are not that great.
And, a perfect honeymoon doesn't have to be several weeks – you can even take a weekend or a just few days off. It's well worth it.
A Honeymoon Can Be as Cheap as You Want It – IF you Plan It
If you start planning your honeymoon very early, you can spend way less money than you imagine, even in faraway destinations in or outside Nigeria – most airlines offer cheapest flight rates if you book weeks or months ahead. Similarly, most international hotels offer a great deal of discounts if you book weeks or months ahead, and you can find the cheapest flight and hotel deals by checking online.
Click the images below, one after the other, to check out the cheapest flight and hotel cost anywhere in the World (including Nigeria) – play with different far-in-advance dates to see how the prices cheaper when you book far ahead.
Also, click the image below to play with this flight search, price comparison and booking site.
Don't think that a cheap honeymoon means low quality – far from it. If you start planning early and doing your travel bookings (flight and hotel) very far in advance, it is possible to have a dream honeymoon for a fraction of what you would have spent if you book rush-rush.
Cut Down Your Wedding Costs to Save for Honeymoon
If you dream of splurging on your honeymoon but not sure where the money will come from, skip unnecessary wedding expenses and implement smart ways to save some money here and there from your wedding, so that you can put those savings towards a dream honeymoon.
Picture credit: George Okoro, wedding photography
Just so you know: every Saturday, savvy couples are having big weddings and not all of them spent so much to organize it – some smart ones simply knew the right places to cut costs without anyone knowing; reducing wedding costs in a wrong place may cause your big day to look cheap, so be sure to read our articles on how to save costs for wedding – because now you'll need it for your honeymoon.
NaijaGlamWedding Honeymoon Planning Series
This article starts off with our series on honeymoon planning. Be sure to read the follow-up posts that will include a honeymoon checklist that you can follow month by month, the best honeymoon destinations abroad and in Nigeria, how to find cheap international flights for honeymoon or destination wedding, ideas on fun things to do during a honeymoon, real honeymoon stories from Nigerian couples and lots more.
Oh, by the way, if you subscribe to this website by email or follow us on social media, you will be the first to know whenever we publish our next honeymoon planning article and any new article on this blog.
Just Do It! Have a Honeymoon, No Matter Where, No Matter the Budget
Unlike weddings where there's a pressure to have a bigger wedding than your best friend, with honeymoon size doesn't matter – no one will see you and no one will find out if you spent N50,000 or N500k on your honeymoon. You only need to invest in a good digital camera to make sure that your honeymoon pictures look great – and you won't spend on a photographer because you'll snap them yourselves and occasionally beg other people to help (using your camera).
Whether you choose to have a mini-moon or a full-on honeymoon, or whether you decide to take off to an exotic foreign destination or spend your honeymoon in Nigeria, it is all good – just plan to have one, because it will do you and your new marriage a lot of good. Your relationship with your partner will improve and tighten a whole lot – much better than if you skip a honeymoon. Especially as most couples have a few to many quarrels during wedding planning, you should plan to use a honeymoon to start off your marriage.
Honeymoon Divorce-Proofs a Marriage (So Says Research)
Include a honeymoon in your wedding plans and budget – make it a priority. Research even suggests that the honeymoon reduces the chances of divorce by almost 50% – it means that couples who have a honeymoon stay longer in marriage.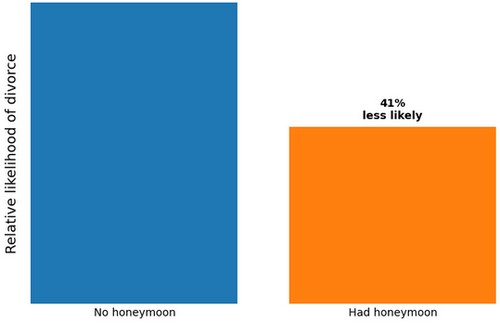 Source: 'What Makes for a Stable Marriage' research
Now you know that there are many reasons why a honeymoon is not an extra, unnecessary expense – the advantages are many, and even if you don't go on a honeymoon, you are likely to spend more by feeding well-wishers after your wedding day. Furthermore, unlike a wedding where you are in the spotlight of your guests 'seeing' how cheap or expensive your event is, no one but you will know if you decide to have a cheap honeymoon.
In conclusion, go plan yourself a honeymoon vacation within your budget by first choosing an affordable destination (in Nigeria in another state or the same state where you live, or abroad).  It will do a lot of good to your new marriage.
And, if you've recently gone on an interesting honeymoon and got great photos, we want to hear about it and publish it on this blog – just reach out to us; we are just an email or a Facebook/ Tweet away.

Now tell me, what is your idea of honeymoons – is it in your wedding plans? If so, tell me your top 3 dream honeymoon travel destinations – leave me a comment down below, to let me hear from you.