So, you've fixed your wedding budget and now wondering how to start spending it without going above the budget? Don't sweat it! Use our online Nigerian wedding budget calculator below to see how much to budget on every single detail such as wedding gown budget, venue budget, photography, etc.
We've already done the math for you. So you don't need to crack your brain or even touch a calculator – our wedding budget calculator tool is all automatic and better than Excel budget calculator templates. All you need to do is type in your budget amount and the suggested wedding expense breakdown will be displayed automatically.  Try it below.
Online Nigerian Wedding Budget Breakdown Calculator (Automatic)
HOW TO USE: Simply type in the amount you plan to spend on your wedding, and you'll immediately see it show you a breakdown of your budget into a spending guide and expense categories. Be sure to leave us a comment after using, at least to say 'thank you'. This is hands-free and therefore better than Excel calculator templates.
NOTE: Wait a little moment for the calculator to load below, if not you won't see it.  **Be sure to let me know how you found our budget calculator, or if you had issues using it.
*Simply click inside the box below and type in your amount (no comma).
Why Should You Breakdown Your Wedding Budget?
Before going to buy groceries or anything, women (men too) write a list of what to buy and allocate amounts beside each item – to ensure that they stick to what they planned to buy and also so that they don't overspend their budget.
It's for the same reason we say you should make a budget breakdown before spending a kobo out of your wedding budget. Hope you understand?
USER GUIDE: What NaijaGlamWedding's Automatic Budget Calculator Looks like (Before & After)
AFTER TYPING IN YOUR BUDGET AMOUNT – This is what you should see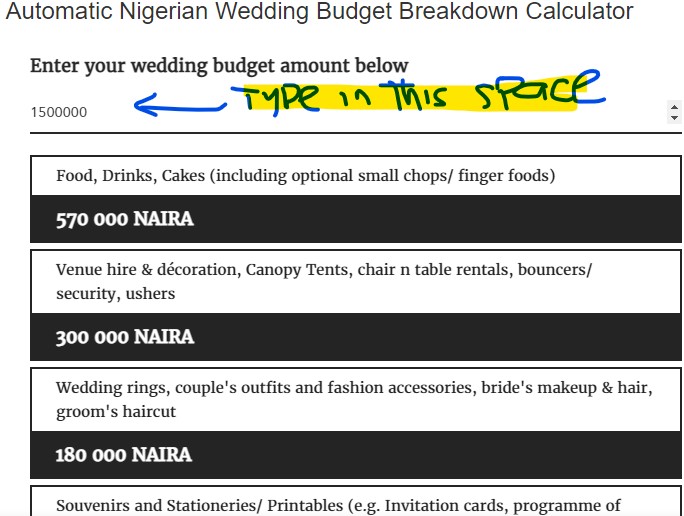 Hope that helps. Just wait for the calculator to load – be patient.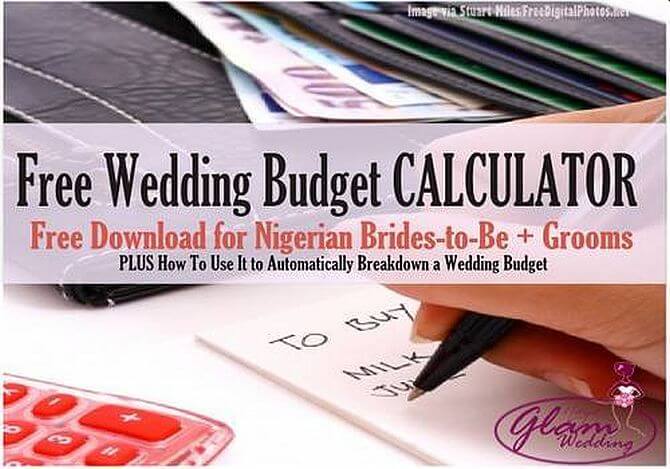 Wedding Expenses List: Things to Buy When Preparing for Nigerian Wedding
Two Alternative Ways to Split Your Wedding Budget into an Expense List
Aside from using our automatic wedding budget calculator, there are three different ways to spread your wedding budget, and they are: by guessing or the manual method.  Here's an explanation of each method, so you can choose your favourite.
1. The Guess-timation method: This is the regular, popular method. This method involves you guessing how much to allocate to different areas of your wedding – catering, wedding attires, decoration and so on;
2. Manual Method: Another method is to do it with a calculator. With this method, you have to allocate a percentage of your overall wedding budget to different expense categories. After that, you proceed to punching your calculator to find out how much that works out for each expense type. You have to repeat this one by one for each expense type.
3. The Automatic Method (Using NaijaGlamWedding Calculator above): Our wedding budget calculator is the easiest method. It does it for you automatically in a blink of an eye. It takes off the stress of punching calculator and saves you time. All you have to do is type in your budget amount, press ENTER, and see your spending/ budget breakdown displayed. No waiting, no maths done on your part, no calculator punched.
Please don't forget to at least leave a 'thank you' in the comment box down below, if you found it helpful.
See Real Wedding Budgets Breakdown: Samples From 6 Weddings in Nigeria
How to do a Wedding Budget Breakdown using the Budget Calculator from NaijaGlamWedding (3 Steps)
Step 1: Set a figure as your overall wedding budget
You're not going to spend your life savings on your wedding, right? So, how much is the limit of the amount you want to spend on your wedding? You may choose to simply set any amount you desire as what you plan to spend on each wedding thing. But if you have no idea what to do here, use our percentage allocation guide below to plan how much you should spend on what.
Step 2: Split Your Overall Budget into a Spending List
Budget breakdown is similar to the list you make before going to the market to buy foodstuff. First, you know how much in total you want to spend, and then you write out a list of what to buy with that cash. Finally, you split that total amount across the list of items you wrote. You get the gist, right? Do that with your wedding budget – split it into a budget or expenses list.
In a previous post on how to create a wedding budget from scratch, I explained how to divide your overall wedding budget into small parts. I also mentioned how our team here uses our wedding budget percentage allocation guide to work out the wedding budget breakdown.
If you hate math, you'll love how easy it is to use our Nigerian wedding budget calculator to automatically suggest wedding budget breakdown – continue reading details in the rest of this post.
Use our Automatic Nigerian Wedding Budget Calculator (above)
Swipe/ scroll up this page to see and use our wedding budget calculator.
Follow these steps to use it:
Type in your wedding budget (amount) into the empty box and press ENTER
You will see the breakdown automagically calculated for you
Copy the breakdown of your budget and use it to plan your wedding costing.
NOTE: Our calculator gives you a starting breakdown or guide. Feel free to change up the allocated breakdown amounts our calculator gives you. It's your wedding and you can allocate any amount you like to any wedding budget list item, there are no hard and fast rules about it.
If you like math and stress, you can do it with MANUALLY with a calculator.
*What is 'Miscellaneous' in Wedding Budget Breakdown? This is an emergency fund. During wedding budget planning, it's a good idea to reserve some cash for miscellaneous expenses. This money will be use to cover any unforeseen or overlooked expenses that may come up later.
That will ensure that you won't have to panic or borrow in case anything arises later, even when you start shopping; of if some things cost more than you thought; or if you decide to spend more on a few tempting areas.
MORE WEDDING COST PLANNING GUIDES:
An Example

: Using Our Calculator to Allocate Your Wedding Budget to Different Expenses
Here's an example of how to use the wedding calculator to know your wedding expenses breakdown:
Say, I have a budget of N900,000 to spend for my wedding.
So, I go to NaijaGlamWedding's wedding budget calculator and type in the wedding budget above (N900,000);
I should see the following suggested breakdown, automatically calculated for me:
N342,000 – Food, drinks & cake
N180,000 – Venue hire & décoration, rentals, security, ushers
N108,000 – Wedding rings, couple's outfits and fashion accessories, bride's makeup & hair, groom's haircut
N45,000 – Stationeries/ Printables + Souvenirs
N180,000 – entertainment & photography services – DJ/ live music band, MC, photographer, video coverage
N45,000 – Miscellaneous
Total Wedding Budget:   N900,000.00
*Disclaimer: The NaijaGlamWedding's Nigerian wedding budget calculator is only a guide to help you create your initial budget breakdown. You don't have to use it – you may choose to divide up your wedding budget as you like.
Also, you'll want to finalize the budget when you find out the actual market prices of wedding things. What we provide is based on our experience and prices of stuff in the Nigerian market, and best for low cost, small weddings. Again, NaijaGlamWedding's budget calculator is provided as a guide for your initial wedding budget breakdown. We hope you like it.
After breaking down your budget into the major expense categories, you should expand your list into a detailed list of things that need to be bought or vendor services that need to be hired under each category.
For example, under couples' wedding attire, you should be listing these: bridal shoes, grooms shoes, wedding rings, wedding dress, aso-oke, gele and so so. So, you should do that for all the budget categories – venue, stationery, reception, entertainment etc.
You can continue making the full wedding budget list or use our ready-made list of typical Nigerian wedding expenses – they're what makes up the bulk of the wedding budget in Nigeria.
How to Stick to Your Wedding Budget (and Avoid Overspending)
Why Another Country's Wedding Budget Calculator Does Not Work for a Wedding in Nigeria
*The above percentage breakdown is strictly based on the Nigerian bridal market and cost of stuff in Naija. This is different for other countries. So, if your wedding will not take place in Naija, be sure to use the wedding budget percentage breakdown for the country of your wedding location, provided by the local wedding planners.
The Nigerian wedding scene is much different from that of the USA and UK, and so the percentage allocation for Nigerian weddings vary quite significantly from theirs. This is because traditionally, their priorities for wedding elements vary from ours.
For example, in most Nigerian weddings, a top priority is on the bride and groom's outfits and in Western countries live flowers and table decorations (fancy linens and more) are on their top priority. Also, for them, the quality (usually expensive) of the wedding ring is a priority.
There are other reasons why the percentages in Nigerian wedding budget breakdown is different from that of other countries, but those are just some. Therefore, if you're planning a wedding that will hold in Nigeria, using other countries' budget percentage allocation will not work.
WEDDING COST SAVING GUIDES
Don't Sweat It, Just Use NaijaGlamWedding's Automatic Free Nigerian Wedding Budget Calculator
If you hate math, our wedding budget calculator will do the calculations and breakdown for you (automatically and auto-magically). All you need to do is follow the steps above to download and use NaijaGlamWedding's wedding budget calculator and allocator. 
Once you download it, the only thing you have to do is type in your overall wedding budget, and your wedding budget breakdown will display for you to copy and use.
If you find our Nigerian wedding budget calculator helpful, please share this post on social media, leave a comment and join our GlamWedding community – that's all we ask for.
There you have it on how to do a wedding budget breakdown. So, go ahead and use our Nigerian wedding budget calculator, and leave me a comment to tell me what you think, or simply to say 'thank you'.