Some say that office romance never lasts but this couple (Goodness and Emeka) prove that your work-mate might just turn out to be your soulmate. This post shares how they met and how he proposed.
What do you do when you've found 'the one' at your office but office policy demands that one of you either quits the job to keep your relationship (and get married) or quit the relationship to keep your job? That was the dilemma that this couple faced. Find out what happened next and how the groom pulled off a surprise marriage proposal, and also see their cute photos. Read on!
How We Met (Bride's Story)
Our paths crossed in March 2018 when we got an opportunity to be in a training school at Deloitte. This was a bit more than the ordinary because we weren't close at that point, even till the end of the training school.
After the training school, both of us started working as colleagues on different projects. When we got to work on an engagement together, it changed everything about us.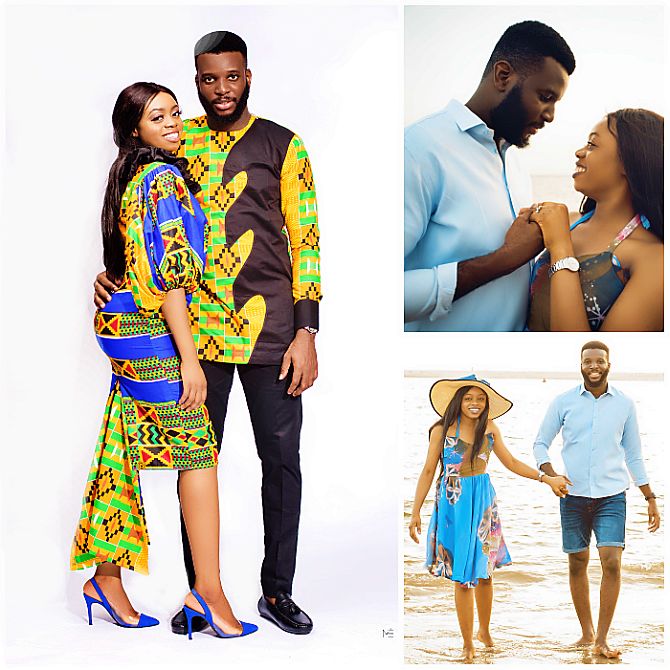 We got to know each other more, became close friends and couldn't do anything without consulting each other. We were practically doing everything together and keeping in touch at every moment.
In April 2019, we decided to take the friendship to another level.
We knew that we were in the same department and could not get married without one of us resigning or moving to another department. Therefore, we put in a lot of effort to ensure that one of us left, but it proved abortive as we didn't make any headway getting another opportunity. This was where we needed God to step in, and He did, right on time.
In April 2020, opportunities came our way, as Emeka got an appointment with another firm. That was the beginning of greater things for us because we now had the privilege to change our lives and made plans to spend our lifetime together.
We started talking to each of our parents, and once they agreed, we took things to the next level.
How He Proposed
On July 5th, 2020, he proposed to me in the presence of our friends. This was one of the best moments of our lives. The marriage proposal made us feel the bond (we shared) so strongly and so we proceeded to bride-price-payment (traditional engagement) in September 2020.
The Setup
Oh yeah!! They actually deceived me. They told me that we had to attend a certain lady's bridal shower within the next month. They said the supposed lady was my friend's friend.
According to my friend, 'this certain bride' returned from abroad (to get married in Nigeria) and didn't have many friends here in Nigeria. So, she asked her friend (who was also my friend) to come with her friends.
At first, I resisted, but Emeka convinced me to go, saying that 'there was nothing there'. He even said he would book an uber ride for us, and also help me choose an outfit when I was ready.
Since I didn't want to go alone to 'the bridal shower', I decided to invite a friend to come with me.
When I invited her, she said she would attend right away, and I should 'dull' if I liked but that she's going to dress fine.
I didn't know that they (all my friends) were involved in planning 'it'. 
She even sent me a picture of the outfit she planned to wear, adding that it's a 'big-girls' bridal shower and so she didn't want to be under-dressed. She said a lot of 'big girls' were going to be in attendance.
That was how they convinced me to dress well and apply makeup for the supposed bridal shower.
So, I wore a crop top with a short skirt, thinking it was a bridal shower – only for me to get there to find out it was my marriage proposal. I was shocked at the number of people I saw there.
The Surprise (VIDEO)
So far, everything has been so good and we look forward to saying "I DO" and staying true to each other for the rest of our lives. -Bride
Update on this Couple (Goodness and Emeka)
Since after Emeka proposed to Goodness, her friends organized a bridal shower for her (see images below) and they have also sealed their union with a customary traditional wedding and also a white wedding. The next post will feature their wedding story and photos.
Conclusion
Like the stories in our true love story series, this couple's relationship journey lets us know that any type of place is a potential location to find love, including your workplace.
If you'd like us to also feature your own true love story on this blog, contact us and send us a story of the way you met and how you went from strangers to lovers. You can reach us contact us by envy of this medium: email us from our Contact Us page, DM us on Instagram or Facebook (@naijaglamwedding).
Thanks for reading this far, and please leave a goodwill message for this couple or just to leave a comment.