Just engaged? Announce it with a fun way – with a ring selfie. Let your ring selfie say everything, and we've got tons of sample engagement ring selfies to inspire you. Steal these fun engagement ring selfie posing styles to announce your engagement on social media. They're so much cuter than just posting in words that you're engaged.
Engagement Ring Selfies are so cool that you don't want to not do it. Now, swipe/ scroll down to see our picks of the best engagement ring selfie photos you should recreate to tell the World that you're engaged!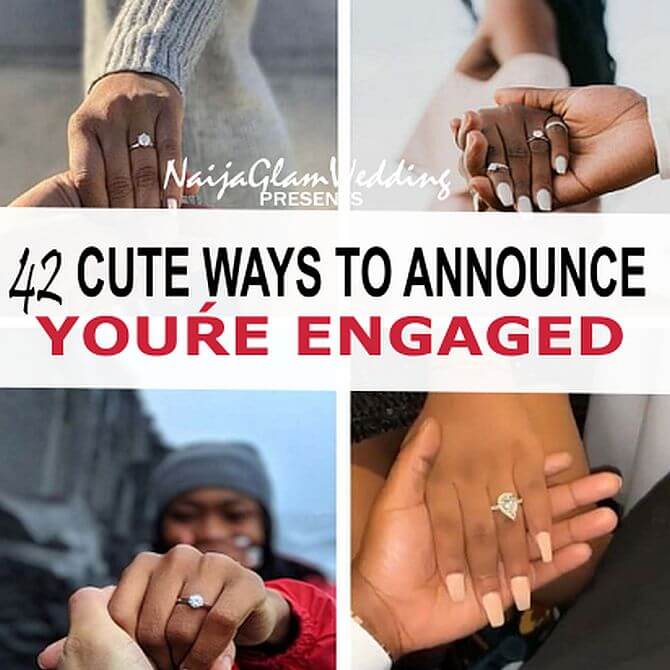 Ring selfies are the modern way to announce that you're engaged and it requires little or no wordings to send the message.  A good engagement ring selfie will show and tell everything. Let us show you sample Instagram-worthy engagement ring photo styles that are in-trend.  If he put a sparkly engagement ring on your finger, show it off in style by recreating any of the featured latest engagement ring shots to subtly tell the World that you're now a future 'Mrs'. See sample ring selfie photos below.
See Cute Engagement Ring Selfie Photos You Need to Snap ASAP to Announce that You're Engaged
We hand-picked some of the best engagement ring selfie images on Instagram to show you how other women are announcing that they are engaged on social media. Here are sample engagement ring selfies to inspire you on how to use photos to announce that you're engaged.  Swipe/ scroll down to check out our curation of 42 Stylishly Subtle Ways to Show Off Your Engagement Ring on Social Media. Enjoy!
1-4: Waving Hand Out of Car/ Balcony/  Room Window Ring Selfie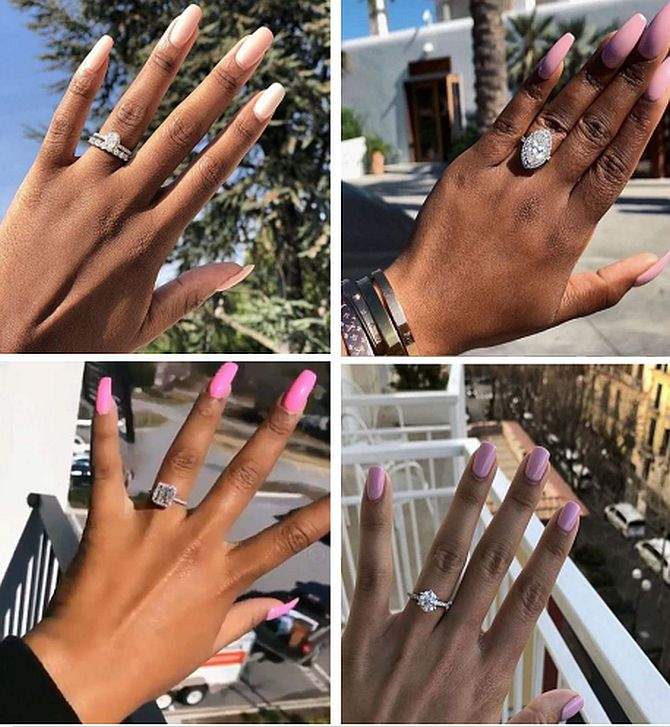 How to Recreate This Ring Shot: Pose your ring in front of a cool view or monumental structure: Put out your hand from a car window or house window, so that the view becomes the backdrop. This style of engagement ring posing is popular with brides who were proposed to at a destination abroad or out-of-town. With this engagement ring picture pose, you'll be showing off your freshly manicured fingernails and also your new bling (ring).
5-7: 'Raise the Glass' Engagement Ring Selfie Pose
Above, this pretty newly engaged beauty raises a wine glass engraved with this funny engagement quote: 'I said 'Yes' and flashing her sparkly engagement ring at the same time.  Another popular one is the 'future Mrs' wine glass.  |  (Above) How about showing off your new engagement ring while sipping coconut water?
8-11: 'Hold My Hand' Engagement Ring Selfie Pose
How to Do Recreate this Ring Selfie:  Have your man hold your ring hand and snap through the ring, shoring both of your hands up close and showing part of your image.
12-15: 'Wave at Your Man' Engagement Ring Photo Style
How to Do Recreate this Ring Selfie:  Wave your ring hand at your fiance and take a closeup photo of your hand, with your man in the backdrop. How cool is that!
16, 17: 'In The Car' Engagement Ring Selfie Pose
Makeup Artist, BookieLavida (top left) used this style of engagement ring selfie to announce that she's been proposed to.
18-21: 'Hide the Kiss and Hands Behind His Neck' Ring Shot Style
Popular Gospel Singer, Mercy Chinwo used the above engagement ring selfie style to announce her engagement.
Rewind! Singer Mercy Chinwo Ties the Knot (See Wedding & Proposal Pictures)
How to Recreate This Ring Photo: Kiss while wrapping your hands around your man's neck and making sure your engagement ring is showing – that's the pose! Have someone take a closeup shot from the back of his head, showing your hands.  That's your ring shot.
22, 23: 'I Woke Up Like This' Engagement Ring Photo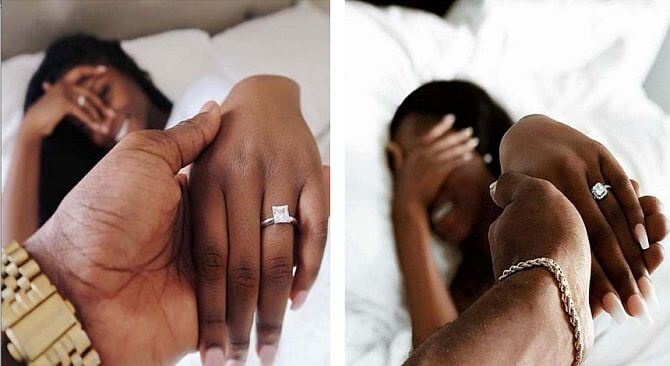 How to Take a Perfect Engagement Ring Selfie for Social Media
24. 'My Spanish Guitar' Engagement Ring Pose with His Hand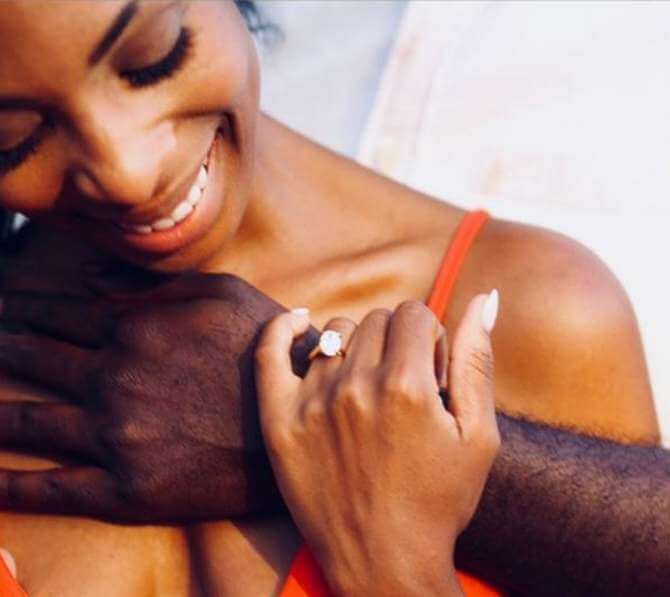 25-28: Hand Over Something (Your Lap, Shoe, a Book, Plants) – Ring Selfie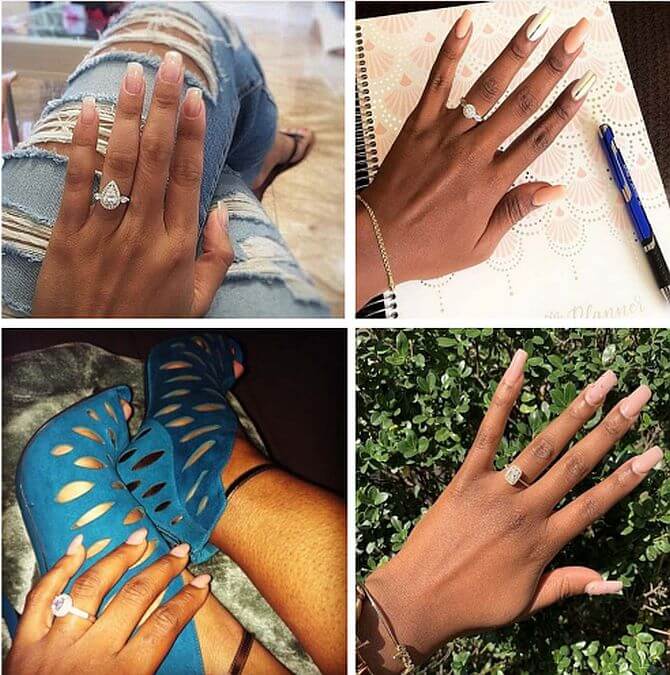 29, 30: 'Long-Sleeve Pulled Over the Hand' Engagement Ring Closeup Photo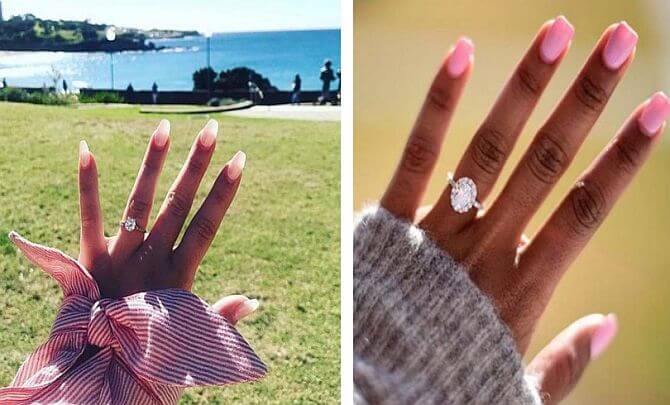 How to Do Recreate this Ring Selfie:  Wear a long sleeve and pull it over your hand to make your hand look more interesting.   If you have visible veins on the back of your hand, this ring selfie pose will hide them and make that hand look more photogenic.  If he proposed during the cold weather months, that's an excuse to put on your oversized sweater, pull down the hand towards your fingers and snap the ring.
31, 32: 'Hand Above Dinner Table Showing a Wine Glass' Ring Shot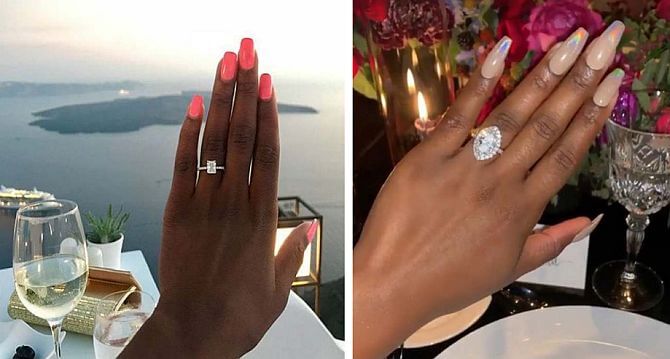 How to Do Recreate this Ring Selfie:  This sing selfie pose requires properly manicured nails. Before or after an eat-out (lunch or dinner) with bae is the perfect time to snap that ring shot. The table with plates and wine glass will form a cute background/ backdrop for your engagement ring photo.
33-35, 36: 'Hand Over Fresh Flowers' Engagement Ring Selfie Pose
Former Big Brother Naija housemate, BamBam, used the above engagement ring selfie style to subtly announce that she's been proposed to by her boo, TeddyA.
How to Do Recreate this Ring Selfie:  If your boo has just sent you flowers, it's an opportunity to take a ring shot.  Place your hand above the bouquet of flowers or red rose petals and snap your hand, making sure that a good portion of the flowers is showing.  Before taking this shot, be sure to get a manicure with a nice nail colour(s).
37, 38: 'Hand in Front of Tall Structure as Backdrop' Ring Snap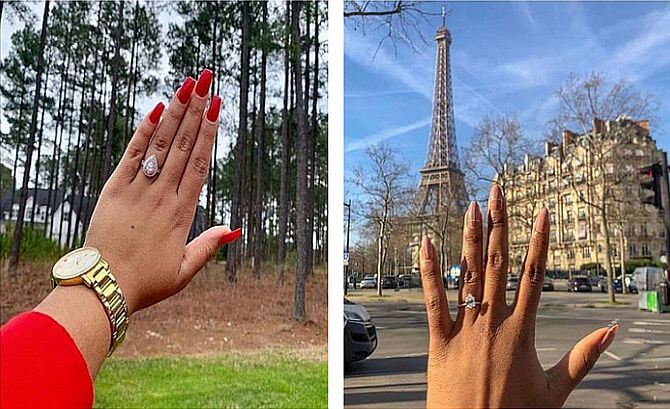 How to Do Recreate this Ring Selfie:  This engagement ring photo can be done from inside a car, in front of a tall structure or tall trees.  The pose: bring out your hand from the car window, and do a wave or gesture of 'stop/ wait'. Ensure that you can see the hand the tall structure (top to bottom) before snapping the picture.  The tall structure will form an interesting background/ backdrop.
39-42: 'Holding a Mug' Engagement Ring Selfie Pose
Top Left:  'does this ring make me look engaged' mug  |  Top right:  'Love is like a hug in a mug' quote on a mug  |  Bottom left:  'I said YES' coffee cup  |  Bottom right:  'future Mrs' mug
How to Recreate This Ring Photo Pose: Take a closeup snap of your hand, pretending you're answering the phone, or pretend you're sipping tea or coffee snap with your ring or holding a mug.
PROS OF THIS RING SELFIE STYLE:  Some women just want to show off only the ring and not the nails.  This engagement ring photo style is one of the best ways to hide the nails and draw all the attention to the ring.  For different reasons, not everyone is comfortable with the picture or look of their hand, and the above engagement ring selfie-style is great at showing off your beautiful engagement ring bling while subtly keeping off your fingernails from view.
If you're not into nail-painting or are desperate to get that ring shot on the same day of your marriage proposal, posing with your hand wrapped around a cup or the mug handle (as if you want to take a sip) is a great way to put all the attention on what really matters (the ring), and the picture looks natural.  Ideas of other things to hold (besides a mug) include a bunch of flowers, a glass. Another way to nicely hide your nails when snapping a ring shot is to fold your hand under your chin, like the image up above in the 'Car Selfie Ring Shot'.
FAQs – Using Engagement Ring Selfie to Announce You've Been Proposed to
Which finger is for an engagement ring?
In Nigeria, traditionally, the engagement rings are worn on the third finger of the left hand, and the wedding band is worn on the fourth finger. Once you're married, your engagement ring should be moved to your fourth finger on the left hand, but stacked with your wedding ring and both worn on the fourth finger on your left hand. The fourth finger of the left hand is also known as the 'wedding ring finger'. FUN FACT: In some countries, the tradition is to wear their wedding rings on the fourth finger of the right hand.
Why You Need to Post an Engagement Ring Selfie
Post-proposal ring photos (posted on social media) are the in-thing.  However, don't be boring trying to tell everyone with a not-obvious photo that tells the story.  Do it with style by recreating or more of these engagement ring selfies and post on your Instagram, WhatsApp DP, Facebook and everywhere on social media.  They're a great, non-verbal and subtle way to announce that you're engaged.  Check out the stunning engagement ring selfie hand-posing styles we curated for you.  I promise you, the pictures will inspire you to do your own.  Oh, if you haven't yet been proposed to and want to hint your man, here are also ideas of the latest bling (ahem! engagement ring designs) that stylish girls are wearing.
In the early days of social media, the 'custom' was for excited newly engaged brides-to-be to announce their engagement by changing their relationship status. Today, the trend has shifted. The latest rave/ in-thing to-do is more stylish and subtle – today's newly engaged ladies post an engagement ring selfie on their social media wall. The interesting thing about this type of selfie is the creativity that goes into making the shot. It's just done in one-off post and so it's important that you get it right – because there's no second chance to make a great ring impression (or engagement ring announcement).
RELATED POSTS:
Send Us Your Engagement Ring Selfie…
If you've read this far, I'm sure you see how cool the idea of engagement ring selfie is? The thrill is in using little or no word to announce that you've been proposed to, and let the ring picture do the talking. Trust me, your friends and Social Media fans will decode it, and that's the thrill.
The best way and only way to make your engagement ring selfie something people will talk about is by posting only one single photo, not 2, not 3 – only one. You can get the best shot by taking many photos and then selecting the best one.
Now, try recreating one or more of the above ring poses. 
WE WILL FEATURE YOUR RING SELFIE: If you use any of the mentioned engagement ring selfies and want us to publish it here on this blog, send us the picture. Just make sure that it's clear photography and in perfect lighting. You can also send us a DM on Instagram or Facebook with your engagement ring selfie and proposal story – we will feature it here on NaijaGlamWedding.
There you have it – on the best 42 stylish ideas to announce you're engaged with a selfie.  Which one of the selfie images is your favourite?  Also, tell me – if you have announced your engagement on social media, how did you do it?  Which of the engagement ring selfie photo poses are you likely to recreate to post on social media?  Comment down below to tell me, and I'll be standing by to reply.