If you like snacking on Chin Chin a lot or have a party or wedding to cater to, you'll be happy to know that it's very easy and quick to make, and requires a few cheap ingredients that you may already have in your kitchen. This post will show you how to make soft crunchy Chin Chin at home.
Chin Chin is a popular Nigerian street snack and a favourite party/ wedding small chops. This crunchy fried snack also makes a delicious tea-time and lunch snack. It's a light-weight snack perfect for nibbling any time of the day.
So, if you're ready to learn how to mane Chin Chin at home, swipe or scroll down and let's get down to it.
Start with the video tutorial below and then scroll down for extra tips including how to preserve fried Chin Chin, ingredient-measurements to make a party-size batch (or for sale), secrets to making Chin Chin soft, crispy and crunchy and what to do if your oil is foaming when frying Chin Chin.
First, check out the video below showing how to make perfect Chin Chin, even if you've never made any snack before.
*An ingredients list with measurements when using different quantities of flour are provided (down below) before the end of this post, including chin chin recipe for 1 cup or 100 grams of flour, chin chin recipe for 1 kilo of flour and more.
TOOLS & UTENSILS YOU'LL NEED:
Mixing bowl
Spatula or wooden spoon
Cutting board or Pastry board or a flat space to roll the dough
Rolling pin
Knife or pizza cutter
Wok or deep pot for frying
Skimmer/ strainer spoon to sieve and scoop out fried chin chin from hot oil.
Colander or bowl lined with kitchen napkins – to drain off excess oil from fried chin chin
Optional: a frying basket
Kitchen scale (preferably, a digital scale)
INGREDIENTS FOR MAKING CHIN-CHIN: Flour, sugar, salt, baking powder, milk, butter, egg, flavour (nutmeg, cinnamon or vanilla extract), water
MORE WEDDING/ PARTY SMALL CHOPS AND SNACKS RECIPE:
Steps on How to Make Soft Crunchy Fried Chin Chin at Home (13 Steps)
This section is for you, if you prefer reading steps to watching video instructions, or if you just want a quick reference. Below is the step by step process for making fried or baked Chin Chin from scratch. 
1. Combine all dry ingredients together in a bowl using a spatula or wooden spoon, or your hand: combine and mix the flour, sugar, baking powder, salt, grated nutmeg or your flavour of choice (e.g. cinnamon powder or vanilla flavour).
2. Add the liquid ingredients: Make a well/ hole in the centre and add the liquid ingredients one by one to the dry ingredients' mixture (add egg, melted margarine or butter).
3. Mix with your hand until the mixture looks crumbly (like garri texture).
4. Now, slowly add water (or milk) bit by bit: add a little, mix and if there are still lots of dry flour, add a small drop of water and mix. Repeat until the dough becomes non-sticky and there's no more powder flour remaining.
Your hands should be clean with the dough no longer sticking to your hand. At this point, the dough should look like pounded yam ball (not be too soft and not too hard). Keep kneading the dough until you get to that stage. (*Check the above video to see exactly how your dough should look).
5. Now, keep the dough aside. Leave it to rest for about 15 to 30 minutes.
6. After the wait, the dough is ready for rolling and cutting.
7. Roll to flatten the dough: Sprinkle some flour on a flat surface – a table or cutting board. Place the dough on the floured surface and use a lightly floured rolling pin to flatten it to a thickness of (half-inch or 1 cm) or to your desired thickness (some people prefer thick chin chin and some prefer to have it thin).
[HINT: If you do not yet have a rolling pin, improvise by using an empty wine or beer bottle, or just do what Sisi Yemmie did – use your God-given hands to flatten the chin chin dough and get it ready for cutting. That works too.
8. Cut/ slice the dough into bite-sizr small cubes or long strips using a knife or pizza cutter. Ensure to cut all pieces to the same size, so that they'll fry evenly and get done the same time. Besides, a batch of uniform-size chin chin looks better.
If you're looking for how to cut your chin chin faster, buy a pizza cutter – this thing saves a lot of time and makes cutting chin chin a dream.
9. Heat some oil: Pour enough oil into a deep pot (up to 3 inches/ 7.5 cm depth), turn your cooker/ stove on medium heat and wait for the oil to get hot. Add enough oil that will allow the chin chin slices to float/ swim on top.
10. Test if the oil is hot enough: Before frying, test whether the oil is hot enough and ready – drop one or two small dough cubes or strips into the hot oil.
If the dough immediately floats back to the top, it's a confirmation that the oil is hot enough. If remains down at the bottom, it indicates that the oil needs a little more time to get hot enough.
11. FRY OR BAKE: Fry in medium heat and stir repeatedly until it gets brown. How to bake chin chin is fully explained down in the next section. Ensure not to add too many chin chin doughs in the pot, so they don't soak up oil and become greasy.
While the chin chin is frying in the hot oil, turn it frequently so that they'll all fry and brown evenly.
12. Scoop out of the hot oil: When your chin chin have browned enough (golden brown), use a strainer spoon to transfer them to a colander or a dish lined with paper napkin.
13. Serve: Allow them to cool slightly and serve warm.
Baking Chin Step by Step (How to Make MiniMie Baked Chin Chin)
Yes, you can bake chin chin instead of frying, and this section explains how. To make baked chin chin, first make the dough – following the process in the above section.
The video tutorial above also shows how to bake chin chin, but if you prefer to read the steps, here goes…
1. Make your dough and cut into bite-sized pieces: Follow the beginning steps in the above video above to mix your ingredients, make the chin chin dough, roll and cut into small pieces.
2. Place the chin chin slices in a baking tray: After rolling and cutting the chin chin dough into small pieces, place them in an oiled baking tray or on an oven tray lined with aluminum foil or baking paper/ parchment paper.
3. Sprinkle some oil on top of the chin chin
4. Then bake in a pre-heated oven (set at 180 degrees Celsius). Bake for about 15 to 20 minutes.
5. Serve
What does baked chin chin taste like? Baked chin chin has a biscuit-like texture, and harder / not as soft as fried versions – but they are healthier (contain less calories). They feel differently in the mouth, and are not crunchy.
**If you don't know what baked chin chin tastes and looks like, buy a pack of ready-made Minimie chin chin (it's baked, not fried). Personally, I prefer the taste of fried chin chin, especially the crunch mouthfeel when I bite into them.
How to Store and Preserve Fried Chin Chin to Keep Fresh
Store away your fried chin chin in a mason jar or any airtight container and store in a dry place. Ensure to close the container immediately after taking out some chin chin.
If air enters the container, your chin chin will lose its crunchiness to become too soft and melt in the mouth. However, with proper storage, fried chin chin can keep stay fresh for months.
Making Large Batch of Chin Chin? See Recipe, Measurements and Ingredients List
100 Grams (1 Cup) Flour Chin Chin Recipe: Ingredients + Measurements
1 cup of flour (i.e. 100 to 120 grams)
1 tablespoon Sugar = 3 teaspoons or 20 grams
Pinch of salt
1/4 teaspoon of baking powder
1 teaspoon of powdered milk or 1/3 tablespoon
Pinch of nutmeg or your desired flavour
2 tablespoons of butter = 6 teaspoons
1/2 an egg
Water
500 Grams (Half Kilogram) Flour Chin Chin Recipe: Ingredients + Measurements
5 cups of all-purpose flour (between 500 grams to 600grams )
1/2 cup of sugar = (100 grams) = 8 tablespoons
1/2 teaspoon of salt
1 teaspoon of baking powder
2 tablespoons of powdered milk
1/2 teaspoon of nutmeg
150 grams of butter = Half cup = 10 tablespoons
2 eggs
Water
One Kilogram (1 Kg) Flour Chin Chin Recipe: Ingredients + Measurements
10 cups of all-purpose flour (1kg)
1 cup of sugar = (200 grams) = 16 tablespoons
1 teaspoon of salt
2 teaspoons of baking powder
4 tablespoons of powdered milk
1 teaspoon of nutmeg
300 grams of butter = 1 cup = 20 tablespoons
4 eggs
Water
Two Kilogram (2 Kg) Flour Chin Chin Recipe: Ingredients + Measurements
20 cups of all-purpose flour (2kg)
2 cup of sugar = (400 grams) = 32 tablespoons
2 teaspoons of salt
4 teaspoons of baking powder
8 tablespoons of powdered milk
2 teaspoons of nutmeg
600 grams of butter = 2 cups = 40 tablespoons
8 eggs
Water
3 Kilogram (3 Kg) Flour Chin Chin Recipe: Ingredients + Measurements
30 cups of all-purpose flour (3kg)
3 cup of sugar = (200 grams) = 48 tbsp
3 teaspoons of salt
6 teaspoons of baking powder
12 tablespoons of powdered milk
3 teaspoons of nutmeg
900 grams of butter = 3 cups = 60 tablespoons
12 eggs
Water
What to Do If You Don't Have a Scale or Measuring Cup
*The standard measuring cup is not the same as your cup at home. Not following the measurements correctly can make your chin chin not come out perfectly. You can buy a set of cheap measuring cups here.
If you don't have a scale or standard measuring cups, here are some conversion tips:
1 cup of flour = 8 tablespoons (using USA standard measurement)
1 cup all-purpose flour = 120 grams = 4 1/4 ounces (Source)
1 tablespoon (tbsp) of flour in grams = 15g (Source)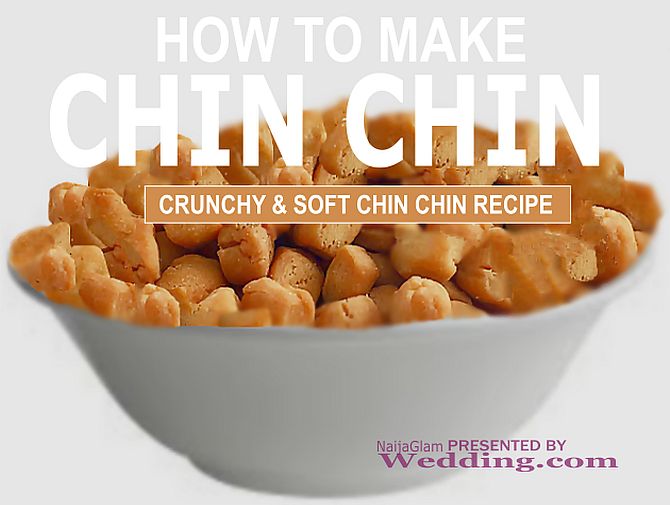 Click to the next page for solutions to common problems people face when making Chin-Chin.