Want to learn how to do the packing-gel (updo) hairstyle yourself on your natural or relaxed hair? This post will show you step by step how to do two different beautiful styles of packing-gel hair styles – the braided bun updo and the high-puff styles. 
Both styles of packing-gel hair are perfect for a wedding guest look as well as a wedding day look for a bride.  You don't need to have a very long or thick natural hair to achieve these packing-gel styles, you'll see how to use hair extensions/attachments to make it work. Now, get your hair things ready, swipe or scroll down to watch how to do the packing-gel hairstyle yourself.
#1. French Braided Bun Updo (Packing-Gel Updo Hairstyle)
#2. Sleek High Puff Packing-Gel Hairstyle for Natural or Relaxed Hair
WEDDING HAIRSTYLE PICTURES:
The Struggle With Finding Good Natural Hair Salons
If you wear your hair natural, you know how hard it is to find beautiful styling ideas fit for occasions. It's even harder to find wedding-worthy natural hairstyle ideas for your Nigerian white or traditional wedding look. Additionally, there are not many hairdressing salons in Nigeria that specialize in styling natural hair beyond the everyday schoolgirl styles (native Yoruba 'didi' weaving or thread hairstyles). In this post, you will find two, easy-to-do, gorgeous natural hair updos perfect for a bridal look. Now, play the videos below – to see how the natural hair updo is done from start to finish. Be sure to practice along, to do those styles yourself.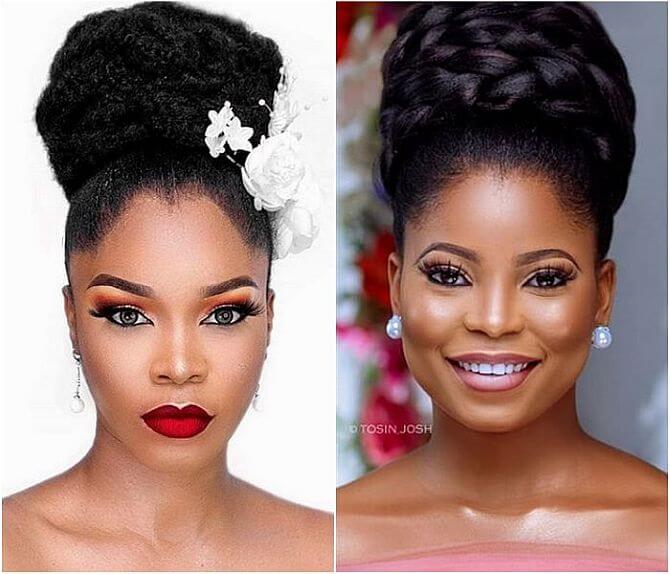 RELATED BEAUTY & WEDDING FASHION ARTICLES:
Packing Gel Hairstyles Are Perfect for Traditional Wedding Bridal Look
I've heard many natural hair brides share their frustration with finding a wedding-worthy hairstyle,s and many of them finally settle on relaxing their hair or wearing a weave-on, against their will (just because they want to look like pretty for their wedding).  If you are a DIY bride, you can do learn from the above videos to learn how to do the packing gel hairstyles yourself or show the video to a friend or sister so they can learn to do it for you.
Now, you have two fabulous choices in the above easy-to-do-it-yourself updos for a wedding guest or bridal look.  I hope you've been inspired by the featured packing-gel natural hair updo hair styles in the above video tutorials.  You'll need to watch the videos again and practice a few more times to be able to do those wedding updo hairstyles on your natural kinky hair. By the way, the above natural bridal updo hairstyles also look glamorous when worn out to an occasion, or just anytime you're feeling good with yourself:)
There you have it – how to do two wedding-worthy and occasion-worthy packing-gel updo hairstyles by yourself.  Let me know which of the two styles you like better?  Comment below to tell me.
Before you leave, help us to share this natural hair wedding updo hairstyles post to your friends – Facebook it/ tweet it/ Instagram it, email it – that would help someone to look fabulous in natural hair. Thanks for reading.