So, you're preparing for your Igba Nkwu ceremony? Congrats! Now, it's time to figure out what to wear and the rest of your look (hairstyle, coral beads, and makeup).  As a modern bride, your look has to be Instagram-worthy and BellaNaija-worthy at the same time.  For your Igba Nkwu outfit ideas, check out our editorial picks on some of the finest trending Igbo traditional wedding attire for brides.  However, as an 'asa' (fine girl) that you are, your look will not be complete without the proper hairstyle for an Igbo traditional wedding and the right coral beads to adorn your neck, head, arms, and legs.
In this post, we're presenting to you the 20 latest Igba Nkwu hairstyles, neck coral beads and headpieces spotted on stylish Igbo brides.  All the lovely women in the featured images have their wedding makeup on-point to inspire you on how to do yours – so, take note.  Also, ensure to read the tips I included (below) for choosing the best Igba Nkwu hairstyle for your face – it's at the end of the pictures.  Now, let's get right into it – swipe or scroll down to choose your best Igba Nkwu look.
#1, 2, 3: All-Back & Hair-Down Igba Nkwu Hairstyles PLUS Coral Bead Necklace and Matching Beaded Headpiece | Half-up and Half-Down Styles on the Bride on the Right (

The 'Uto Nwa' Look

)
ABOUT THE HAIRSTYLES: These Igbo bridal hair styles can be done with your natural hair slicked back or cornrow weaving all-back or half-up like the bride above (top right). If you don't have thick hair, adding a hair extension/ attachment/ weaves/ weavon can give your hair more volume like the bride in the middle (above image). You can also wear this hairstyle with only your natural hair, like the bride on the left (above).
THE CORAL BEAD HAIR ACCESSORY AND BRIDAL NECK BEADS: These traditional wedding hairstyles would be like any regular hairstyle without the native Igbo coral bead headpiece. Besides, you won't look like a bride if you just stop there. The coral bead will do the transformation. So, throw in a layer of coral bead around your head and voila you'll be looking like an 'omalicha'.
To achieve the above Igbo bridal look, you can wear a bold single-strand coral bead necklace or one with double or triple layers. Wear a matching set of coral bead earrings and bangles. If you like this type of Igba Nkwu hairstyle, comment below to tell me which one in the image above is your favourite look.
4, 5, 6, 7: Elegant Wrap-Around High Bun Packing-Gel Updo Hairstyles for Igbo Brides at Traditional Marriage Adorned WITH Layers of Coral Bead Hairpiece and Neck Beads | Braided Bun and Twisted Bun Styles on the Right (

The 'Asa Nwa' Look

)
ABOUT THE HAIRSTYLES: This is a top bun hairstyle and is achieved with styling gel to lay down the brides' front edges flat and keep it in place, without any flyaway. Some brides choose to have cornrows (weaving) at the bottom of this style, instead of packing up their hair with gel. That also looks very cute. This updo (packed-up bun) Igbo wedding hairstyle is wrapped around at the top and so requires a long hair and volume (thick hair) to make it work. That means you need to use hair extensions' (attachment) to make the hair longer and fuller which will enable it to be wrapped round at the top. Any good hairdresser knows how to do that.
For the top part, there are different styling variations, as you can see from how the top of the brides' hair looks. The brides on the left (above) have this style with smooth hair wrapped around to form a bun (like a puffy doughnut) on top. The brides on the right (above) have the top parts of their hair braided (braided bun style) and twisted (twisted bun style), and the braided part wrapped around on top. Check out how the bride on the extreme left (above) has a fringe with her packing-gel hairstyle. How cool is that?
THE CORAL BEAD HAIR ACCESSORY AND BRIDAL NECK BEADS: Once your hairdresser has the style locked down for you, next is to transform it into an Igbo bride's hairstyle, and that involves wrapping layers of small coral bead jewelry around the top of the bun.
#8, 9, 10, 11: Sleek Off-the-Face Braided Back/ Low-Bun Igbo Bridal Hair Styles Accessorized WITH Front-Forward Coral Hairpiece and Matching Neck Beads (

The 'Omalicha' Look

)
STYLE TIPS: the hair is pulled pack from the face, edges laid flat and coral bead placed around the front as the highlight.
RELATED POSTS:
#12, 13, 14: Ada Igbo Double-Bun Hairstyles or Bantu Knots Wrapped with Coral Bead Hair Jewelry (

Vintage Igbo Maiden Look

)
STYLE TIPS: Bantu knots Igbo traditional wedding hairstyle (left) | (middle and right) Two bun hairstyles. The bride in the middle has the braided bun version.  Bantu knots, known as 'isi ntukwu' in Igbo language, is a well-loved native Igbo women's hairstyle and decorating it with coral beads and wearing the 'ada Igbo'  bridal attire is a great look for Igba Nkwu/ Igbo traditional wedding.
#15, 16: Top-Wrap Updo Igbo Traditional Wedding Hair Styles for Relaxed Hair (

Retro Style/ Look

)
STYLE TIPS: The brides above completed their looks with matching coral bead jewelry sets (earrings, necklaces), matching coral bead hairpieces and hand-held hairy horse-tails.  In Igboland, the horse tail is a cultural fashion accessory.  You can liken it to the Yoruba people's native hand fan fashion accessory for women.
RELATED POSTS:
#17, 18, 19, 20: 'Ada-Eze' Style: Beaded Head Crown and Tiara Headpieces for Igbo Wedding (

The Igbo Princess Style Look

)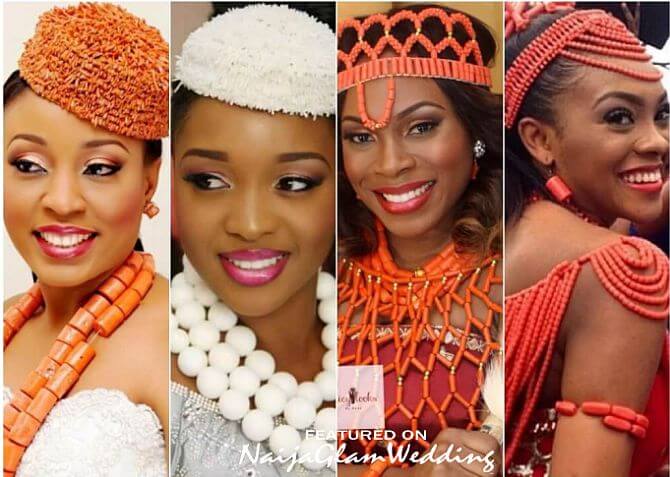 The Best Hair Style for Your Igbo Wedding: How to Choose the Best
Before you choose any hairstyle, it is important to know how to pick the best one for your facial features. I have made sure to group the featured hair styles, so that you can easily and quickly find the one that will look best on you. Generally, some women look better with all-back hairstyles; some look better in packing-gel updo styles, and others look best in half up and half down hairstyles.
Your wedding is not a time to try a new type of hairstyle that you have never worn before or not sure how it would actually look on you. Stick with the type of style that you always look good in. And, if you want to wear a new style you've never worn before, ensure to take a few months before your wedding to try it out and snap some photos to confirm whether or not to use that type of hairstyle for your Igbo traditional wedding.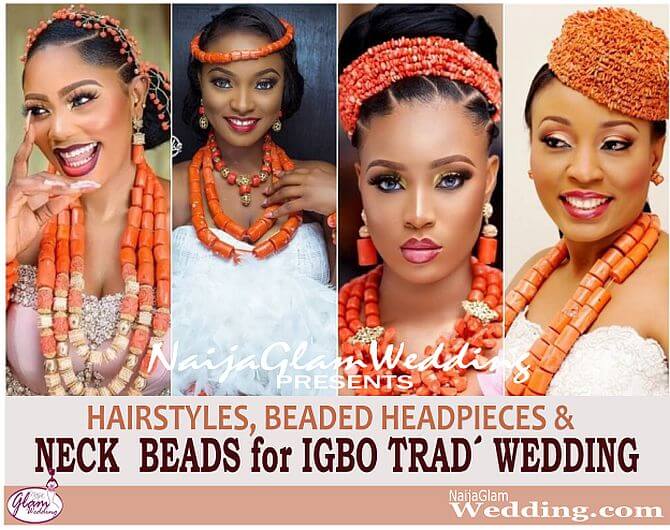 HELPFUL WEDDING PLANNING GUIDES FOR YOU
Go Ye and Slay with Your Igba Nkwu Hair and Coral Bead Combo Look
If you read this far, then you'd have seen all the 25 trending hairstyles and coral beads for Igbo Weddings. I hope you like them. Thanks for reading. Please help us by sharing this post on social media, so that others who need it can find it. Don't forget to follow us on Instagram, Facebook, and Twitter, and also subscribe to our Glam Wedding Community.
INTER-TRIBAL WEDDING STYLING IDEAS: For Igbo maidens planning to marry outside of Igboland, you may like these:
Now, I'd like to hear from you – which of the above hairstyles for Igbo traditional weddings do you picture yourself wearing? Or which of the above bride's Igba Nkwu beaded headpiece and coral bead jewelry combo is your favourite look? Also, between the updo (like-packing-gel) hairstyles and the all-back Igbo traditional wedding hairstyles (above), which type of hair-do you like better?  And, if you had to pick between the beaded bridal head crown and the coral bead hairpieces, which would you choose?  Comment below to tell me and let's get the discussion side popping.