If you've ever wanted to know how to use styling gel to slick down your natural hair and then style it into any packing gel hairstyle, this post is for you. Even if you have a short and natural hair virgin hair, you can gel down your hair and flyaway edges into a sleek smooth style. You just need to know how to do it and you also need to use the right products and tools; and that's all what you'll learn in this post.
Adding an attachment or hair extension is a beauty trick that works well to make gel hair look fuller or longer, and also adds an extra level of sleekness. The video tutorials in this post will also show you step by step how to do it yourself. It's not difficult – just practice along as you watch the videos.
First, get your hair gelling products and tools ready (listed below) and then swipe or scroll down to watch how to do gel-down your natural hair and style it yourself..
Tools Needed to Gel Down Your Natural Hair
Styling Gel with strong/ extra hold such as Eco Styling Gel, Got2B gel, Petals Styling Gel or any other one.
Edge control (to keep your edges in place and avoid flyaways even in wind or rain)
Hair brush
A small brush or an old toothbrush for the edges or to make baby hairs
Rat-tail comb
Hair ties and clips
Styling mousse (optional)
Hair and scalp oil
Hairspray for shine (optional, if you already have one)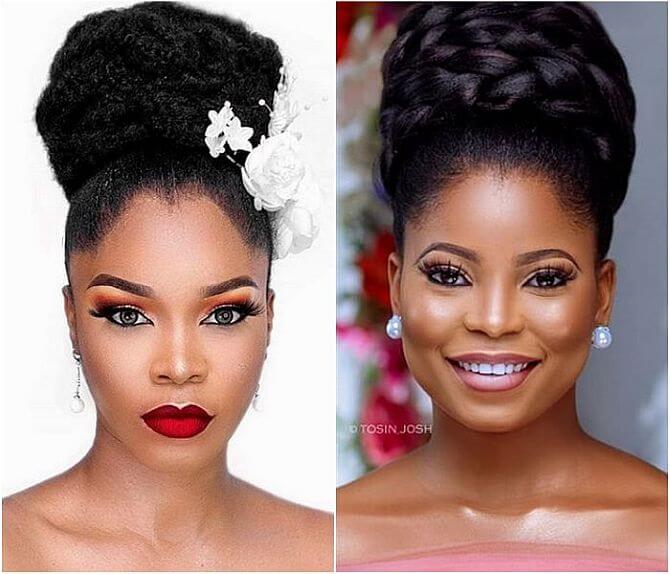 1. Gel on Short Hair: How to Apply Gel to Slick Down Short Thick Natural 4C Hair (Step by Step Video)
18 Cute Packing Gel & Ponytail Hairstyles for Occasions (Photos)
2. How to Do Ponytail Packing Gel with Long Attachment (Video – Step by Step)
FAQs: Tips to Gel/ Slick Down Natural African-Type Hair with Styling Gel
I often hear women ask questions like: How do I get my 4c hair to slick down? Can Natural Hair Do packing gel? In this section, you'll find my answers to common questions women ask about how to slick down natural hair with gel and also use gel to style it. Read on!
What can I use to slick down my African-type Hair? Styling gel is a hair product made to slick the hair down, hold it in place, including the short edges and flyaway strands. You can find affordable styling gel brands across many Nigerian beauty supply stores and markets.
How do you apply hair gel to natural African-type 4C hair? Apply it section by section to a damp hair – applying the gel in in small sections. The way you section the hair is similar to how you apply relaxer to hair, to ensure that the styling gel saturates your entire hair to slick it down. Next, wrap your front hair with satin scarf or cloth strip and leave it for a while to set and dry.
Can natural hair do packing gel? Yes, of course. Video 1 above shows step by step to slick down thick, natural hair to make a nice packing gel hairdo. The secret is in spraying the hair with water and applying the gel in small sections, until the entire hair is gelled.
Can I do gel hairstyles on short or virgin hair (not relaxed)? Yes, you can. Check out the first video tutorial above to watch and learn how to slick down thick, short 4c African hair with gel.
Can styling gel be applied to dry hair? Yes – you can watch the videos above to see it for yourself.  For best result, apply styling gel to a damp hair. If your hair is dry, you can spray water on it.
Which styling gel is best for natural black African hair? There are many good and affordable ones in Nigerian market and stores, such as: Petals styling gel (comes in black and white colour), -Eco Styling gel, Got2B gel and holding hairspray, Cantu styling Gel.
How do I remove gel on hair? To remove styling gel from hair, wash with clean water or shampoo.
Bottomline: Once slick down your African 4c type natural hair, you will be able to style it into many beautiful packing gel styles. after watching the video tutorials below, you should be able to style your own 4C natural black hair with gel. Hopefully, you followed along with the above videos to try doing it yourself. Be sure to comment to tell me how it went.
Latest Wedding Hairstyles: Hair Style Ideas for Nigerian Brides 2022 (Pictures)
Your Next Steps
Hope you practiced along the above video tutorials showing you step by step how to apply gel your natural hair and how to style it.  The best part is that these styles can also be achieved on a short natural or relaxed hair. If you have short hair, you may want to add a hair extension (weavon or attachment) to make it into an afro or ponytail packing gel style.
Once you've become comfortable and better at applying styling gel to your hair and slicking it down smoothly, you can try your hands on changing up your gel hairtstyles. You can find tons of gel styling ideas we featured on our Latest Packing Gel Styles.
Latest Igbo Trad Wedding Hairstyles w/ Coral Bead Accessories
There you have it – how to properly apply gel on natural hair and two styles you can try for a start. Thanks for reading. I'd like to hear from you – how did it work out gelling your natural hair yourself. Did you add an attachment/ extension? Which of the above gel styles (from the videos) are you loving most at the moment?  Comment below to tell me.