Packing gel hairstyles look good on most women. It's no wonder why they're among the most common female hairstyles, and they're also loved by brides for traditional weddings in Nigeria. This post features photos of our best picks of the latest and trendy occasion-worthy packing gel styles for African hair types. 
Gel styles are versatile and look good for lazy days, as well as for most types of occasions. They're as perfect for brides to wear for white and/ or traditional weddings, and they're great for wedding guests too. Now, swipe/ scroll down to check out photos of the latest packing gel styles in Nigeria.
1. Sleek Ponytail & High-Bun Packing Gel Hair Style with Long Straight Weavon (

Perfect for a Round Face

)
STYLE NOTE: Above left, this ex-BBNaija reality show star, Tacha is known to rock super-sleeky, high ponytail packing gel hairstyles with very long weavon/ attachment, and she always has her edges well-laid. On the right, actress, Beverly Naya is pretty 'snatched' in that high-bun packing gel style with baby hairs in the right places. For both women, it's obvious the placement of the ponytail on the crown of their head perfectly suits their face shapes.
2. Curl Ponytail: Beautiful Low Ponytail Packing Gel with Curly Weavon
STYLE NOTE: Above, both OAP, Toke Makinwa and TV Presenter, Bolalnle Olukanni, look flawless in this sleek, curly ponytail packing gel style with long attachment/ hair extension. This slick-back style is achieved with curly ponytail extensions or weaves and a good holding gel.
3. Trendy Pineapple Updo & Loose Bun Packing Gel Styles on Kinky Natural Hair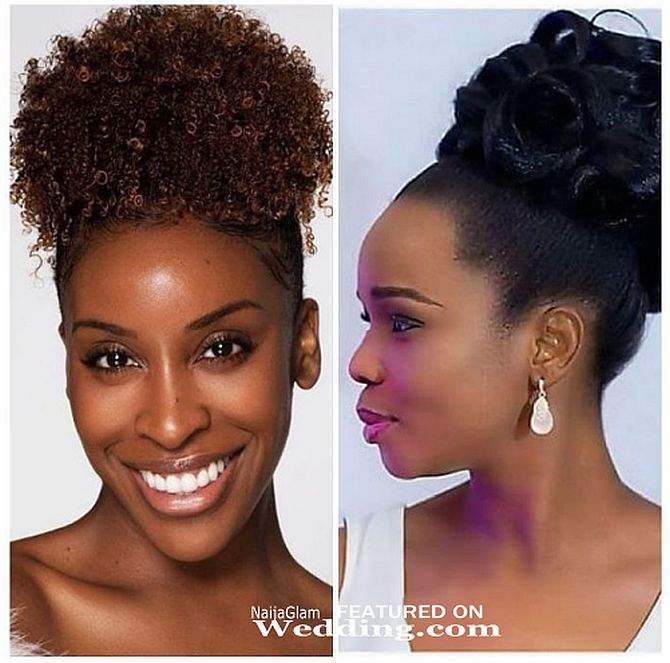 Above left, Youtuber, Jackie Aina, glows in her signature afro/ coily pineapple updo style with her natural hair. We are jealous of those curls and baby hairs. The pretty bride on the right looks all-set in this loose bun packing gel hairstyle with curly weave/ weavon hair extension.
4. Blow-Out Ponytail Gel Hairstyles with Long Kinky Weavon
Above left, this pretty bride stuns in a long blow-out ponytail packing gel hairstyle (on her relaxed hair), with a long kinky-textured ponytail weavon hair extension/ attachment. Above right, melanin-popping black goddess, Nollywood actress Jemima Osunde, looks nothing short of gorgeous in her natural 4C-type hair with blow-out ponytail packing gel style.
The kinky texture blow-out weavon attached at the crown (of their heads) blends in so well with this bride's relaxed hair and Jemima's virgin hair.
See 9 Wedding Packing-Gel for Natural Virgin Hair (African 4C Hair Type)
Latest Igbo Trad Wedding Hairstyles w/ Coral Bead Accessories
What's the Right Packing Gel Hairstyle for Your Face Shape or Hair Length? (Q & A)
Every fashion-savvy woman loves a good packing gel hairstyle because it has a way of opening up the face, giving a wide-awake look and also making you appear stylish and sleek.
Sleek gel styles are the most popular wedding hairstyles for black women. Whether worn up in a ponytail or high-bun or whether worn down, they look equally sleek.
Q. Can I do packing gel with my virgin hair or natural 4C kinky hair?
Yes. You can do packing gel hair on virgin hair or natural 4c African hair. The secret is to use a medium to strong hold styling gel and apply the gel on a damp or freshly washed hair. Wetting the hair makes it easy and faster to slick-down the hair without using too much gel. You can find step by step video tutorials on packing gel on virgin hair in another post we made (link is below).
Q. Will Packing Gel Style Work on Short Hair?
Some women who drool over these gel styles are afraid of trying it because they have short hair. You'd be surprised to know that a lot of short-hair sisters are always rocking ponytail and afro packing gel hairstyles.
The secret is to have a hair extension/ attachment or weavon/ weave and styling gel. With those, you can smoothen out a short hair up to the centre of your head and then attach a weavon/ weave at the tip to make the ponytail part.
See how to do it in this tutorial on how to do ponytail gel hairstyle on short hair.  So, don't let short hair stop you from wearing any of these featured styles. You just need to watch a tutorial to learn how to do it yourself.
Q. I Have a Big Forehead, Will Gel Hairstyle Look Good on Me?
Another reason why some women are afraid of wearing packing gel styles is that they have the Rihanna-type big forehead (or five-head, as Youtuber Jackie Aina fondly calls it).
If that's a big concern, you can go for packing gel styles with fringe. The fringes will cover up your forehead and no one will know. Instead, all they'll see is a beautiful hairstyle.
Q. I Have a Round face, Will the Packing Gel Hairstyle Work for Me?
Yes, some gel hairstyles also work for round-faced women. See round face packing gel styling tips in the next section below.
The Perfect Double-Duty Hairstyle for Brides
For any bride who wants to have both her traditional and white wedding on the same day, I always recommend a double-duty hairstyle that will work for both the traditional and white wedding ceremonies. Many Igbo brides wear packing gel hairstyles for their traditional wedding.
A packing gel style is versatile enough to get you through both events in one day. It works well with Gele headties, without the gele spoiling the hair.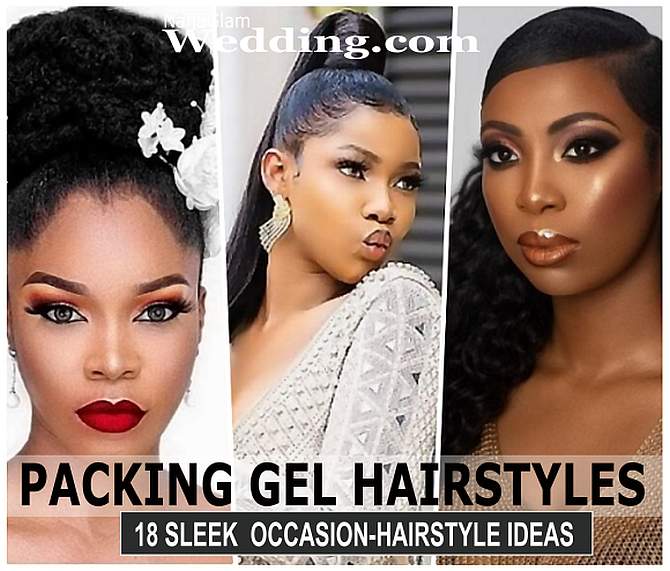 Packing Gel Styles Suitable for Round-Faced Women: Dos and Donts
Here's a breakdown of the ones that work and those you should avoid if you have a round face.
DO: Go long in hair length and also increase hair height, in order to elongate your face. By this, I mean high updos that are long, such as ponytail packing gel styles with long weavon.
According to a hair expert at totalbeauty, "the higher the 'do, the better". A very high ponytail gel hairstyle makes a round face to appear longer, balancing the roundness of your face, while drawing people's eyes up to the top of your head, away from your face. The overall effect is a flattering hairstyle.
An example is the featured tall/ high bun packing-gel hairstyle with long ponytail above worn by Tacha, ex-BBN (Big Brother Naija) reality show star.  Notice how the high bun is sitting on her crown? Notice how the looking up on that bun makes her face shape appear longer.
DO: Do packing gel styles with fringe (side fringe or front fringe) to soften the look and prevent your face from looking flattened.
DO: For a round face to pull off a short ponytail gel hairstyle, do a deep side-parting or centre-parting packing gel style. That will make your chubby round face appear slimmer. To achieve this, create a deep side-parting and then slick and tuck the hair to the back.
AVOID: If you have a round face, do not pack your hair very tight and smooth, which can highlight the roundness of your head. Instead, pack it not-too-tight. You may also consider softening the look by bringing out some fringes or add a side parting.
AVOID Packing gel styles with a low bun, if you have a round face. That will make your face appear rounder.
MORE HAIR & BEAUTY ARTICLES:
Latest Wedding Hairstyles: Hair Style Ideas for Nigerian Brides 2022 (Pictures)
How She Cleared Her Stubborn Pimples and Dark Spots Fast (Skincare Diaries)
Wrapping Up on the Latest Packing Gel Styles
Packing gel hairstyles are some of the easiest-to-do styles for African women, and they're as equally beautiful on relaxed hair as well as on the textured African kinky 4C type hair.  All you need is to slick up some hair styling gel, insert a hair extension and in a few minutes, you'll be looking sleek.
Here are a few reasons we love Packing Gel Updo styles:
a) Saves a Bad Hair Day: When having a bad hair day or on one of those days that you have an occasion to attend and can't reach a hairdresser (such as during a lockdown), a packing gel style is the go-to DIY style.
b) Easy to Do By Yourself: You can learn how to do it yourself. All you need is a good styling gel to slick down your 4C African hair and have the edges stay-put. If you've been asking 'Can I do smooth packing gel hairstyles with natural black African hair?', the answer is 'yes'.
c) Quick to Get it Done: The best part is that these sleek gel hairstyles are very quick to do. Don't be deceived by the simplicity of the style, they are perfect for wearing to weddings and occasions, and well-loved by brides. Many wedding guests do it at home by themselves – it's that easy.
d) Easy to Adds Hair Volume and Length with Extensions/ Attachment: Packing gel hairstyles are usually done to have full poofy bun or ponytail style, usually achieved by weaving hair extensions into one's natural hair. Even if your hair is short or not-full, a cheap extension/ attachment can help you achieve a longer and fuller packing-gel style.
e) Smoothness and sleekness are achieved by using styling gel, which also helps to lay the edges in place, no matter how kinky, straggly and tough your hair is.
That's all about packing gel style ideas and tips to get the most out of them. Thanks for reading and please do me a favour by sharing this post on social media for me. Also, subscribe to our GlamWedding newsletter for more, and follow us on social media.
There you have it on the trending and latest packing gel styles perfect for brides and wedding guests, and for any occasion. If you have been wearing gel hairstyles, how do you style it? 
Also, I'd like to know – which of the featured packing gel hairstyle pictures is your favourite style? Comment down below to tell me.