You too can be late at your wedding ceremony.  Just don't say 'never' because any brides arrived late at their own wedding ceremony, even when they swore it would never happen to them. Usual causes include 'they are not done with their hair or makeup' but that's not all.  Our guest expert in the house is a wedding photographer who has has been inside many Nigerian weddings and witnessed first-hand what usually causes lateness by brides and advises what you can do to avoid it yourself.
Like many brides, you too could show up late at your wedding ceremony and keep guests waiting, unless you follow the advice in this post – from our guest photographer who has seen many bridal clients turn up late, over and over again – he experienced why they were late and what they could have done to avoid it.  It is said that 80 percent of brides will arrive late at their own weddings, even if they always kept-to-time all their lives.
Our contributing guest expert/ writer today is a wedding photographer who has seen countless numbers of brides arrive late to their own weddings. Being behind-the-scenes at most weddings, he saw firsthand everything brides do on the morning of their weddings, and has seen so much of what makes about-to-wed ladies late to the ceremony. In this article, he will reveal helpful advice and tips, what to do, and what not to do – to help you avoid being late for your wedding ceremony or reception.  His tips are not theory, but drawn from real-life weddings he was hired as a wedding photographer. Scroll down, read and take action.
Top 5 Reasons Why 80% Brides Are Late to their Own Weddings
It's very easy for single ladies to criticize a bride for showing up late to her wedding, but sadly, most of those critics will end up making the same mistakes on their own wedding day. As an experienced wedding and lifestyle photographer, I have the privilege to share with you some behind-the-scenes common mistakes that make can any bride arrive late to her wedding ceremony (church) venue. Please note that the tips I will provide here are purely based on my personal observations while working very closely with my wedding clients. Enjoy and take action!
#1. Poor Planning and Failure to Delegate
It is a common saying that one who fails to plan, plans to fail. Most brides want to do their wedding planning, pricing, bargaining, and shopping alone – without help. Sadly, they fail to delegate minor duties to other people. The I-can-do-it-all-by-myself attitude has never helped any bride in the past, neither will it help you.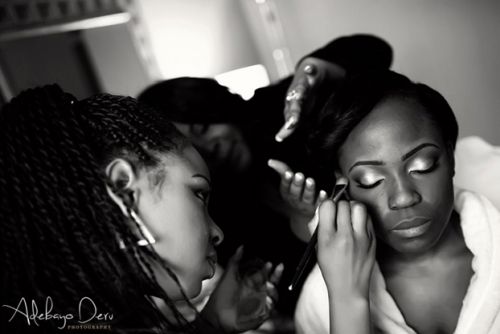 EXPERT ADVICE: So start planning with trusted friends and loved ones to delegate duties to them. This will give you more time to concentrate on other important activities. If your budget can accommodate it, you can also seek the services of a professional wedding planner. These will take most of the burden that comes with planning off your shoulders. Brides must learn to trust other people to do some things for them rather than thinking that nobody else can do it better than themselves. Brides should be humble to admit the fact that they can't do everything perfectly.
For tips and expert advice on how to involve other people and helpers in your wedding planning, read our post on How to Delegate Some Wedding Tasks to Other People.  Pay close attention to tips #2, 5 and 6.