She long dreamed of dressing like an Indian bride someday. During their recent pre-wedding/ engagement photoshoot, her fiancé made that wish come true for her.
Wedding bells are ringing for Angela and her fiancé Raymond. Their Indian-film inspired pre-wedding pictures are beyond gorgeous. Find out how she planned and humorously executed their Indian-themed e-shoot (her childhood dream), see their beautiful pre-wedding photos. Oh, and the couple also told us how it all started, how they met, how he popped the 'marry me' proposal question, the making of their e-shoot and the highlight of their upcoming wedding. Scroll down to read and see pictures.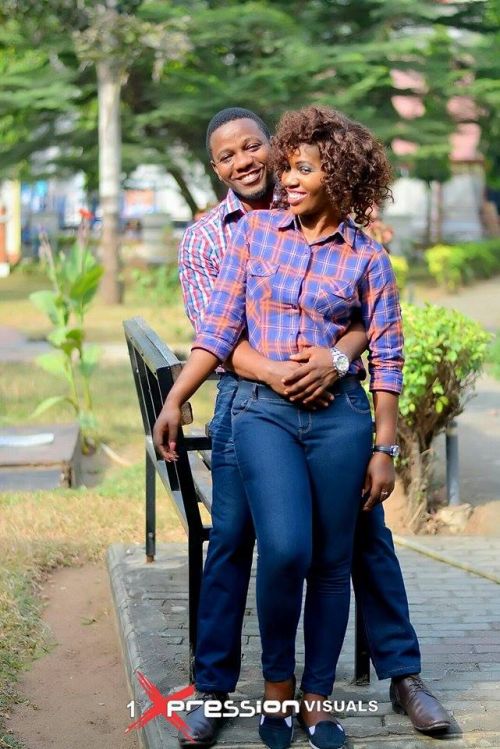 Meet the Couple and See their Love Timeline
Couple Hashtag: #EllaRay2016
Bride-to-be: Angela Omonigho Esekhile
Groom-to-be: Raymond Odion Okohue
June 15, 2011: They met and fell in love
January 30, 2016: They will get married (Fellow wedding lovers, keep an eye on this blog for their wedding story and photos. The couple has promised to keep us all updated).
4 years and 4 months: Length of their relationship
Guess what? It is going to be a double wedding for Angela and Raymond (find out more down below, and see more cute photos).
How they Met: Bride's Story
These two romantics are another campus-friends-turned-lovers-and-now-getting-married couple.  The bride, Angela, narrated how it all started: 'One day, while studying in the university (Ambrose Ali University in Ekpoma, Edo state), I went to visit my friend at her off-campus hostel, and he was there. Apparently, he was my friend's neighbour and they were also friends. So, my friend introduced us and that was where our story began. We immediately hit it off and got along so well, that my friend got confused – she wondered if we knew each other before, because we were acting very familiar. At the time, I was in my fourth and final year in the accounting department and he was studying for his 2nd degree program in Law, and in his 3rd year. So, we started off as friends, later became close friends, and soon we fell in love and started dating. The groom-to-be also told his own side o their 'how we met story' and it's so so romantic – lots of juicy details. 
How He Proposed
On how Raymond popped the 'will you marry me' question to her, Angela chuckled, and says: Well, our proposal wasn't the usual romantic type you often hear of, as we've dated for 4years and 4months. So, there were so many signs, and when he decided to propose, it was just normal.
What their Wedding Day Would Look Like
According to the bride-to-be, Angela: He (Raymond) is a twin and we would be getting married on the same day and in the same location as his twin brother. Since their childhood, both brothers promised to get married on the very same day. [Editor's note: My fellow wedding lovers, keep checking for their wedding story and pictures – the cute bride-to-be promises to keep us all updated].
How they Planned and Styled their Engagement Shoot
Angela lets us in to behind-the-scenes of their engagement shoot: I've always loved Indian movies from my childhood days, the dressing, the music and songs, and dancing on the streets and on mountain top and in the rain. Lol. I love all that stuff! I am very emotional, so I cry when I watch Indian love stories and also the sad ones too. 
My fiancé knows my love for Indian films. So, when we started dating and got really serious, I told him that I'd love to dress like an Indian bride someday, and we both laughed. So after he proposed, and we contacted the photographer for our pre-wedding photography shoot, I asked if we would be directed on the different themes for the shoot and they said no. They told us to bring our engagement shoot concepts, while they would direct us on different photography poses and then snap the photographs. That was when the idea flashed – so I told my fiance that now is the time to make that my childhood wish come true.  And later I did all of my findings by watching more of ZeeWorld movie chanel, especially the movie, 'married again'.
About their Engagement Shoot Photography Themes and Styling
The couple had over 4 themes in their pre-wedding shoot, here's how Angela's explains the ideas behind some of their cute photography styling themes and choice of outfits: Our first photoshoot was Indian-film inspired. The second pre-wedding photos theme 2 was the checkers on denim theme, which was for our casual outfit shoot. Here, most couples wear t-shirts. And our third pre-wedding photo-shoot was styled around traditional outfit. We could not forget our Nigerian culture and continent (Africa), so I also wore a blue lace-dress and he wore a white, short sleeved kaftan outfit. In our fourth engagement shoot, we wore an all-white outfit – inspired by my love for the colour 'white'.

We initially planned to also do some shots at the beach, and I got a mullet dress for that while my fiancé got a short and t-shirt. Unfortunately, we were unable to make it down to the beach again because of the timing, considering Lagos traffic. I was glad there were different amazing spots at Freedom Park, Lagos Island, where we shot most of the scenes.
Want to Share Your Own Love Story and Pictures with Us?
If you liked Angela and Raymond's pre-wedding pictures and love story, please leave a comment below to tell the couple, and also wish them well – in the comment area below. And be sure to read the groom's account of the love story hereXX.
Contact us or Facebook us if you too want your wedding or pre-wedding story and pictures on this blog. AND, If you're also a wedding freak like us, be sure to check out our other featured engagement stories and pre-wedding photos here, and also featured wedding stories and pictures here.
Credits
Photographer: 1stXpression Visuals, Lagos
Couples Outfits Styling: Creado [@creado on Facebook and @creativedominion on Instagram]
Makeup: Magdalene Ugho
Narration and Engagement pictures were submitted by the bride-to-be.