Find all of our over 7 free wedding planning templates and spreadsheets in this page. They are the same shortcuts that professional wedding planners use to organize everything about a wedding – from the logistics to the vendors.  Use our tools for free to self-organize your own wedding like a pro.
So, go ahead and print and use them to shorten your wedding planning process, save you money and help you stay super organized. To download, click on any of the images below and save or print the wedding planner templates and spreadsheets to your computer. Be sure to scroll down down the page.
#1: Downloadable Wedding Checklist (Printable)
Click the above image to get the downloadable to-do list. 
Nigerian weddings involve lots of things to do as well and running around, all of which have to be completed in good time before your wedding day. How do you survive the entire craziness? Click the image above to print the downloadable wedding planning tool. Also, be sure to also see our exclusive Checklist for Nigerian trad' wedding, click here.
#2: Printable Wedding Budget Spreadsheet & Expense Tracker
Click the above image to download.

So, you've fixed your wedding date, and are stuck about how to determine how much it would cost? We've got ya' back, and are giving you our ready-made fill-in-the-blanks wedding budget spreadsheet for that (click above to download it). You can also read this post for the steps to arrive at how much your wedding will cost.
#3: Peek into Others Couples' Nigerian Wedding Expenses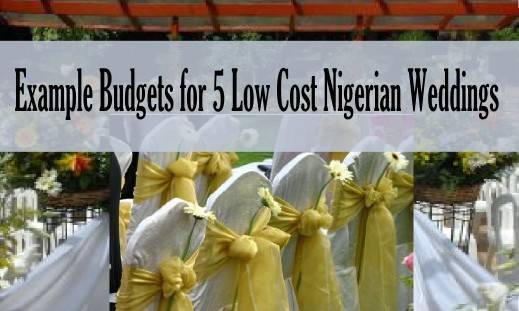 Click above image to download
In the above wedding template, you will find examples of budgets for other people's Nigerian weddings under 400 guests. If you're just starting the wedding planning, you'll want to click above image to download this template. And, go here to see answers to any budget questions you have.
#4: Printable Wedding Budget Breakdown and Allocation Guide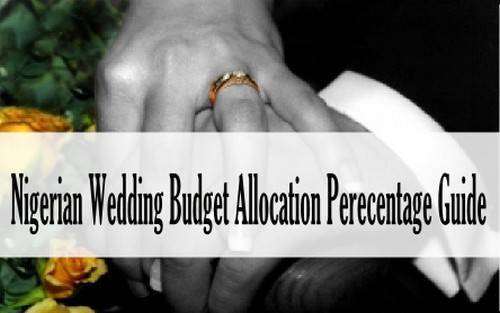 Click above image to download.
So, you have, say N150k for your small wedding? How do you know how much to spend on wedding attire or how much to spend on the reception etc? Download the wedding budget allocation guide (click the above image). We even made you a tool that automatically splits your budget using the percentage allocation guide – click here how to use the template, and also download it free.
#5: Printable Guest List Template
Click above image to download.  
Having a wedding guest list template makes it easy when writing wedding invitation cards, especially if you plan to ask others to assist you in writing them. Print copies of the above guest list template and give copies to your parents and parents-in-law, to write down the names of their guests. To learn why it's critical to have a guest list, read this. And for how to use this template, read this post for steps to make a guest list.
#6: Must-Have Wedding Day Photo Shot-List (aka Posing List)
Click above image to download
Do you your wedding photos to look like those on the covers of Ovation magazine? Then use the photo poses listed in this wedding template. Expert photographers work with photo shot-lists, and that is why you can see a similar wedding photo pose on almost all big weddings in magazines. Now, you too can pose the same way the celebs do, on your wedding day – even if you hire a street-side photographer. Just make sure to give them a copy of this wedding photography must-take shot list for Nigerian weddings (click above and download it). When searching for a photographer, follow our 10 tips to avoid being disappointed like some brides who either got bad pictures or never received any, years after their wedding.
#7: Nigerian Wedding Budget Calculator and Expense Breakdown
To use our free Nigerian wedding budget calculator, click here.
First step is to set a wedding budget to specify a limit on how much you want to spend on your wedding.  The next thing to do is to breakdown that budget into the major things you will be shopping during the wedding and vendor services to pay for.
I created a free online wedding budget calculator that will do that for you, automatically. All you have to do is type in your wedding budget amount, and a suggested expense breakdown will immediately display for you.
More Wedding Templates Will be Uploaded Here from Time to Time
*Keep checking back on this page, as we will upload more wedding planning tools soon. And, if you still need help planning your wedding like a pro, you can join our wedding planning course for brides (it's 100% free and delivered via emails to you), to work-along – by the end of the course, you'll have your wedding blueprint in hand plus the skills to execute it flawlessly.
Join Us and Get Every New Post In Your Email
If you already like what you see on this blog, join thousands of other brides and grooms who are the first to know about everything new we publish and members-only exclusive tips, news and benefits. Enter your email and name below to get started now.