Nigerian brides who are planning their wedding day beauty regimen usually look at before and after makeup photos of other brides for inspiration, and also to get a glimpse into the latest bridal gele styles and headpiece (for their traditional wedding look). Some brides even lookup the makeup artist that created a specific bridal makeover that best appeals to them. To inspire you, I curated some of the best before and after makeovers from top Nigerian makeup artists. This post features 'power of makeup' transformation pictures of 11 Nigerian brides before and after having their makeup done and two of them are extreme transformations. Scroll down to see the photos.
Every bride wants to look perfect for her wedding day pictures, and many go to lengths to ensure that their skin and face won't disappoint. Even if a bride has had the best pre-wedding facials and beauty routine to glow-up her skin, she still wants to get makeup on their big day. Makeup helps women hide facial features they are insecure about, thereby boosting confidence and guarantees that a bride will look perfect in photos. There's a thing called 'the power of makeup' and that is evident in the amazing before and after makeup transformation pictures featured in this article.
Two of the 11 women in this post had the most epic makeup transformation – one was an extreme makeover where the makeup artist totally covered the bride's tribal marks totally. The other was drastic before and after in which makeup was used to reduce about 5 years from a grandma's face, reduce wrinkles and achieve a youthful look.  You'll see the transformative power of makeup in the before and after makeup photos below – to find a great makeup artist to call when you have a wedding or want to attend a red carpet occasion. Here are the 11 beautiful transformation photos of some Nigerian brides before and after getting their makeup done.
#1. House of Glamor Makeovers: Bridal Before and After Makeup
Services: Makeup for bridal and engagement shoots, special events makeup, fashion and photography make-up; Gele headgear tying and makeup training
Phone: 08087230008  | Email: [email protected]  |  Facebook page: facebook.com/houseofglamor | Instagram: @houseofglamormakeovers
#2. Tints & Ties Beauty Pro: Wedding Makeup Before and After
Services: Bridal and All kinds of Makeup, headgear tying (single and Double), Nail Extensions, Bridal hair and Eyelash Extensions, home service and makeup training courses.
Phone: 08033219316, 08182013087 | Email: [email protected]  |  Instagram: @tintsmakeuppro | Facebook: https://www.facebook.com/pages/TintsnTies-Beauty-Pro/203552051561
#3. BMPro Before and After: Traditional Engagement Makeup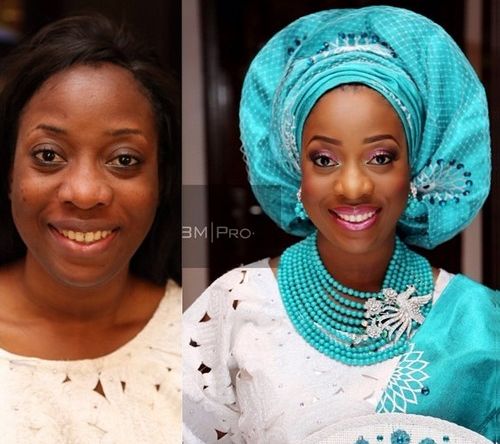 Services: Bridal and occasion makeup; Gele tying, hair styling, Makeup training school
Phone: 07042236077, 07081829441,018958856  | Email: [email protected]  |  Instagram: @banksbmpro | Facebook: https://www.facebook.com/pages/BANKE-MESHIDA-LAWAL-BMPRO-MAKEUP/216747147323
RELATED:  Latest Aso-oke Styles and Colours
#4. Bookie LaVida Bloom: Purple-Themed Makeup and Gele Makeover
Services: All types of makeup and beauty makeovers, Gele artistry
Phone: (234) 7039188840, (234) 8095875971 | Email: [email protected]  |  Instagram: @bookielavida | Facebook: facebook.com/B.lavidabloom
#5. Flawless Touch Makeover: Traditional Wedding Makeup
Instagram: @flawlesstouchmakeover | Facebook: facebook.com/flawlesstouchmakeover
SEE ALSO: How to Apply Eyeshadow Yourself Just Like an Expert (VIDEO)
#6. Juicy Looks by Abby: Before and After Makeover Photo
Intagram:  @juicylooks_mua | Facebook: https://www.facebook.com/pages/Juicy-Looks-Make-up-Artistry-and-Gele-Services/164575903571500
#7. Amazing Makeup Transformation: Glam Grandma Makeover Before and After
Amazing makeup transformation of a grandma; I really like this makeover but don't know the name of the makeup artist.

NOTE: Just in case the makeup artist who did this face comes across this post, please leave me a comment to let me know your name and contact details, so I can include it here for our readers (brides) who want to contact you.
#8. JagaBeauty Studio: Before and After Makeup Transformation
Instagram: @jagabeauty | Facebook: facebook.com/jagabeauty  |  Phone: (234)8033358318, (234)8071545558 | Email: [email protected]
#9. Bella Divas: Before and After Makeup Picture
Instagram: @belladivaswarri | Facebook: https://www.facebook.com/pages/Bella-Divas/228080780611173
#10. IAmIfeOluwa:  Pink-Themed Flawless Makeover
Phone: 08166061490 08069294855 BB: 7CF6DE06 | Instagram: @iamifeoluwa
#11. Mamza Beauty: White Wedding Before & After Makeover
Phone: (234) 8035051501 | Email: [email protected] | Instagram: @mamzabeauty
The Power of Makeup: Before and After Wedding Makeup Transformation
Before their weddings, many brides are all about perfecting their body, skin and looks.  In their quest to look like the perfect version of themselves, women resort to the transformative power of makeup to achieve near-perfect wedding day looks. In addition, it is a great confidence booster especially for women with pimples, pimples scar and even tribal marks.
The transformative power of makeup offers brides the needed confidence and guarantee to a picture-perfect face in wedding photos.  The journey a bride-to-be goes through to choosing her wedding day look starts with looking for inspiration in photos of other brides' before and after makeup snaps. Such photos sometimes help a bride to identify possible makeup artists to hire for her big day makeover. The makeup artists whose works we featured above are some of the best in Nigeria, and most of them do travel outside their base if you ask them. Follow them on Instagram and Facebook to contact them. We have no affiliations to any of them, we only featured them because we like their work, and thought you too will.
RELATED ARTICLES:
Are You a Makeup Artist that Wants Your Work to Be Featured in Our Next Before and After Post?
Our readers are mostly brides-to-be who are presently looking for, and hiring wedding vendors and looking for good makeup artists. And they always ask us to tell them names of good makeup artists in the states where their wedding is holding. That's one of the reasons why we wrote this article – to showcase talented wedding makeup artists to our fast-growing audience who would walk down the aisle soon.
Introducing NaijaGlamWedding's Big List of Bridal Makeup Artists
Nigeria has a lot more talented makeup artists than we showcased above, we would like to know them and list them for thousands of our daily readers. We are aware that there are lots of great makeup artists that we at NaijaGlamWedding haven't even discovered yet, and if you're one of them, don't be a stranger – become our friend on Facebook and GooglePlus so that we can easily see your handwork to show to our website readers.  We're also on Pinterest and Twitter (@naijaGkamWED), and Instagram (@naijaglamwedding) – follow us and say hi.
JOIN FREE: NaijaGlamWedding's Wedding Vendors Forum on Facebook (click).
Which Look Is Your Favourite Makeup Before and After Picture?
If you're a bride-to-be or would be a wedding guest soon, hopefully, the above before and after wedding makeovers have inspired you on which Nigerian makeup artist to hire for a glam wedding-day makeover for you and your bridal party.  I bet you'll agree that a hobbyist or amateur friend or relative cannot do a professional makeup like any of the above.
Thanks for reading. If you liked this article, please share it with your friends on Facebook, Instagram,  Twitter, email – everywhere.
I want to hear from you – do you prefer to hire a professional makeup artist for your wedding makeover or do you prefer having a friend or your sister do it for free? I'd also like to know which of the above before and after bridal makeovers is your favourite.