Looking for fresh ideas on aso-oke designs and trending colours? In this post, we are bringing you our curation of the latest aso-oke designs, colours and styles perfect for Yoruba traditional weddings. We also covered types of aso-oke and some popular alaaso-oke (aso-oke weavers and stores) where you can buy trendy in-vogue or classic aso-oke fabrics.  Finally, you'll find out about the history and evolution of this amazing fabric.
This post is divided into 2 parts. The first part is in video format, featuring up to 100 beautiful trending aso-oke designs and colours – for both men and women.  The second part features photos of beautiful trending aso-oke fabrics and attires for couples at their Yoruba Marriage Introduction and Weddings. The featured styles are also perfect for wearing to non-wedding special occasions such as birthday parties and other events.
Scroll or swipe down to see our editorial picks of trending Aso-oke styles for Yoruba Marriage Introductions and Traditional Weddings. 
#1, 2. Black and Purple Cotton-Weave and Iridescent Aso-oke Styles for Marriage Introduction
LEFT: Black sweetheart neck aso-oke iro gown with flower silver applique details and dramatic statement sleeves.   |  RIGHT: Bride in a purple iridescent iro and buba aso-oke with gele.
#3, 4. Embellished, Sequined and Beaded Aso-oke Attires for Traditional Engagement
LEFT: Rose-gold sweetheart neck beaded aso-oke long gown with puff hand.  |  RIGHT: Orange high-neck puff sleeve embellished aso-oke maxi gown with Bishop sleeves.
#5, 6. Stoned Aso-Oke Outfits & Designs for Yoruba Brides and Grooms
@adesuaetomi x @bankywellington on their traditional wedding, Photography by @scgeorge1 Bride's outfit: @tojufoyeh Groom's agbada: @deco_d29 | (above right) Aso-oke via @bimmms24  Photographed by @nonsookoye_weddings  |   (bottom right) Photography by @jgatesvisuals
LEFT: The Wellingtons in their traditional wedding attire – burgundy aso-oke long gown with gele for bride and Wine coloured agbada for the groom
ABOVE RIGHT: Bride in a lilac stoned aso-oke with gele headtie.  |  BOTTOM RIGHT: Bride in a wine coloured aso-oke with a touch of white. Her groom is wearing a wine coloured agbada and fila/ cap.
#7, 8. Classic Striped Aso-oke Designs & Styles for Yoruba Traditional Wedding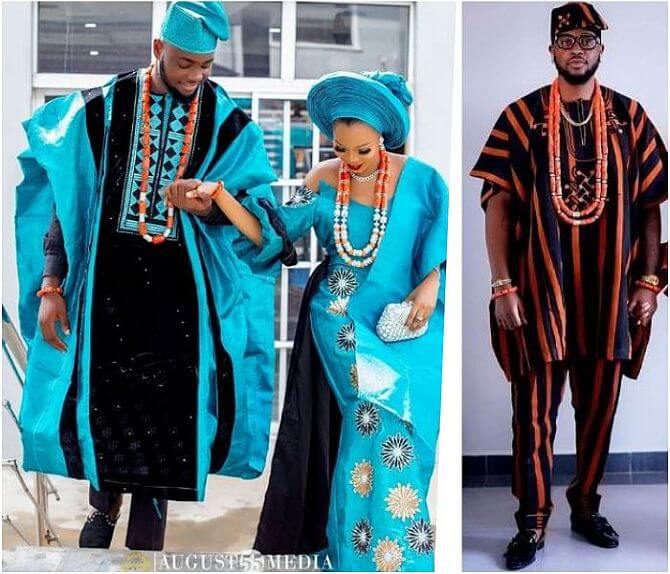 LEFT: Couple in matching sky blue and black aso-oke – groom in a blue-black men's agbada and bride in sky-blue appliqued aso-oke long gown and gele.
RIGHT: Ex-BBNaija star, TeddyA, wearing a striped orange and black aso-oke in dashiki style for his Yoruba traditional wedding ceremony to fellow Big Brother Naija housemate, BamBam.
#9, 10. Silk Aso-oke Designs & Styles for Yoruba Traditional Wedding
LEFT: Couple in matching light blue aso-oke attire for their Yoruba traditional wedding.  |  Right: Bride in a rose-gold laser-cut aso-oke iro gown style.
100 Yoruba Marriage Introduction Aso-Oke Styles for Husband and Wife (Video)
Play the video below to see pictures of  classic aso-oke designs and styles, and matching husband and wife Aso-oke styles for Yoruba Marriage Introduction ceremonies.
xx
RELATED ARTICLES:
Types and Designs of Aso-Oke Fabrics
There are many different types of aso-oke fabrics in the market. However, back in the days, there were only 3 types, differentiated only by colours.
At that early time, there were just three main aso-oke colours, traditionally – etu aso-oke (dark blue with stripes), alaari baba aso-oke, and Sanyan/ Soyon aso-oke (brown, with stripes pattern). These are still available, as the classic, traditional aso-oke designs.
Modern aso-oke fabrics and designs are more colourful, bling-bling and light-weight than the early, classic aso-oke fabric designs.
Today, the aso-oke cloth weavers are sourcing assorted types of thread looms and colours, so aso-oke types have increased.
The new types of aso-oke are categorized based on their weave designs, pattern and thread types, and they include:
Cotton-weave aso-oke design
Double weave aso-oke design
Damask aso-oke
Lace aso-oke (net lace, ordinary lace)
Iridescent Aso-oke
Embellished, Sequined and Beaded Aso-oke
Laser Cut Aso-oke and Handcut aso-oke design (looks and feels like lace fabric)
Kente aso-oke (Kente-oke)
Metallic aso-oke
Net aso-oke design
Normal net design
Super-net aso-oke
Silk aso-oke
Cotton aso-oke
Wire aso-oke
Aso-oke with Print art work design
Aso-oke with Monogramming
And many others.
SEE ALSO: Video of How to tie the Yoruba "Iro" (Wrapper)
FASHION IDEAS FOR YOUR ASO-OKE STYLING:
Where To Buy Nigerian Aso-Oke Fabrics?
Aso-oke is widely available in and outside Nigeria. You can either buy aso-oke directly from the cloth weavers or from retailers in Nigerian markets – aso-oke is widely available for sale in many Lagos markets and shops, including the famous Balogun market.
The fabrics are also exported to, and sold outside Nigeria, and so you can find aso-oke sold in London (UK), USA and European and other African countries.
A note about pricing – if you prefer to shop in the open markets, such as Balogun or Ibadan market, know that you can get your aso-oke cheaper by bargaining, and some haggling.
Some Online Stores that Sell Nigerian Aso-Oke: In case you love shopping via the internet, you can now buy aso-oke fabric directly from some top Nigerian weavers and retailers' online stores, including the following places:
Needles and Thread Aso-Oke:  mikewig.com OR at www.needlesnthread.com AND at facebook.com/needlesand.thread – they are a trend-setter in contemporary aso-oke designs and they produce aso-oke fabrics and also sell.
Bellisimo aso-oke: They are on Facebook and sell aso-oke and traditional wedding beads for brides. You can see some of their aso-oke designs on their Facebook page, and also be able to contact them in case you find any style you like.
Heritage aso-oke: Their website is at www.asooke.com.ng and they also have a Facebook page. They've been selling aso-oke for over 20 years. I like that they even have a price list on their site, plus a helpful aso-oke colour combination guide, as well as a measurement guide for men and women respectively.
Those (above) and many other aso-oke makers and sellers in Nigeria and abroad have physical store locations that you can visit to see and buy beautiful aso-oke fabrics in assorted colours and designs.
The Fashion of Aso-Oke
The aso-oke is produced and sold in pieces of cloth, so that the buyer would sew them to fit his/ her own size. The aso-oke styles are classic – the men make their aso-oke in a similar style, and similar style, and the women's aso-oke styles are sewn in the same fashion.
ASO-OKE STYLES FOR WOMEN: Women's aso oke style is traditionally a four-piece outfit consisting of a wrapper (called iro), a blouse (buba), a shawl (Ipele or Iborun) and a headtie (called "Gele").
Most women also use part of the aso-oke to sew a blouse/ top, called "iro". The shawl is placed over the shoulder or tied around the waist.
ASO-OKE STYLE FOR TRADITIONAL WEDDING: Aso-Oke styles for a bride at her traditional wedding includes a beautiful beaded necklace and a fashion hand fan that compliments and matches her aso-oke. Usually, the hand-fan is bought together with the aso-oke wedding attire.
Both accessories add more glamour to the bridal aso-oke. The groom's aso-oke and cap (fila) colour combination and design is usually coordinated with that of the bride's (as you can see in the pictures above).
ASO-OKE STYLE FOR MEN: The men's w aso-oke style is traditionally a three-piece attire, consisting of a trouser (sokoto), a tunic-style top (buba or dansiki), a flowing robe (agbada – this is worn over the buba) and a cap/ hat (fila).
Because of the importance attached to the aso-oke fabric, and the prestige that the fabric bestows to the wearer, aso-oke is the preferred clothing for brides and grooms.
It's also a premium fabric for the parents of the celebrants, during their traditional engagement ceremonies and wedding.
Colourful, uniformed aso-oke styles are also worn as "aso-ebi' by friends and family of a celebrant, or bride or groom – makes the event look colourful and the wearers stand out.
Origin and History of Aso-Oke Fabric
Aso oke (pronounced: AH-SHOR-OKAY) is a patterned cloth, hand-woven by the Yoruba people of South-West Nigeria.
Literally, the word 'aso-oke' means 'top cloth' or 'high cloth' or "clothing for prestige'/ 'prestigious cloth'(translated to English).
It is the ceremonial clothing worn on special occasions during special such as chieftaincy ceremonies, parties, weddings, christening/ naming ceremony, traditional festivals, and other important occasions. Aso-oke is also the cloth for royalty, worn by the Obas (Kings).
One of our Yoruba readers,  Tolulope, was kind enough to let us know that the Yoruba word "Aso oke" was derived from the early name of this fabric, "aso ilu oke", which when translated, meant clothing from the highland. 
The Yoruba word "oke" in the word 'Aso-Oke' refers to highland (topography) and not social status. That's because the fabric was sourced from the highland part of Yorubaland (precisely, the source was Iseyin in Oyo state of Nigeria).
FUN FACT: Just so you know, the parts of Yorubaland referred to as lowlands (areas with low topography) include Lagos, Ijebu, Badagry, to name but a few.
Today, the meaning of "aso-oke" has become modified to also mean 'top-class or premium cloth' or 'clothing for prestige'.
Incidentally, the Yoruba word "oke" also means TOP. Aside from being a clothing attire, Aso-oke was worn as a symbol, or to showcase prestige and wealth.
So, if you saw someone wearing aso-oke, you immediately knew they were a royal or very important personality.
MORE FASHION IDEAS FOR ASO-OKE:
How Aso-Oke Cloth Weaving Industry Began
Here's how cloth weaving started with the Yoruba people. Back in the days, the Yoruba people had very big cotton farms.
Also, processing of cotton to cloth was a source of livelihood for most cotton-farming families who were self-contained mini-textile industries.
At the time, almost every family member was involved in the production line. The women and children spun the harvested cotton into threads, and also dyed the threads into various colours.
Some men and women were skilled in the craft of weaving the threads into Aso-Oke cloth.
The aso-oke industry and demand have since grown so big that it's no longer dependent on cotton produced within small families.
Today, the production of aso-oke has significantly changed – big cotton farms have disappeared, along with local cotton spinners and thread dyers.
These days, Aso-Oke Weavers now source for imported, ready-made threads that they use to weave their aso-oke.
Also, they are no longer confined to weaving aso-oke cloth with cotton. They now use other types of threads including silk, rayon and shiny metallic lurex (from Japan).
Back in the days, the traditional weavers made aso-oke in three main colours – blue (called 'etu'), crimson red (called 'alaari'), and brown ('sanyan'). At that time, the aso-oke designs were mainly stripes – blue stripes or red stripes or brown stripes.
Over years, everything about the aso-oke fabric – designs, patterns and colours – has evolved into creating some of the most elegant and prestigious textile in the World.
While such changes added to the cost of finished modern aso-oke, it also increased its appeal to the international market. Today, Aso-oke is now worn beyond the borders of Yoruba states (in and outside Nigeria).
These developments in did not wipe out the demand and weaving of aso-oke in it's old, original striped designs and colours.
They're still beautiful and not out of trend. You can still find the classic, traditional aso-oke sold in Nigeria.
Production of Aso-oke
Have you ever wondered 'how is aso-oke fabric is produced'? 'Aso oke' cloth is woven on a narrow loom. The end product is a 40-foot strip of cloth.
Traditionally, aso-oke is sold in strips of narrow cloth – just the way they are produced. The buyer would then find a tailor to join the pieces together, in order to make a full cloth.
Today, you can still find aso-oke cloth packaged in the classic, traditional way or you can buy strips of the woven cloth from one of many retailers who sell already-joined, complete aso-oke cloth.
Wrapping Up
There you have it on the latest aso-oke designs and colours. You may want to see our tips and ideas on best colours to combine for dressing with aso-oke or other materials.
Now, I'd like to hear your thoughts on this post. Also, let me know which of the featured aso-oke outfit is your favourite.