Fate has a way of making love possible against all odds. It looks like sometimes couples need a long breakup to test how strong their love is. And, in some cases, time spent apart makes them realize whether or not they want to take things to the next level.  How else can you explain a romantic relationship that suddenly lost the fire, just like that!  For no reason, the girl and the guy suddenly stopped calling and stopped visiting.  Along the way, they totally lost communications.
Five years later, fate brought them back and they became stronger in-love, not wanting to live without each other again. So, he quickly proposed and they started planning a wedding right away.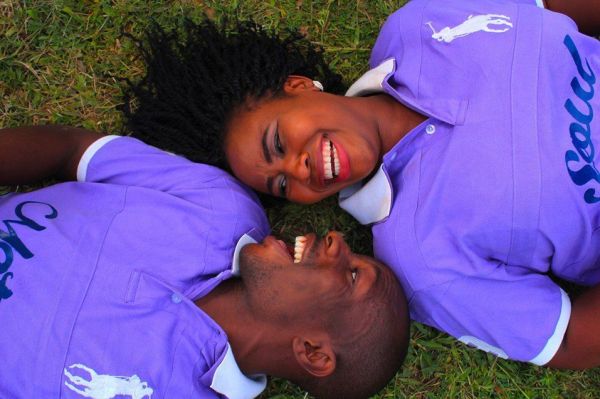 Theirs is similar to the story of this gorgeous newlywed here;. Their true love story also reminds me of Prince William and Kate Middleton who also had a long breakup and later came back to get married.  Scroll down to hear more about their happy-ending love story, how they met, and their marriage proposal story and also see their cute engagement shoot pictures.
Meet the Couple
Bride-to-Be: Hope Odin
Groom-to-be:  Alexander
Met in 2009, he proposed in 2015 and they'll be getting married in November 2016
How They Met (and How He Proposed)
According to the bride-to-be, Hope:  "We met in 2009 where we play handball as teammates. He revealed to my close friend that he liked me, and begged my friend to hook us up. I did little 'shakara' to him but later accepted to become his girlfriend.
After a few months of dating, we stopped communicating for no reason… just like that? Yes, just like that.  We only got talking again when one of our mutual friends visited me and while we were discussing, he made a phone call to him (Alexander) and told him to speak to Hope (me).  Can you imagine that he couldn't even spot my voice – he had to ask: 'which Hope? Is this Hope Odin (me)'?  I told him 'yes'.
So, he took my phone number. He later told me that he was out for serious dating.  One day, he called me on phone, saying he sent someone to me, and that the person was at the gate waiting for me.  So, I went there and was surprised it was him.  I screamed in excitement. We talked about the past, present, and future. That was how we continued from where we stopped in our relationship".
Their Marriage Proposal Story
Hope tells us how he proposed to her:  I saw the proposal coming when on the 1st of January 2016, he called me and casually said 'Temi na this year o'.  I accepted his proposal because he understands me so much even with my stubbornness… Haha. In March he told me he wanted to meet my parents to tell them his intentions (to marry him). So, we fixed a date. He met my parents and they accepted him.
He Believes They Are Soulmates
The groom fondly says this about his bride: 'Hope can be very stubborn, but I love everything about her – including her stubbornness. I just believe God planned and prepared her for me, because after (6 years of) lost communication from 2009, we still came back together in 2015. Haba, na God-win!  But, before she accepted me back…  Hmmm… This time around, I had to keep the communication on before she would again take-off (which I don't want).  Hahaha'
*Photography by Slamtee Photography and submitted by the bride-to-be, Hope.
See More From Our True Love Stories Series
We regularly feature real-life love stories from newly engaged Nigerian couples who share their relationship journey and juicy details of their marriage proposal. They also share their engagement ring selfie and engagement shoot pictures. To see more interesting pre-wedding pictures and true love stories, check out other true love stories and engagement shoots.
Thanks for reading. If you enjoyed this true love story and liked Hope and Alexander's pre-wedding photos, be sure to share it with others on social media. 
Before you go, I want to hear from you – what do you think of this couple's love story? Do you know of any similar story?