Today's featured-wedding couple is Joyce and Sylvester. Theirs is love that has been tested with fire, tried and proven – they got engaged, broke up and didn't think they'd hook up again.  After a long breakup, he knew he didn't want to lose her – Sylvester came back for her, this time to quickly seal the deal with an engagement ring.  We featured their beautiful engagement shoot pictures, marriage proposal and true love story here (click).
They recently got married in Benin city and sent us their traditional and white wedding pictures, so we can all share in their big day. Scroll down to see the couple's elegant Benin traditional wedding attire and beads, see their cute white wedding outfits, the guests' purple and blue aso-ebi wears, the beautiful bridesmaids' pink dresses, the groomsmen's suits and also read details of how they planned the wedding.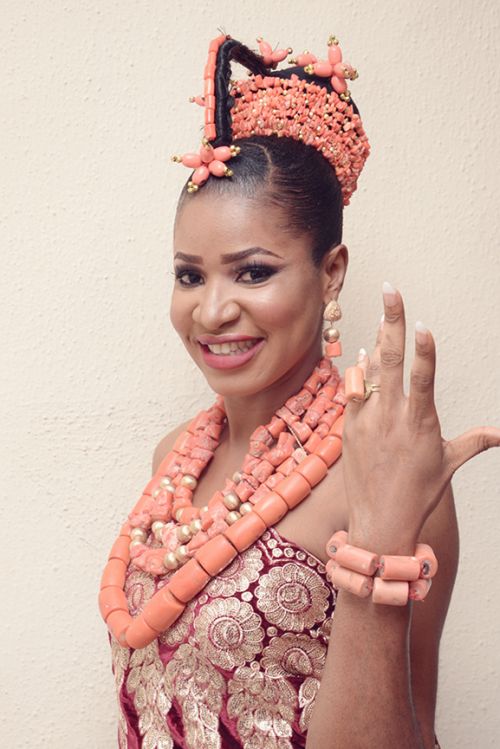 Their Benin Traditional Wedding (with Pictures)
Date: 28th July 2016
Location: Benin City, at the bride's family house, Edo State
Number of Guests: 200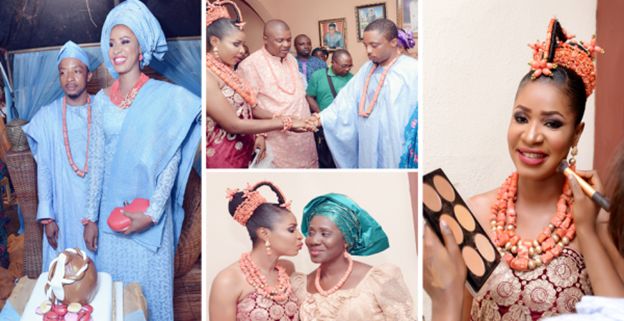 RELATED: See the Customary Edo Traditional Wedding List  | ALSO: Edo Traditional Marriage Process Explained (for Grooms-to-Be)
Their White Wedding (with Pictures)
Date:  30th July, 2016
Location: Baden Exquisite Hotel and Hall in Benin City, Edo State
Number of Guests: 500
Number of bridesmaids and groomsmen: 8 bridesmaids and 6 groomsmen
Aso-ebi Crew – Family and Friends: 14 friends of bride and 12 gorgeous aunties of the bride – coordinated in blue and purple asoebi outfits.
*Scroll down-down to learn how this couple planned their wedding.
Scroll down to see the colour combinations of their wedding party and aso-ebi crew.
RELATED: See the most beautiful bridesmaid dresses and colours seen at top Nigerian Weddings
ALSO: See Over 100 Latest Aso-ebi Styles for Women | Latest Agbada Styles for Dapper Male Wedding Guests
>>Continue Reading: Next Page 1 | 2