These modern, minimalistic one-piece Iro gowns (or gown-wrapper) that look like wrapper-with-blouse-attire and some that resemble iro-and-buba are disrupting the Nigerian fashion scene, and we're all here for it.
In this post, we're presenting you with our 10 best picks of the latest wrapper-gowns and iro gown styles. Swipe/ scroll down to check them out.
If you find tying wrappers difficult or fussy, these 'iro gowns' or 'gown wrapper' dresses are a no-fuss way to 'wear wrapper attires' without actually tying the wrappers. How cool is that!
We think that every Nigerian woman should have at least one wrapper-gown dress in her wardrobe. They're perfect to wear to an occasion and also look amazing on brides who wear it for their traditional wedding. Check out 10 beautiful style ideas for Iro Gown attire or wrapper-gowns.
#1, 2: Lace and Aso-Oke Wrapper-Gown Dresses
Above left: Toke Makinwa looks opulent in that black off-shoulder aso-oke wrapper-gown dress with a touch of white accent colour. She ties a wrapper on top of the dress to make it appear like a double-wrapper attire. She completes the look with a matching black glee headtie, black hand-fan, silver strappy heeled sandals, and dark sunglasses.
Above right:  Toke dons a hot pink lace wrapper-gown (iro gown). This is a fitted straight gown with side ruffles.  You can see more Toke Makinwa's aso-ebi styles here.
3, 4: George Gown-Wrapper Style Dresses
Above left: This bride dazzles in a cream top with fawn-brown and silver combination wrapper-gown George. Above right, @chiomagoodhair slays this pink and blue gown-wrapper in George material.
Gown-wrapper 'George' styles look like a maxi gown with a one-side wrapper or sewn to look like a wrap dress. There's another version of the minimalistic wrapper style made in the form of a long skirt and blouse with George material.
This skirt-wrapper style outfit comes in a George skirt with a separate George blouse or lace top. Then, there's also a top George wrapper,  which is tied on top of the skirt. The final look is a double wrapper and blouse attire.
Aside from the slit on the side or at the back of the long skirt, which peeks through a little bit, you may not know that there is a skirt underneath the top wrapper.
5-7: Fitted Buba Gown/ Iro Gown Wrapper Styles
(Above left) Shimmering coffee brown iro gown   |  (Middle) Back view of a purple iro gown  |  (Right) Baby pink iro gown with a touch of brown.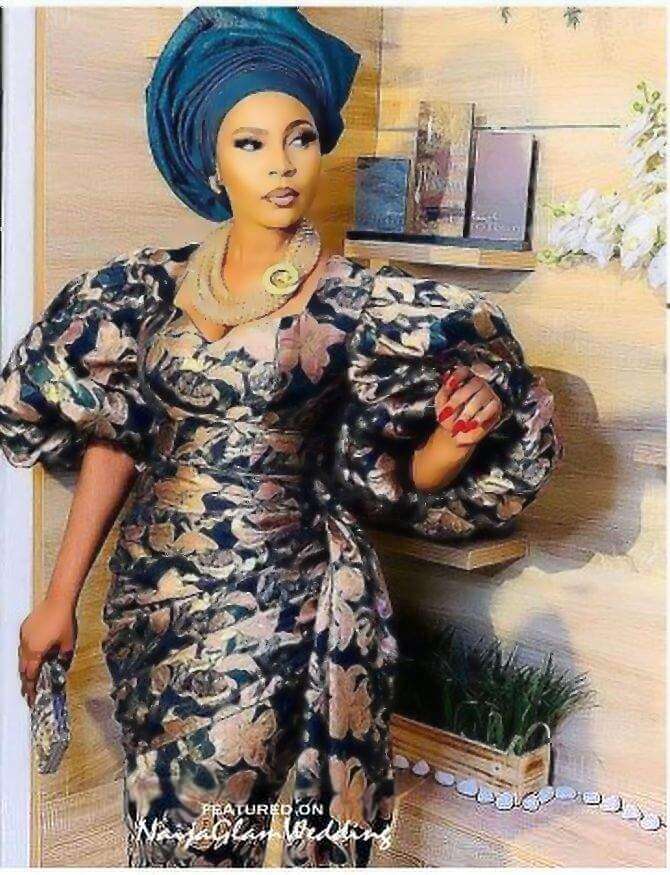 (Above) Gold and black wrapper-gown with statement puff sleeves, accessorized with a navy blue glee headtie, and a bold statement necklace set.
9, 10: Sweetheart Neck Wrapper-Skirt and Top / Gown-Wrapper Styles
Top left:  Royal blue top and light blue skirt-wrapper in velvet mixed with lace material.  | Top right: Pink top and lavender skirt-wrapper.
Conclusion
I don't even know what these styles are called, but I hear some people call them gown-wrappers, iro gowns, and wrapper-gowns. These are long gowns with one side (the front) looking like a wrapper.
When this style trend was new, you could easily tell that it's a gown or a skirt under a hand-tied wrapper, and not a hand-tied wrapper. Today, things are different.
Nigerian fashion designers and tailors have since perfected making this style of one-piece wrapper attires that they look very believable, with side bows around the waistline that looks like that of a hand-tied wrapper.
SKIRT-WRAPPERS, alternatives to Double Wrapper Attires: Some of these no-tie-wrapper outfits are made as 2-piece sets with a skirt and (usually) a lace blouse. A single wrapper is then tied on, making the whole outfit look like two wrappers were tied from scratch.
The benefit of these wrapper-gown or gown-wrapper outfits is that you get less stress from tying wrappers and also you now have two different ways to wear the outfit – (1) as a skirt and blouse outfit, and (2) a double-wrapper attire.
Most young women do not know how to tie double wrappers, and that's why this new style keeps trending. I explained more about the minimalistic skirt-wrapper styles in how to tie Nigerian wrappers for traditional occasion wear.
I hope you like the iro skirt and iro gown styles featured in this post.  Thanks for reading. Let me know which of the above is your favourite style.  Also, let me know how you feel about the one-piece iro gown/ skirt styles versus the traditional two-piece wrapper and top styles.  Comment down below.