Since the return of puffy sleeves, this fashion trend has shown no signs of slowing down. They're now 'bigger and better', with modern cuts and sleeker styles, as you can see down in this post.  If you're not a fashion minimalist (most Nigerians are not), you know how important it is to make a bold fashion statement.  Whenever there's a special occasion to attend, you just have to go big or not turn up at all.  Sometimes, tying a big, fancy new gele style is what the mood calls for.  Or rocking an elegant one-shoulder maxi gown.  But at other times, you just want to keep your headtie low-key and cute at the same time.  At other times, you let your sleeves speak volumes, and puff sleeves to the rescue!  Read on.
8 Elegant Puff Hand Occasion Outfit Ideas (with Pictures)
Searching for modern puff sleeve dress styles is not an easy task, especially if you have an occasion or wedding that the date is approaching.  Let's show you the latest puff sleeves in pictures.  Swipe or scroll down to see fresh and modern Nigerian puff sleeve outfits perfect for wedding guests and brides (traditional wedding attire).  Slide in a doze of bubbly personality to your occasion and wedding guest look.  Stay on-trend and add these sophisticated puffy bubble sleeve outfits to your wardrobe, including short and long puff sleeve styles for Nigerian wedding guest dresses.
#1:  Bold and Dramatic Full Balloon Sleeves Dress Accessorized with Vintage Bridal Fascinator Net Cap (Nigerian Court Wedding Look)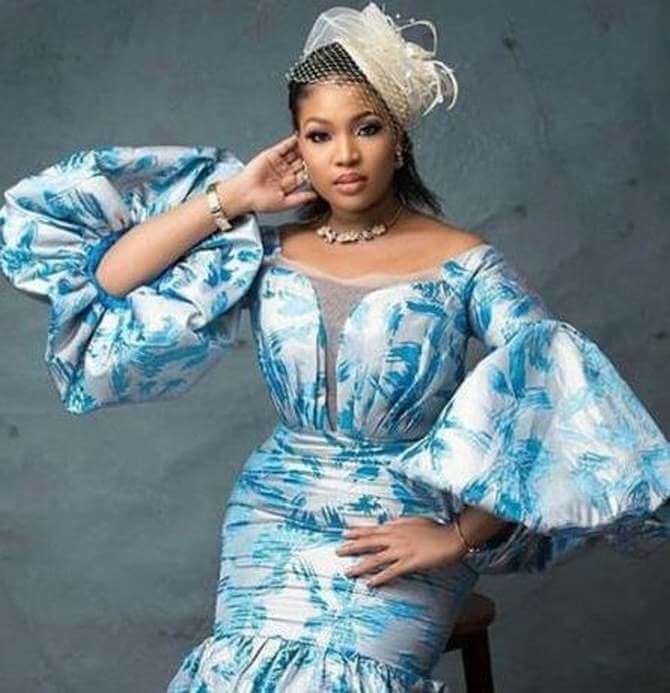 (Above) Maryam is all shades of elegance in that bold and dramatic off-shoulder skirt and blouse outfit with balloon sleeves top. Her posh ensemble is accessorized with an off-white bridal fascinator net-hat. This look is perfect for a court registry wedding in Nigeria.
#2, 3:  Eye-Catching Full Puff Hand/ Balloon Sleeve Aso-ebi Long Fitted Gowns
Style Tips: 'The bigger, the better' is simply what these big puffy long sleeve aso-ebi maxi gowns are all about. The choice of full bubble chiffon sleeves on Mimi's lace aso-ebi gown (left) makes the outfit edgy and more interesting.  Miranda looks radiant in that shimmering bottle-green sweetheart neckline off-shoulder fitted long gown.
#4, 5, 6:  Charming Wide V-Neck Balloon Sleeve High-Waist Aso-oke and Lace Maxi Iro Gowns
Style Tips: The above balloon sleeve maxi dresses with high-waist (empire waist silhouette) are perfect for brides to wear on their customary marriage introduction ceremony or traditional wedding.  That shoulder and neckline is one that perfectly matches this puffed sleeve style and one we've seen at many Yoruba traditional weddings.  If you dislike iro and buba, or generally tying wrappers, opt for these stunning aso-oke puffy bubble sleeves maxi gowns perfect to be worn on its own or with a wrapper on top.
#7, 8:  Stunning Long-Sleeve Illusion Sweetheart High-Neck Pencil Gowns with Bubble Sleeves, Accessorized with Gele Headtie
Styling Tips: If you're that woman who loves to add an extra oomph to her wedding guest dress or occasion wear, try a high-neck illusion sweetheart long gown with bubble sleeves.  The sweetheart neck cut peeking through the sheer (see-through)  illusion lace makes these form-fitting gowns even more interesting.   This style looks just as great with or without a slit.  Draw fashion and style inspiration from the fashionistas in the above photo.
Suitable Fabrics for Nigerian-Style Puff Hand/ Bubble Sleeves Outfits
Modern puff sleeves look good in both simple and luxury fabrics, including ankara, aso-oke (especially for brides), silk, chiffon, lace, scuba material, jacquard.  Depending on the fabric, puff or bubble sleeves outfits are suitable for a wide variety of occasions, including weddings. We see Yoruba brides using aso-oke to sew bubble sleeves maxi gowns and iro and buba styles for their customary introduction ceremony and traditional wedding.  We also see brides from Eastern Nigeria (including Igbos) sew beautiful puff blouse styles for george wrappers. We see tailored wedding guest balloon sleeves gowns and skirt and blouse outfits using ankara, lace, scuba material and more.  This dress sleeve style is very versatile.
Extra Puff Hand Styling Ideas to Inspire Your Next Aso-ebi or Occasion-Wear
In the wedding fashion scene, puff sleeves (bubble sleeves, balloon sleeves) have been on-trend among brides and wedding guests. We see brides wearing balloon sleeve aso-oke maxi gowns and balloon sleeve aso-oke blouses/ tops paired with wrapper for their traditional wedding attire.  We are also seeing wedding guests in bubble sleeves lace and ankara gowns.  Wedding guests and brides are also wearing puffed sleeve outfits in a lot of other fabric types and styles.  Here are some styling ideas to inspire you:
You can even make a puff hand dress even more interesting by adding some fun to the design: Add feather or fringe accents.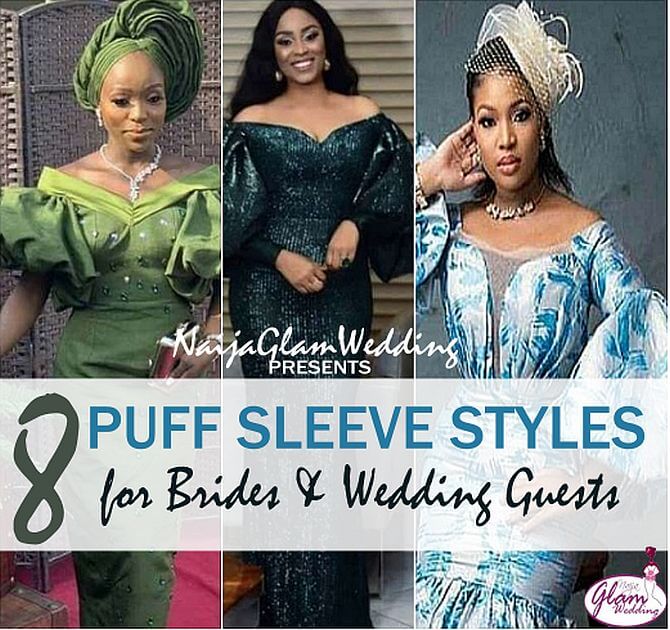 Let Your Puff Sleeves Do the Talking: Power Dressing 101
When you want your attire to stand out, try puffy statement sleeves.  A big, balloon-sleeved aso-ebi outfit is just perfect, especially with Nigerian-style occasion fabrics like lace, aso-oke, ankara. Just let your outfit shoulder details speak volumes while you strut your way around as if you don't know the effect you're serving the people around you. Pepper dem with your big, fat balloon sleeves!
If you want to make a fashion statement at a wedding or other occasion, puffy balloon sleeves (aka bubble sleeves) are the way to go. Also known as bubble sleeves or balloon sleeves, puff sleeve gowns or skirt-and-top outfits are perfect for putting together a charming and tasteful look.  Overall, the trending big, balloon sleeves are fashionable for a sophisticated lady.
In conclusion, the 'puff-puff hand' trend is to 'go big or go home'. Make a fashion statement with the shoulder details of your occasion outfit. Finish off the look with a simple, small gele headtie, if you're going for a trad' look vibe.
When a fashionista has become tired of serving simple, minimalist looks', the question will be – 'go big or go home?'. Of course, the style-savvy chic will always choose to go big (with full puffy statement sleeves).
Now that you have seen the stunning puff sleeves wedding guest and occasion dresses above, buy or sew some for yourself. Be on-trend. Have your tailor sew you a big balloon sleeve top with a matching skirt; or serve them a puffy bubble sleeve maxi gown.
Wrapup: Get the Latest Puff Hand Styles
There you have it – the latest puff sleeve styles in Nigeria.  Thanks for reading.  If you like this post, we always showcase new, trending wedding fashion trends.  Go ahead and join our Glam Wedding Tribe to be in the know. Also, follow us on your favourite socials – Instagram, Facebook, Twitter, and Youtube.
Now, I'd like to hear from you.  Which of the above puffy balloon sleeves dresses is your favourite? Comment down below to tell me, and let's get the discussion popping!