If you're looking for the latest george wrapper designs and george blouse style ideas, grab a seat and swipe/ scroll down to see our curation of the latest george wrapper designs and styles in Nigeria – for traditional wedding celebrants and anyone looking to channel that 'madam look' for their special occasion attire. Come on, let's get right into it – swipe or scroll down to see the George styles we curated for you.
12 Beautiful Nigerian George Wrapper Designs and Trending George Blouses Styles
Check out our editorial picks of the latest george wrapper designs and styles of george blouses feature traditional wedding george wrapper bridal looks for traditional weddings (Igbo/ Niger-Delta regions). These wrapper designs and combo blouse styles are also perfect for celebrants of other types of events, mother of celebrants and wedding/ party guests going for the 'thick madam'look.  Enjoy!
1.  Embellished VIP George Styles with Off-Shoulder Blouses Plus Matching Gele Headties (Traditional Wedding Bridal Look)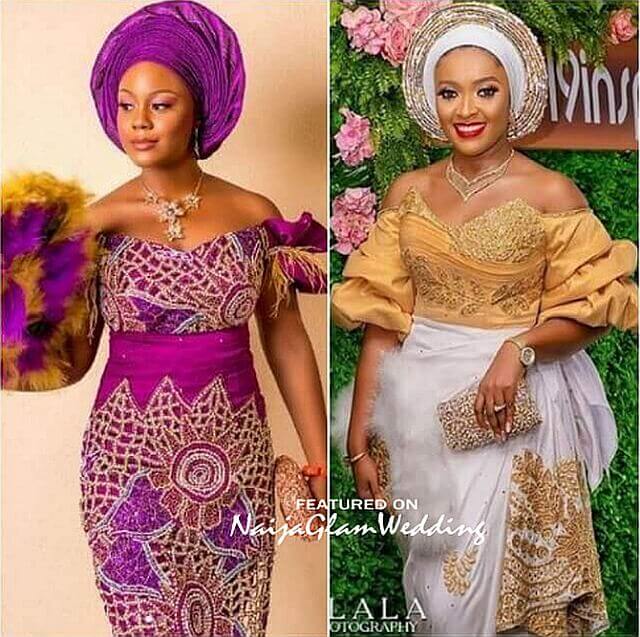 5 Stunning Igbo Men's Wrapper & Shirt Igba Nkwu Attire Styles (Husband and Wife Combos)
LEFT (above): This bride sure looks glowing and regal in her heavily stoned Fuschia Pink george wrapper and blouse with gold embellishments paired with an off-shoulder bardot blouse in the same george material. These two fashionistas (above) sure know how to make a bold, madam-style fashion statement.
RIGHT (above): This tan brown and white George colour combination is giving us life. The beads and embroidery are in the right places on the wrappers and on the blouse. The layered puff-sleeve bardot off-shoulder George blouse added a hint of interest to the blouse. We love how this bride matched the sparkles in her sequin gele with her gold necklace and also to her wristwatch and clutch purse.
2.  White and Mustard Embellished Silk George Bridal Glam
Latest Igba Nkwu Attire for Brides (19 Dresses for Igbo Traditional Wedding)
LEFT (above): This bride looks effortlessly glam in this white silk George wrapper with a touch of grey details, paired with an off-shoulder blouse in the same george fabric.  This bride throws in a matching (white) bead necklace and earrings with a bangle set and a silver-grey clutch purse that complements the details on her outfit. Her choice of gele (headtie) is in harmony with her entire ensemble, and blends with her necklace.
RIGHT (above): This Mustard George with gold embroidery bridal attire looks really nice on this bride with really simple accessories (a coral bead and a silver necklace), a gold headtie and a matching gold clutch purse.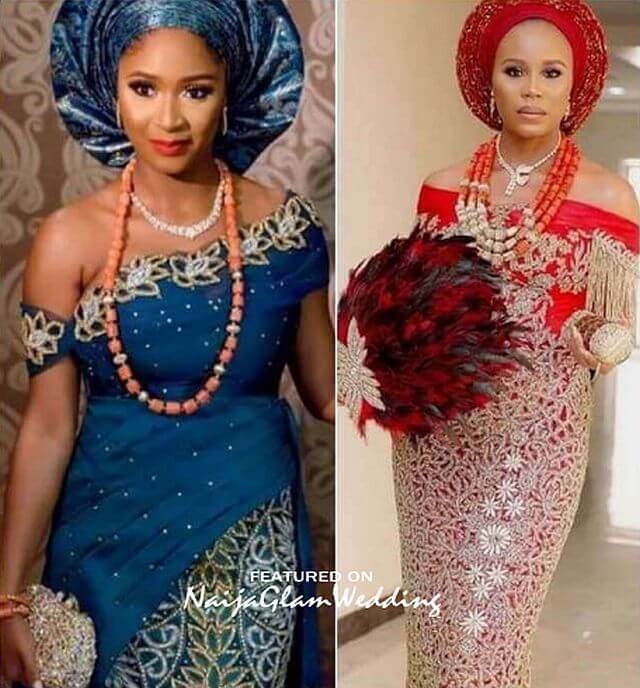 LEFT (above): The Navy blue and gold hand-cut george wrapper (above left) paired with a one-shoulder asymmetric neckline blouse.  She finishes the look with a sparkling silver clutch purse that compliments the stones on her george.
RIGHT (above): The traditional wedding bridal look (above right) in fully silver embellished red George wrapper attire paired with a bardot off-shoulder blouse. That wine coloured hand fan and coral bead necklace added an extra glam to her look.
4.  Sleek in Silk George: Ruffle Sleeve Blouses in Blue and Red George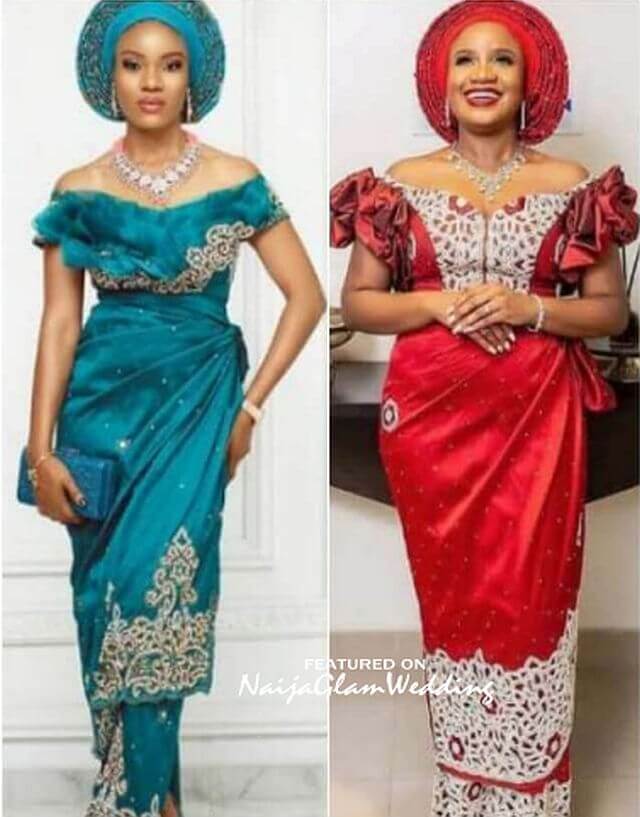 LEFT (above): This bride (top left) looks stunning in that turquoise blue silk george wrapper with a matching bardot off-shoulder george blouse.  The gold and silver embroidery design at the hem of the wrapper makes a pretty accent on the outfit.  We like how the bride kept her blouse style simple, as the george material's embroidery was perfect to make it look befitting for a bride's traditional wedding attire.
RIGHT (above): The bride on the right (top right) sure looks gorgeous in that red george wrapper with white embroidery on the bottom of the wrapper.  She pairs it with a matching george blouse with wine-coloured ruffle sleeves. The intricate decoration and designs on both georges were a lot (in a cool way) and these brides understood that and wore just one simple silver necklace and earring set.
5. Stoned George with Sparkling Sequin Gele and Off-Shoulder George Blouse and Wrapper Styles
Latest Igbo Trad Wedding Hairstyles w/ Coral Bead Accessories
LEFT (above): This bride looks gorgeous in this pink stoned-George and matching off-shoulder blouse. I like how she kept her jewelry minimal and matched the silver necklace and earrings with the colour of the design on her George. Her matching sparkling pink sequined Gele added an extra oomph to her entire look.
RIGHT (above): I love how both women added some sparkle to their entire look with the sequins going on in their Gele, which also match with the colour of their george embroidery work.  Their hand-fans are also a perfect colour match with their george wrappers. In the spirit (or theme) of  'to match', the bride in red silk george with stoned wrapper and embroidered blouse (above right) aptly adds a silver clutch purse that complements the decoration on her blouse.
6.  Striking Beaded George and Wrapper Styles, Accessorized with Matching Gele, Bead Necklace and Clutch Purse (George Traditional Wedding Attire)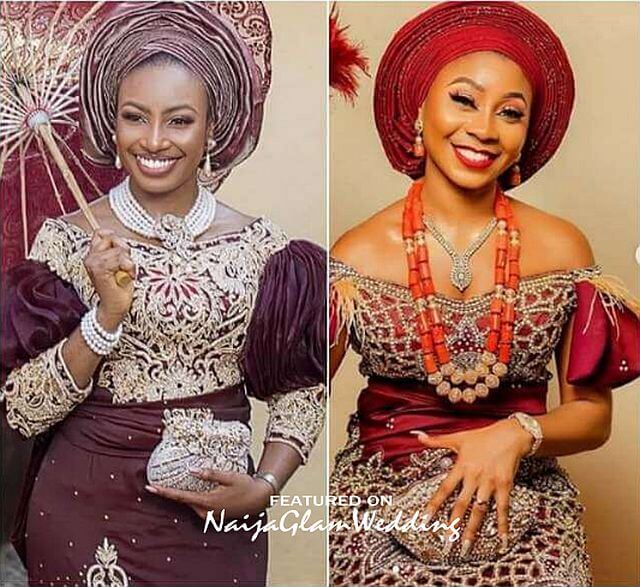 LEFT (above): The bride looks regal in her three-quarter bubble-sleeve oxblood colour Indian George wrapper with champagne gold embroidery. I love the intentional placement of the George embroidery on the front and sleeve trimmings of her blouse.
RIGHT (above): Now, let's talk about the traditional bridal look in the top right image.  That maroon beaded George is just perfect with that simple bardot neckline top – the heavily designed george material didn't need much to make it stand out.  The colour and length of the coral bead on this minimalistic blouse is a perfect combo with the wrapper. The silver colour of her clutch purse, wristwatch and necklace are in harmony with her entire ensemble.
Perfect for Mother of Brides/ Grooms and Older Women-Guests or Party Celebrants
'George' wrappers just have a way to instantly give the wearer an 'expensive and thick-madam look' and that, aside from its price point, puts it in a special place in the Nigerian women's closet.  This fabric is a luxury and premium occasion-wear fabric that has long been loved by Nigerian women of Eastern origin. We simply can't get over the excitement we feel every time we see an East-Nigerian bride draped in a luxurious silk george gown or skirt and blouse.
We love the exotic look a woman has from tying a beaded hand-cut george wrapper and a matching blouse. Even more interesting is how men and grooms look in men's george wrapper and shirt attire.  We drooled over every design of george wrappers – the beadings, the intricate embroideries and all that.  We can't get over the beautiful pictures of a well-tailored george blouse with wrappers we see in magazines and the Internet.
How to Tie Nigerian Wrapper: Igbo Double Wrapper, Yoruba Style & Knot Style (Video Tutorial)
The above george blouse and wrapper outfits are perfect for Igbo and Niger-Delta brides (including Igbo and Urhobos) to wear on their marriage introduction ceremony or traditional wedding day. All of the featured George styles in this post are also perfect ideas for mother-of-the-bride or groom, as well as older women who are either wedding/ party guests or are the celebrants.
How the 'George' Fabric Fashion Changed Over the Years
The trend used to be to wear a lace blouse with george wrappers, but that has changed. The trend is now about sewing a matching george blouse with the same wrapper fabric (they look exotic, by the way). Aside from the fact that george blouses look super luxurious on george wrappers, women now have an option to wear a lace blouse with their george wrappers or to wear it with a george blouse.
Some new 'george wrapper' designs now come with fuller or full-on beading and all-over wire embroidery. Nigerian women naturally like their fashion to be 'extra' and so they're loving all the extra sauce served by the stoned george wrappers that also come with matching materials so that the blouses also have nearly-full or full beadings and stones.
10 Fancy Gown-Wrapper and Iro-Gown Styles Every Woman Should Have
SKIRT-WRAPPER TREND – GEORGE SKIRT WITH WRAPPER OR GOWN WITH WRAPPER TREND: Still, on how the 'george wrapper' fashion trend has shifted/ changed, we now see women making gowns and skirt and blouse attires our of not-heavy, lighter george fabrics such as the silk george.  They then tie a wrapper over the george skirt or gown, so that it looks like you're tying two layered wrappers.  Our Nigerian designers and local tailors have perfected the art of sewing these skirt-wrappers or gown-wrappers, as they look so real like double wrappers.  This is the trending way that younger brides who do not know how to tie double wrappers are gravitating towards.  We're all here for it, because it looks pretty cool.
This so-called george wrapper-skirt or wrapper-gown fashion is a trend popular among brides from Eastern Nigeria (including Igbo brides) for their traditional wedding. That is so cool and has contributed to increasing the popularity of  'george' fashion among single and younger women. Therefore, this luxury fabric (george wrappers) are no longer the 'exclusives' of older and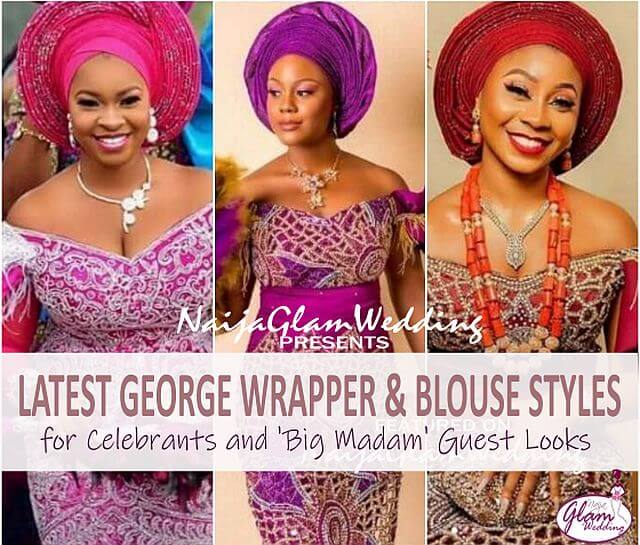 Want to Look Expensive? Dress Up in a George Blouse and Wrappers
For women of Eastern Nigeria, 'George' is one of the first choice luxury fabrics for a celebrant of a wedding, child's dedication or naming ceremony, marriage anniversary and more. The new george designs, embroidery and colour combinations are very refreshing. Most exciting is the fact that they are no longer as heavy as they used to be back in the day, thereby making them acceptable to the younger women. Hence, they are now widely worn by brides in different forms and styles. We're loving this trend.
If you ever have an occasion to attend or you're the celebrant, and you want to show up looking expensive, just wear a george wrapper and blouse, and complete the look with a fan gele with pleated base.  Go ye and slay, and thank me later!  If you are not a fan of tying two-layered wrappers on a blouse, get your tailor to sew a classy traditional-style long george gown or an elegant Nigerian-style skirt and blouse outfit using george material.
Either way, you'll be guaranteed to turn heads. Oh, I forgot, when you wear your george and wrapper attire, be sure to give your face a flawless makeup beat, throw in a statement beaded necklace with earrings and bangles. Finally, spray a decent perfume because looking good should go with smelling good (go ask Toke Makinwa, the queen of baby-girls-for-life).
By the way, all of the featured george wrapper and blouse styles can be sewn with any type of george – beaded george, stoned and crystal george, Indian george, silk george, plain george, net george  – and also intorica george.
I hope you'll be inspired to channel one or more of the george blouse and wrapper styles featured above. If you're a george material enthusiast like we are, then be sure to check out our editorial picks of the top trending george gown styles, as well as the latest george skirt and blouse styles in Nigeria.
That's a wrapup there.  If you like this post and the featured styles, go ahead and share this page on Facebook, Instagram, Pinterest, everywhere and email.  Also, subscribe to join our glam wedding community to be the first to know when we have a new post.
Now, I'd like to hear from you – which of the above george blouse and wrapper attires do you picture yourself wearing? Or which one is your favourite look? Also, what type and design of george is your favourite? Comment below to tell me and let's get the discussion going.