Looking for fresh Agbada for special occasions? You'll love these latest Agbada styles featuring modern cuts and embroidery. They're perfect to wear for  special occasions, including marriage introductions and traditional wedding ceremony.
This post is divided into 2 parts – first part features photos of the best Agbada for men, and the second part is a video that features more photos classic Agbada styles for special occasions. Check them out below!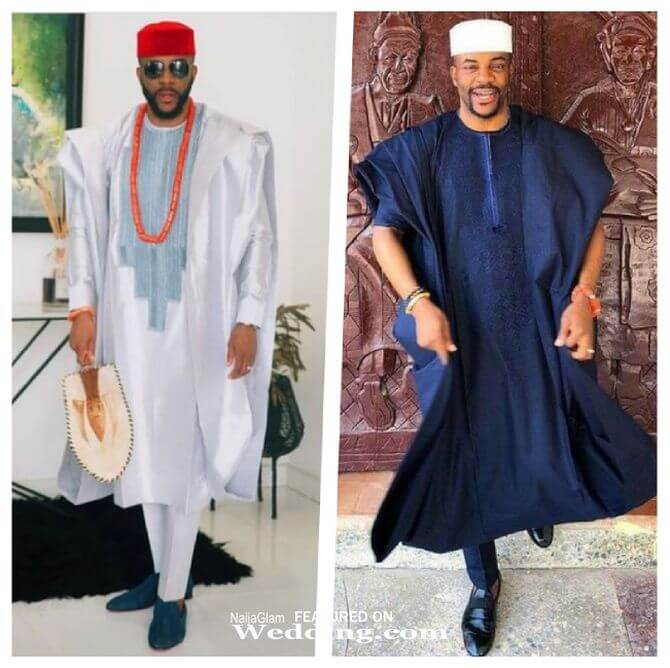 2. Short-Sleeves Aso-Oke Agbada Style with Embroidery Design – Perfect Yoruba for Grooms
3. Modern Aso-Oke Agbada Styles with Embroidery – Perfect for Yoruba Traditional Engagement
What Male Guests Should Wear to Nigerian Weddings: 6 Outfit Types w/ Photos
4. Short Agbada Styles for Men – Perfect for Wedding Guests
5. White Agbada Styles with Short Sleeves
MORE PICTURES: AGBADA STYLES PERFECT FOR YORUBA TRADITIONAL WEDDINGS
Play the video below to see the pictures of the latest men's agbada styles we curated for you (play the slideshow below to see photos).
Latest Aso-Oke Styles and Designs: Yoruba Couples Traditional Engagement Attire (2022)
If you're a stylish man looking for outfit ideas for that next special occasion, OR if you're an about-to-wed groom looking for men's aso-ebi ideas, you'll love these trendy modern agbada styles and designs for male wedding guests.
These modern agbada styles and designs are not the same as those our grandfathers wore. Thanks to Nigeria's talented fashion designers, the latest agbada outfits are more appealing to young people and comfortable to wear.
Modern men's agbada outfits are generally sharper, lighter, not as big or heavy as they used to be. It's no wonder every fashion-forward man and celebrity has them in different colours and embroidery designs, and still sewing more.
Fun Facts About the Nigerian Agbada Native-Wear for Men
The Parts: The inner piece top/ shirt is called 'kaftan' and the big, flowing outermost robe-top is called the agbada or 'baba Riga'. The inner kaftan can either be short-sleeved (short agbada) or long-sleeved, depending on your preference.
Usual fabrics for sewing men's agbada include lace, guinea brocade/ kampala, atiku material, aso-oke, even ankara materials or wax prints. 
Embroideries in Abgada Outfits? That is optional, although a big part of the traditional agbada menswear – however, you can choose to have yours sewn with or without embroidery designs (see pictures in the above video for inspiration).
Every Nigerian knows this, but I know that our non-Nigerian readers would want to know a thing or two about 'agbada'. Maybe you already know about the dashiki African ethnic fashion trend Worldwide (also known as danshiki). Well, agbada is the senior brother of dashiki shirt, sort of, and it's widely worn in Nigeria.
You'll also find agbada worn as the ethic wear in some African countries such as Senegal, Mali, most West African countries. Agbada is a 3-piece outfit, with two tops worn over a trouser (sokoto).
Come On, Get Your Agbada Fix On!
Agbada fashion never goes out of vogue, and looks trendy whether sewn with guinea brocade or lace, with embroidery or plain. The featured Agbada styles are perfect ideas for a groom, wedding guest or aso-ebi look. You can't go wrong wearing an Agbada (babariga) to a special occasion in Nigeria. It's the king of men's native-wear!
Hope you liked the photos of featured styles and designs? Well, let me know what you think of the different featured agbada styles and designs, or just leave a comment down below.