What do male guests wear to a Nigerian wedding? It's interesting how wedding guest fashion differ across the World. If you're invited to a Nigerian wedding, you'll want to find the types of outfits you should wear.  In this post, you'll find 6 occasion-appropriate outfit types and style inspirations (pictures) for male guests invited to a Nigerian wedding.
First things first, check your invitation card to find out if a dress code is stated. Some Nigerian couples specify a dress code (known as aso-ebi) for their family members and close friends. If there's one, you can purchase the outfit and have it tailor-made into any style you desire. You'll find the best men's wedding guest outfit styles ideas below to inspire you on what to wear.
Where there's no dress code, Nigerian wedding guests wear whatever they want. It's important to blend in with the culture, and this post informs you on occasion-appropriate attire types so that you don't look out of place. Now, read on to find out what a male guest should wear to a Nigerian weddings they're invited to. 
1. Senator Wears for Male wedding Guest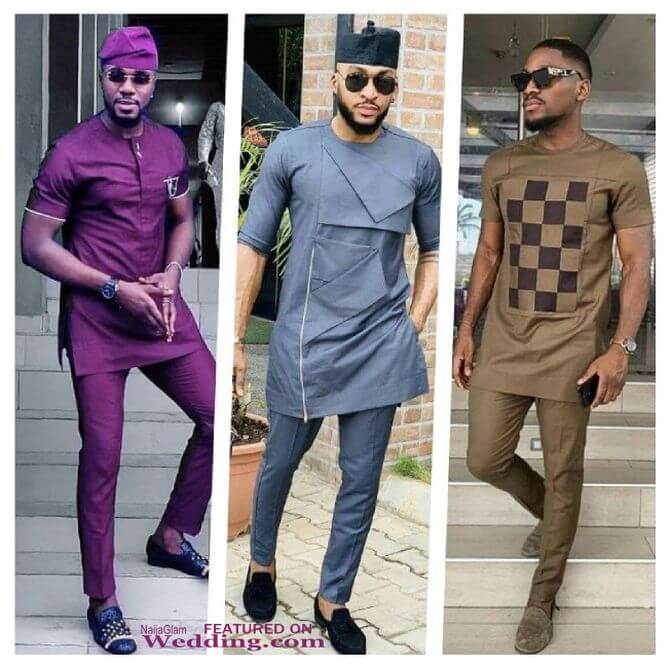 2. Agbada/ BabaRiga Attire for Male Wedding Guests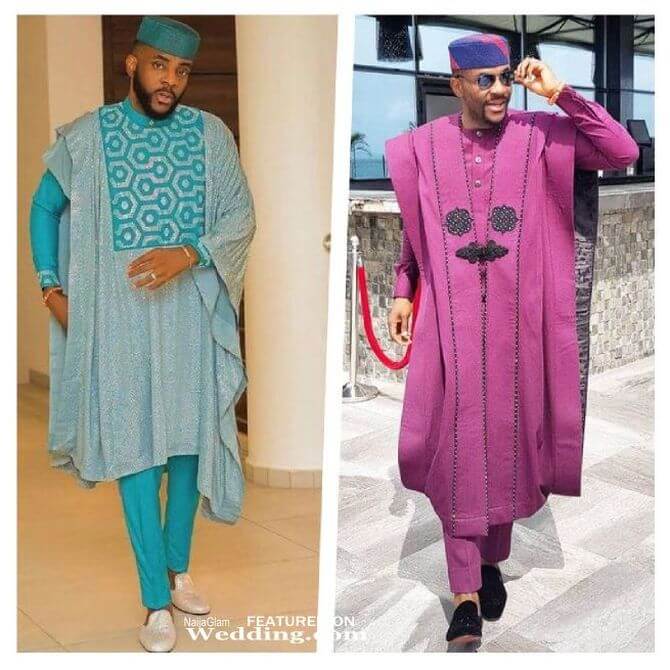 3. Kaftans: Male Traditional Wedding Guest Outfit Ideas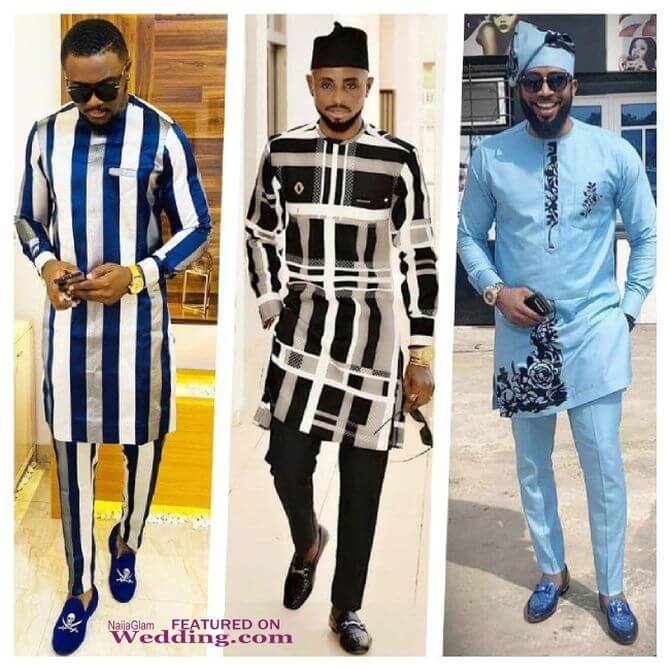 4. Dashiki and Cap Native Wear: Men's Wedding Guest Native-Wear Style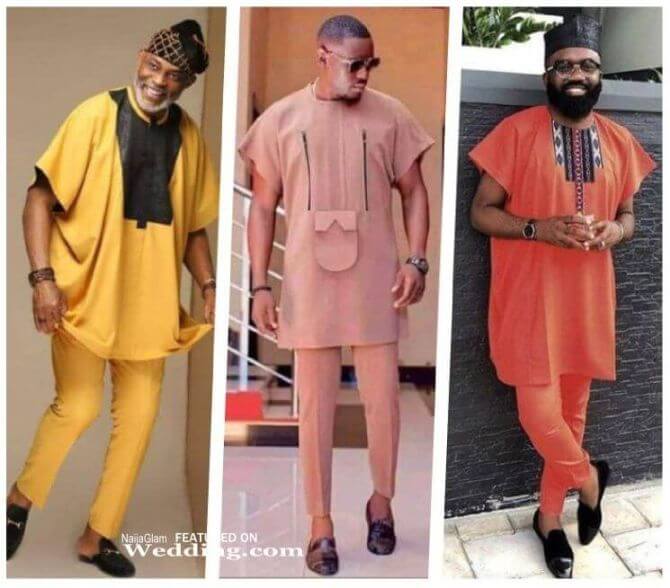 5. Etibor and Hat Traditional Menswear: Wedding Guest Attire Style
6. English Suit for Male Wedding Guests
If you don't feel like wearing native, traditional Nigerian menswear to a wedding you're invited to, men's suits is an option. While this is not a popular choice among Nigerian male wedding guests, some guys opt for a suit either because they just feel like or because the couple specified 'English Suit' as the dress code. Incorporating a few suit accessories such as pocket-handkerchief, bracelets and will give your look a little bit of extra oomph, and not make you appear like you're wearing an office suit.
Fabrics Types for Sewing Men's Traditional Wedding Guest Outfits in Nigeria
So, if you like any of the Nigerian men's traditional fashion styles above, and are wondering what types of fabrics they are made from. Here goes:
1. Agbada / Baba-Riga Fabrics: Fabrics for men's Agbada include lace, guinea brocade, atiku material, aso-oke, ankara wax.  Guinea brocade. Cloths for agbada or Baba-riga are usually sold by Hausa men, in any Nigerian market.   With the atiku styles, the detail is in the embroidery design , as usually they are all cut and styled in a similar way (apart from the colour, only the embroidery differentiates each).
2. Senator native wear Fabrics: Generally, people call the fabrics for this style 'trouser material' or 'senator fabric' – they're commonly available in Nigerian markets and easy to find at fabric stores, with those names.  Other types of fabrics that tailors and fashion designers use for this men's native styles, include linen, atiku material/ fabric, trouser material/ fabric, English cotton, these types of trouser materials (cashmere/ Casmir 180, casmir 220, Italian wool).
3. Kaftan (Caftan) Fabrics:  Guinea brocade, linen, atiku fabric, lace, ankara wax print (Dutch wax or any, wooding, daviva, hitarget etc.)
4. Igbo Mazi-Style Menswear Fabrics:  Isi-agu (a special, velvet fabric with lion-head printed as a design) and any trouser fabric (certainly not denim).
5. Dashiki (Danshiki) Fabrics:  Guinea brocade, atiku material
6. Men's English wear (men's suits) Fabrics: You can buy good men's suit online and also on some offline stores.
All of the above fabrics can be bought from any Nigerian market, and even on the streets – just ask around.  NOTE: If you live outside Nigeria, you can find most of these fabrics in African fabric stores (offline or online) – just ask your African friends (if you're not Nigerian).
How and Where to Sew or Buy A Ready-Made Traditional Nigerian Men's Wedding Guest Attire
If you read up to this point, you already know about the fabric types used in the featured pictures of African / Nigerian native styles for men.  So, if you'd like to get yourself one of those ethnic / tribal styles, read on…
For ready-to-wear or tailor-made men's traditional outfits, if you don't know anywhere to start looking, start from any big Nigerian market – there are many tailor-shops there, some amateur, some big ones and some not-so-good.  You can always ask a few people around and also see their works on display.
Tailor-Made Men's Native Wear
The usual way to get any outfit, especially Nigerian native wear, here in Nigeria, is to buy some fabric and take it to a tailor to have it sewn for you. You'll be required to show the tailor a style you like (from a magazine, website or his phone or pictures from previous ones he has made) or trust him to sew any good style for you.  We fondly call this process 'çut-and-sew'.  Haha.
The downside of this cut-and-sew process is that it could take several days, sometimes weeks, for a tailor to finish sewing your outfit.  This is because they had other customers on queue before you –  and may not complete making your clothing before the promised date.
Many Nigerian tailors accept 'express', a special higher price if you want them to give your fabric(s) a priority over the customers before you.  But for some street-side tailors, that is not a guarantee that your outfit will be ready on the promised date.  Some high profile tailor-shops deliver on schedule most of the time, because they have plenty staff tailors to distribute jobs to.
So, here's my advice – if you want to sew your Nigerian-style men's wedding guest wear,  give the fabric to a tailor some weeks or a few months in advance, before the occasion or wedding, to avoid disappointment.
Ready-to-Wear and Cut-and-Sew Men's Native Wear Sold by Fashion Designers
However, many indigenous fashion designers like Yomi Casual and Mai Atafo have since been making these men's wedding and occasion traditional outfits in ready-to-wear forms, that you can buy any men's traditional attire ready-made – see what you like, try it on, pay for it and take it home.
The disadvantage(?) of buying ready-made traditional wear is that they cost more than cut-and-sew, and even exorbitant if you buy from a known fashion designer. The good thing is that most known designers' have a better finishing and even if you do cut-and-sew with them, you are not likely to be disappointed.
Should You Use a Tailor or a Fashion Designer to Make Your Men's Traditional Attire?
It's true that most designer-made outfits have better finishing,  but that does not mean that everyone that says they're a fashion designer will give you what you expected – just be aware.  Some who simply go by 'tailors' are very good, sometimes better than some 'fashion designers' (for instance, Aba-based tailors are awesome).
Whether you want to use a tailor or fashion designer or buy ready-made, it's better to ask friends where they bought from or which tailor made their outfits you like. Or ask someone on Instagram where they got that outfit made or bought from – let them know you want to buy same and ask them to refer you.  7 out of 10 times, you will get a positive response.
RECOMMENDED:
Your Favourite Men's Wedding Guest Look Attire to a Nigerian Wedding
Now you know the outfit options available to you as a man, if invited to a Nigerian wedding. At some Nigerian weddings, the invitation cards would specify the dress code, so look out for that. At others, the couple would require that their close friends and family members make their wedding guest outfits in a specified fabric material and colour (called aso-ebi for a coordinated look).
If you purchase the coordinated fabric (aso-ebi), usually everyone is free to make their in their desired style – and the above men's wedding guest outfit styles are ideas to pick from.
So, there you have it – ideas on what to wear to a Nigerian wedding as a male guest. If you enjoyed reading, I'll appreciate your helping us share this post with a friend on social media.
Finally, I'd like to hear from you. Which of the above men's wedding guest attire styles if your favourite way to show up as a guest to a Nigerian wedding? Comment down below to tell me, and let's get the discussion started!