We are crushing hard on the coolest styles of senator-suit native wears for Nigerian men. Every day, we see men wearing senator styles but not all of them make us turn to take a second look. 
In this post, we present photos of our best picks of the trending senator style native-wears we spotted on stylish Nigerian men.
The featured men's senator suits are not your everyday senator styles. These ones have clean cuts, pocket square design, checkered material, striped and prints fabrics. 
Swipe or scroll down to see the outfits. I hope that you'll find inspiration for what to wear to a wedding or special occasion on this page. Check out the styles.
14 Latest Senator-Wear Designs and Fabrics to Make a Fashion Statement (Nigerian Native Menswear Styles)
1, 2: The Polished Look: Senator Wear Styles with Stand-Out

Pocket-Square Design

in Plain Materials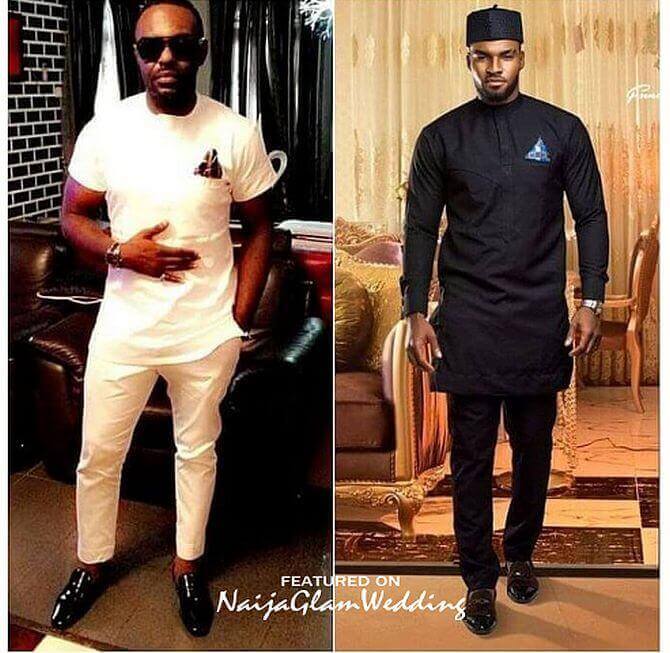 Above left, actor, Jim Iyke looks dapper in this slim-fit, white short-sleeved senator suit wear that has a sharply contrasting colour pocket square handkerchief. He completes that look with a pair of black shoes and dark sunglasses.
Above right, this handsome dude dons a  black long-sleeve senator suit with a sharply contrasting sky blue patterned pocket-square design. He completes the look with a black native cap and black shoes.  Imagine these two outfits without the pocket square? 
3-5: Look Sharp in

Striped Senator Wear

(Fashion Styles for Men)
Above left: Long sleeves senator suit with black and white stripes (black and white striped material). | Middle: Former BBNaija housemate, Tobi Bakre, wears a blue pin-striped senator suit wear and finishes the look with a black moccasin. | Above right: Long-sleeved senator suit in navy blue fabric with white stripes.
6, 7: Clean Look in Print and Mix-n-Match Patterned Senator Suit Styles (with Ankara)
Above left: Most print or ankara senator suit styles look basic but this one in black material with gold pattern oozes of glam. Check out the design details – the white trimmings at the neck and arms, the buttons on the side and the slant cut of the top. His black shoes complement the colour of the fabric.
Above right:  A non-matching pair of senator top and trousers can translate into a sharp-looking dressing style if you pick well-coordinated colours like this dude (above right). The pocket square and the bold contrast buttons on the ankara print top, and the gold details on his shoes all add up to polishing his entire look. You can also achieve this style with any other fabric colour.
8, 9: Stylish Senator Styles with Bright Pocket Square Contrast
(Above left):  Black senator style men's wedding aso-ebi with pink pocket square and a pink native cap to match. | (Above right) White senator wear that has a red pocket square and red fabric buttons.  This senator style wear has interesting design elements – red pocket-square and red fabric buttons.
10-12: Sleek Checkers Patterned Senator Wears for Guys
13, 14: Classy Look Senator Suit Styles With Pocket-Square Design
Above left, this handsome guy looks well-put-together in that wine colour senator suit featuring a matching colour pocket-square handkerchief design. This man knows how to boost an outfit to the next level, as he completes the look with matching colour moccasins, dark sunglasses, and a black man-bag (mini-briefcase) which breaks the monochrome look in a nice way.
Above right, menswear designer, Yomi Casual looks sharp in a cream colour senator style outfit that has a contrasting coffee colour neck and pocket trimmings. He pairs the look with a pair of black shoes.
Watch How to Fold a Pocket Square Handkerchief
MEN'S SENATOR SUIT WITH POCKET SQUARE
For a man looking for what to wear to a Nigerian wedding (as a male guest), you can't go wrong with a senator suit native-wear.  It's that type of outfit that you can wear anywhere, formal or informal, and still stand out.
Carrying a man-bag, and/ or adding a pocket square (handkerchief) to a men's senator-wear design elevates the outfit and your entire look to the next level, ultimately making you stand out, as you saw in the featured styles above.
The Place of Senator Style Native-Wear Suit in Nigerian Menswear Fashion
The senator style native-wear is versatile Nigerian menswear that looks good for all occasions (even weddings), but designs with a pocket square or pocket-trimmings look way better.  
Gone are the days when the English-wears and suits were the almost-only options for our men to look corporate and appropriate for some types of occasions.
Thanks to our local fashion designers, our men now have an assortment of fashion options that are indigenous to our land – aside from the classic Agbada and Kaftan styles. Oh, and the latest Nigerian native attires for men look very good – so good that they represent at home and abroad.
Today, most Nigerian men proudly wear natives to the office, to weddings and every place. The Senator-style native menswear is one of such popular indigenous fashion for men.  It's a simple design, yet looks rich, especially if it's well-tailored.
While a pocket-square (handkerchief) adds some spice to this type of men's Nigerian native wear, other interesting design elements include adding contrasting coloured buttons to the top and/ or adding a cap to your look.
As I said, senator suit is a versatile style, in terms of where and how you can wear it. Available design options are also diverse and so you can choose how you want yours to be sewn – long sleeve senator suit style or short-sleeved, with or without pocket-handkerchief, long or short top senator style, round neck or high neck senator style, or even a buttoned-neck style.
Ideas to Elevate Your Look When Wearing a Senator Style Manswear
If you love wearing senator suits native-wear, try adding some special touch to yours to elevate your style. Have yours sewn in a sharp material (plain, striped or checkered), with a pocket-square, and accessorize with moccasins and sunglasses.
The pocket square is a tiny accessory but has a way to transform any menswear to looking polished. 
If you want to further add sauce to your look, a senator suit plus a man-bag equal a match made in fashion haven. A man-bag is a great way to transform your senator-style attire to a professional/ corporate/ work look and still look dapper.
If you've been invited to a wedding or any occasion and looking for ideas to make a fashion statement, but also want an outfit that you can wear to other places without looking too dressed up and not looking inappropriate, just go for the senator style native-wear.
There you have it – 14 sleek and sharp senator suit styles for men, featuring fresh designs, the best colours, and fabrics. Did you see the difference that a pocket-square handkerchief makes to upgrading the look of any senator wear? 
If you like the featured styles, please help us share this post on social media and also tell a friend about it.
Finally, I'd like to know –  which of the above men's senator styles is your favourite and why?  Comment down below to let me know.