If you've saved up and set N200k as your wedding budget, would you like to see what the breakdown and expenses look like from past Nigerian weddings of similar spending?
Scroll down and take a peek into the expenses of two different Nigerian couples who managed to have a beautiful, meaningful and memorable wedding party experiences regardless of their limited funds.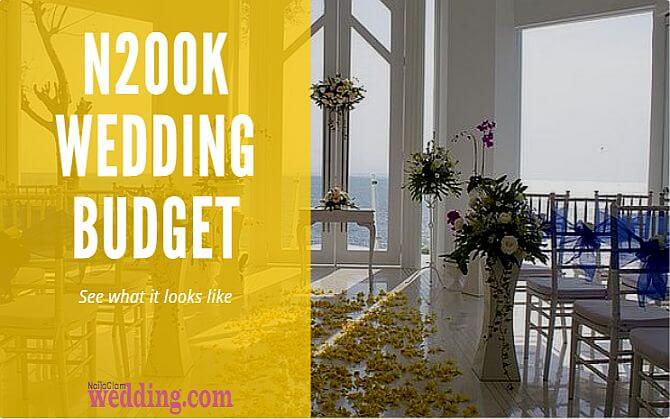 In Nigeria of today, a N200k wedding is a micro wedding, due to the really small size of the budget. Regardless, some couples have planned memorable weddings on this amount of money. We're all about having a wedding you didn't have to kill yourself or close your bank account for.  The truth is that there's a way to have a N200k wedding that does not look cheap, and it all starts with a very tiny guest list.
N200k WEDDING BUDGET

EXAMPLE #1 (30 Guests)
Number of Guests: 30
Cost per Person/ Guest: N6,667 <=Having only 30 guests meant that this Two Hundred Thousand Naira (N200k) wedding cost the couple N6,667 per guest.
The N200k Budget Breakdown
N76,000 – Wedding Cake, Food and Drinks [They spent N16k on a small cake; N60k was spent on food with drinks (They found a caterer that supplied food and drinks at N2k per guest. That cost N60k for 20 guests).
N40,000 – venue hire. No décor or DIY decoration by friends/ family [Rent a corner of an outdoor restaurant or a small, cheap indoor venue]. Venues of this price are only available in densely populated areas. | Also, the cost of this wedding makes it a micro-wedding, and it's recommended to not use open-field venues that are bound to attract more wedding crashers you did not budget food and drinks for.
N24,000 – couple's outfits (hire or cut-and-sew), Wedding rings; Hair and Makeup.
N10,000 = invitation cards (you may opt to do only bulk SMS and WhatsApp invitations only, and channel this fund to something else).
N40,000 – Photography; DJ; Zero cost on MC – Get a friend or family to provide free MC function for you.
N10,000 – Miscellaneous/ anything that comes up, or that you forgot.
TOTAL SPEND: N200k for a wedding price with 30 guests. That means each wedding guest cost them N6,667.
N200k WEDDING BUDGET

EXAMPLE #2 (50 guests)
Number of Guests: 50
Cost per Person/ Guest: N4k <=Based on that number of guests, the cost per guest came to N4k.
The N200k Budget Breakdown
N116,000 – Wedding Cake, Food and Drinks [They spent N16k on a wedding cake; Food and drinks cost them N2k per plate for their 50 guests, and that comes to N100k.
N34,000.00 – Wedding rings, Couple's outfits, Bride's hairstyling, and makeup and/ or gele tying. [Groom cut suit materials/ fabric and had a tailor sew his wedding suit; Bride rented her wedding gown; they bought cheaper gold-plated wedding rings; Bride bought her fashion accessories from the open market at affordable prices, including her white wedding earrings and necklaces, and headpieces; the couple wore shoes they already owned – the groom had his shoes properly-shined and bride's long wedding dress was covered her shoes from showing, so no one knew she wore her old shoes].
N40,000 – Photography & DJ; Zero cost on MC [they had a friend or family MC for them for free].
N0 – Zero Naira spent on venue hire. Venue was got for free [The couple used an uncle's backyard and rented chairs and tables].
N10,000.00 – Rentals of chairs and tables they arranged in the venue.
N0 – Zero Naira spent on Invitation cards. Invites were messaged out in the form of sms and whatsapp invitations
N0 – Zero cost on MC – The groom got one of his friends to be their wedding MC .
TOTAL SPEND: N200k for a wedding price with 30 guests. That means each wedding guest cost them N4k.
Optional Ways to Stretch Your N200k Micro Wedding Budget
For a micro wedding like these N200k weddings, it's important to find ways to save money here and there, but not in a way that makes for low quality. I always advise that you ask yourself first 'if I cut cost on this thing, will the quality reduce?'. If the answer is yes, don't touch that – leave it the way it is.
Keeping uninvited guests away: Having a micro wedding situated at the venue where neighbouring houses are many is not a good idea, because you're likely to attract unwanted guests you did not budget for. You want to not have planned food and drinks for 30 guests and suddenly extra 20 guests crashed in, causing food and drinks not to get to the real people you invited.
RELATED:
Maybe you want to have a small, parlour or restaurant reception after your court registry wedding, or traditional engagement a N200k budget should give you something decent – as long as you keep the guest list limited (very small). Maybe you're looking for ideas and examples of how to make N200k work for a white wedding reception. Hopefully, this post provided you with the inspirations you need to plan your own N200k wedding without looking cheap.
How to Plan a Simple Nigerian Wedding With N200k
Usually, I get messages from men asking for wedding budget advice. Bachelors are tired of waiting to save big and asking for sample wedding expenses from real couples and ideas on how to plan a small wedding on micro budgets such as N200k.
The idea with this post is to show you that it is possible to have a simple micro wedding with N200k. That's why I shared how two low-income-earning couples put together their memorable N200k weddings – sharing how much they spent on catering, couple's outfits and everything in between. Their expense breakdowns are above.
Because the Nigerian society is one where there are way more low-income earners than middle-income earners, micro weddings that cost about N200k, slightly more or less are the types that majority of Nigerian couples are having, especially those living in the villages. We keep it real here at NaijaGlamWedding – many couples can only afford this budget and are looking for planning ideas and we're here to help!
Micro budgets and micro weddings are nothing to be ashamed of – many couples are doing it. Let me assure you that you can have a N200k Nigerian wedding if you just know the expense areas to spend more on, areas to tone down, and things to skip. Hopefully, the following sample wedding budgets from two of our readers (who used our free wedding budget calculator) will give you an insight and confidence on how to plan a memorable wedding with N200k. Let's dive straight into it!
MORE NIGERIAN MICRO WEDDING PLANNING GUIDES:
EXTRA TIPS: Planning a N200k Micro Wedding That Wows Guests
So, you can see that a N200k wedding is possible in Nigeria. You just need to be aware that a micro wedding like this does not require much planning time and details, and so it presents little or no stress to the couple. You can plan a N200k wedding in 3 months or less.
a) Planning a successful N200k micro wedding requires being strict about inviting a very limited number of guests. When you get the urge to add more guests, remember that every additional person could cost you between N4k and nearly N7k (if I assume you're modeling your wedding budget breakdown to any of the featured weddings). Well, if you can increase your budget to provide for the extra mouth to feed, by all means, go ahead. But, also remember that adding more guests would mean you could need a larger, more expensive venue to accommodate more persons.
b) When setting a guest count for your N200k wedding, it's best not to guess how many people to invite. Here's how to go about it – first breakdown your wedding budget into spending parts like food and drinks, couple's attire, photography and more – use our wedding budget calculator to get the breakdown.  From that breakdown, you should know how much to spend on food and drinks. Next, ask your wedding caterer the cost per person for a plate of food and a drink. Divide your food and drinks number by that amount to get the number of guests that is the right fit for your wedding.
c) Focus on what really matters to your guests: If what you can afford is 30 guests, that's fine. If you focus on making the 30 people have the best intimate party experience, they will think highly of your wedding than those that are 'the more, the merrier'. Instead of forcing yourself to have a 100-guest wedding on borrowed money. , consider having the best N200k wedding (if that's what you can afford).
Closing Thoughts
There you have all the tips you need on how to plan a N200k wedding in Nigeria. I shared two real-life N200k wedding budget examples to inspire you. I also touched on guest list considerations and extra advice to help you do more with your N200k wedding in Nigeria.  On a final note, just focus on what matters most to your wedding guests and they will be impressed. Top on the list of what wedding guests care about include better food and good music, powered by a bubbly DJ.
Thanks for reading. Before I go, please help me share this post on your social media pages, and also tell a friend to tell a friend.  Also follow us on Facebook, Instagram and Twitter; and subscribe to join our wedding community so that you'll be the first to know when we publish a new post.
Before you go, I'd love to hear from you. Which of the above N200k wedding budget breakdown would you rather have – the 30-guest or 50-guest one? And, if you're presently planning a N200k wedding, how many guests are you planning to have and how are you breaking down your expenses? Also, if you have ever attended a wedding like the ones featured above, tell me – what was the experience like? Comment below and let's get the discussion kicking.