When planning to get married in Nigeria (or abroad), having both the traditional and white wedding on the same day helps couples save from 50% of the wedding costs (versus if they did it on separate days). The major cost savings are from hosting only one reception instead of the usual two (traditional engagement reception and then white wedding reception).
By choosing to have a 2-in-1 combined wedding reception, you'll save venue cost, catering cost and a whole lot more. In addition you'll also save time and stress. In this post, I will show you everything you need to know to have two hitch-free and smooth 2-in-1 Nigerian wedding ceremonies on the same day.
Same-day double weddings and a combined reception party is a trend that is becoming more common than ever, with more couples choosing to go that route. However, it's not that straight-forward to plan one, if you're planning your wedding yourself.
TOPICS COVERED IN THIS POST (read every page of this post):
Sample Program of Events for 2-in-1 Traditional and White Wedding on the Same Day
Popular Formats, Tips and Advice for a Successful Traditional Engagement and White Wedding in a Day (Checklist)
Important Consideration Before The Combined-Wedding-Reception Date
FORMAT 1 & SAMPLE PROGRAM: White Wedding First and Traditional Later
FORMAT 2 & SAMPLE PROGRAM: Trad Wedding First and White Later (Program Timeline)
Why Couples Choose to Have Both Traditional and White Wedding On Same Day (Combined Wedding Reception)
Is a Same-Day Nigerian Traditional and White Wedding For You?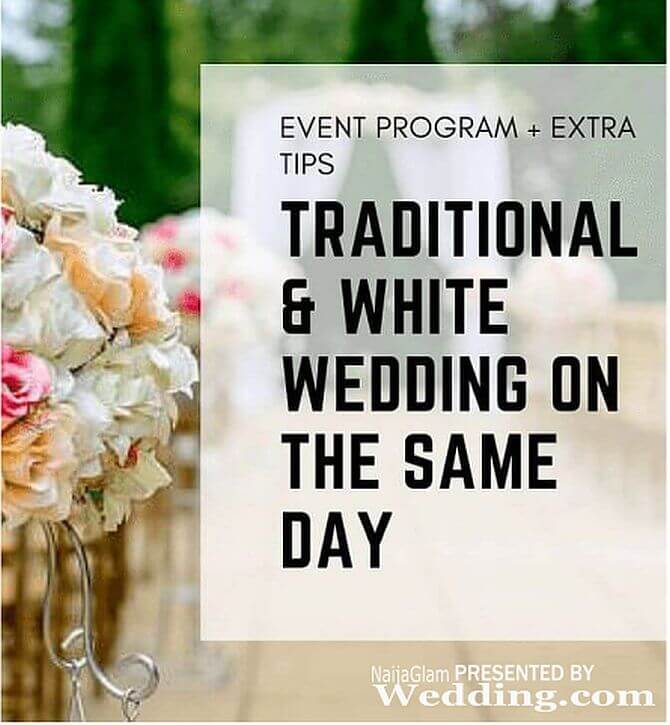 Among questions, about-to-wed couples ask is 'how do you go about organizing it?' 'Should the couple dress in trad attire or English-wear to the combined reception party? How long should the wedding reception last? Should you have the trad wedding first or the church wedding first? What should the decoration and wedding cake be like – trad or white? What will the program of events be like? Read on for the answers and a full guide.
This is a topic our readers regularly ask questions about, for which I answered them individually, which is very tasking. A few days ago, another asked for a guide on how to go about planning the reception program for their same-day traditional and white wedding. So, it struck me to write a post for her and also for every other person that needs help figuring out how what they need to do when planning this type of Nigerian wedding.
The tricky and most difficult part is how to go about the combined wedding reception, but don't worry, I have a step by step detailed planning guide that you can count on.  Ensure to read to the end of this post (click next page buttons at the end) because I also included a sample combined program of event schedule that will make it easier for you and other couples to organize both their traditional and white wedding on the same day, in a way that things move smoothly from one event to the other.
The usual way is to have the traditional engagement ceremony on a different day and the white wedding ceremony on another day, and feed guests in each (double spending on catering budget, and on venue rental and decoration). However, fixing the same date for both the trad and white wedding means you will have one reception party for both, and only feed guests once.
Choosing to do it this way cuts down the wedding cost for Nigerian couples to about half the amount they would have spent if done otherwise. Here's an example of the program of events:
Sample

Program of Events

for 2-in-1 Traditional and White Wedding on the Same Day
The question many brides ask is how to structure their program of events for a combined traditional and white wedding reception on the same day. Some couples choose to have the white (religious) weddings first or in the morning, and later have the traditional wedding and combined reception party.
When the White Wedding Happens First: Here's an example of how I've seen the wedding reception program ordered:
The couple goes from church and dance into the reception venue
A few minutes of MC introducing and opening the event
The couple cuts the wedding cake (non-trad cake)
The Toast – guests toast to the couple
The couple have a short dance, whereby they dance to the outside to leave and change quickly into their traditional wedding attire
While guests are waiting for the couple, the MC is entertaining guests, DJ is blasting music and cake slices and small chops are served to keep guests busy and not complaining before couple returns
The couple arrive back quickly
The trad part of the wedding reception starts and leads to the program's end.
IMPORTANT NOTES:
Some Nigerian brides change into multiple outfits during their wedding. If you must do that during a combined traditional and white wedding reception, you have to make it fast. Here are things to do:
The couple should have booked a hotel room close to the reception venue or rented a reception venue that has a room they can use for a quick change of outfit
the bride should have chosen a double-duty hairstyle and makeup (see details below);
The MC has to be informed of the need to keep the event duration short, and s/he must be warned to keep jokes short and few (that's because some Nigerian MCs are the reasons many weddings drag too long);
The initial activities in the program-of-event before outfit change should be very quick so that the bride's makeup will still be fresh, as there may not be enough time or money to have fresh new makeup done. If the couple likes, they can also have a small, inexpensive trad wedding cake – some couples who have only a trad wedding cake, only serve guests small chops when they go out for a dress change, and later cut and serve the trad cake].
Also, check down below (method 2) for the program of events ideas when having the trad first and a white wedding later the same day.
Click NEXT PAGE for the rest of the program