If you cannot tell the difference between a mermaid wedding gown and a trumpet style, or between a ball gown and A-line wedding dress; or the difference between a sheath style wedding gown and mermaid style, I can show help you.  In this post, I will show you (with pictures and explanations) how each of these wedding gown cuts and styles is different from the other.  Read on.
If you're at the point of going doe wedding gown shopping, I cannot stress enough how important it is to know the names by which the different wedding gown cuts/ styles (silhouettes) are known.  Some wedding gown cuts (or silhouettes) look alike but are slightly different.  Many brides are talking of trumpet style wedding gown (aka fit and flare) when they mean mermaid (aka fishtail) wedding gowns.  Similarly, many brides ask for ball gowns when they mean a full-skirt A-line wedding gown.
If that sounds like you or you are still trying to figure out the best wedding gown shapes/ styles for your figure, continue reading to learn the differences between each set of similar-looking wedding gown styles.  After reading this post, you will no longer be confused and should be able to correctly tell the name of any wedding gown style you see in person or in pictures. Now, let's dive into the details on the differences between similar-looking wedding gown styles. Swipe or scroll down.
Mermaid vs Trumpet Style

Wedding Gowns: What's the Difference?
Both fishtail (or mermaid) wedding gowns and trumpet style (or fit n flare) gowns are very popular among Nigerian brides and many just refer to both styles as 'mermaid/ fishtail wedding gown'.  I'll tell you how to tell one from the other.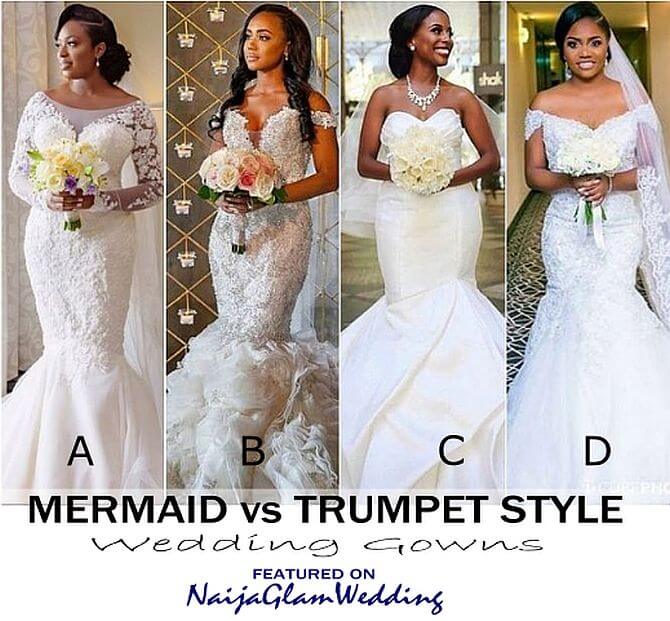 Of all the basic wedding gown silhouettes, the mermaid style wedding dress (aka fishtail) and Trumpet (aka Fit and Flare) wedding gown shapes are the most similar and it's common to confuse one for another.  Both fishtail (or mermaid style) wedding gowns and the fit-and-flare (or trumpet style) wedding gowns are body-hugging and fitted on the top side and flared from the mid-hips or knees downward.
Here's a quick way to tell the difference between the Mermaid wedding gown and Trumpet wedding gown – where is the flare?  Their flare is where the difference lies.  Where each style starts flaring out from is the quickest way to easily spot whether a wedding gown is a Mermaid gown or a Trumpet style.  See more differences between Mermaid and Trumpet wedding gowns below:
1. Where does the dress flare from? Unlike the Mermaid (fishtail) and Trumpet (fit and flare) wedding gown cut, the A-line cut dress starts flaring from the waist, while both the Trumpet style and Mermaid cut dress flares from below the hips. Therefore, you cannot mistake it.
2. If it flares from the knee area or below: If a wedding gown flares start from or below the knees, it's a mermaid gown.
3. If it flares from the thigh area: If a wedding gown's flare starts from the middle of the thighs or around the thighs, it's a trumpet or fit and flare wedding gown.
4. Shape and Volume of Flare: Mermaid cut wedding dresses have a dramatic flare. Their flare is puffed up and fuller than that of the Trumpet gown.  In contrast, Trumpet cut gowns have softer, not full flare that flow downward, almost in an A-shape.
5. Ease of Movement: The mermaid wedding gown style is harder to move around in than the trumpet style, due to its flare starting from below the knee. If you plan on doing a lot of dancing on your big day, consider wearing a separate dress for the reception.
NOTE: In case you're not familiar with the different basic wedding gown shapes or styles, we previously covered that in detail with images for illustration. You may want to check that out ==> names of the different wedding gown shapes/ styles and images of what they look like.
A-Line Wedding Gown vs Ball Gown

: What's the Difference
There's a similarity between A-line wedding dresses and ball gown wedding dresses.  They are both tight-fitting at the bodice (top/ above the waist) and they both start widening from the waistline.
The main difference between the A-line and ball gown is in the fullness of the skirt area (how full/ big).  See more differences below:
1. If the wedding gown has a very full skirt (very full puff on the waistline. The volume of the ball gown skirts are much fuller than A-Line skirts, and do not form an A-shape). Hey, it's a BALL gown!  The skirts are also puffed up, in the shape of an inverted bell or basket.
2. If the gown shape is flowy and gradually widens downward to the hem, forming the shape of the capital letter A, it is an A-line dress.
3. The shape of the flare in an A-Line wedding gown is more flowy-downward than a ball gown, WHILE the flare of ball gowns are puffed up in a rounded manner.
4. Ball gowns generally have a fat, instantly puffed out waist and are still full-on puffy down to the floor/ hem WHILE A-line wedding gowns are not puffed at the waist.  Instead, A-line bridal dresses are pointy to the floor to make the capital letter A shape, and only widening/flaring/ tapering out gradually down its length. A-line dresses have a controlled, streamlined or cascading flaring situation, and are fullest towards the floor while ball gowns instantly blow out fullness right from the waist.
5. Bulk or Volume:    Ball gowns are bulkier and heavier than A-line wedding gowns, due to the massive volume of the skirt area.
6. Ease of Movement: Both the ball gown and the A-Line cut are easy to move around and dance in. The nature of their cut does not restrict movement. Unline mermaid style wedding gowns, both ball gowns, and A-line gowns are not tight on the legs or knees area. However, if the volume of the ball gown or A-line wedding dress is extremely big (fat) or if it has a very long train, movement and dancing can be difficult for the bride.  Brides who pick very full ball gowns or A-line gowns also have a lighter reception dress that will be easy to dance in.  If you're a low-budget bride, you'll want a double-duty wedding gown that will also be easy to dance in at the reception.  Remember this when choosing a ball gown or A-line gown.
7. Event Formality:  The ball gown suits a more formal type of wedding.
Sheath Style Wedding Gown vs Mermaid Dress

: The Difference
There's another style of wedding gown that many brides refer to as mermaid gown, but it is not.  That is the sheath style wedding dress, also known as 'column gown'.  Sheath gowns have very minimal design and are very simple, straight (column) dress that clings to the body (like a chemise slip) to give a fitted, streamlined silhouette.  Some variations of sheath gowns end in a fish-tail-like train that drapes to the back and onto the floor.  A Sheath wedding gown is straight (I-shaped), flowy and body-hugging and is made of soft fabric that shows the outline and curves of the body.  Swipe or scroll down to find out about all the ways sheath dresses are different from mermaid wedding gowns and see photos.
1. Has No Bells and Whistles:  The sheath style wedding gown is light-weight and minimalistic in design (without flashy designs).  The look the gown gives on the body is the shape it takes/ forms from the curves of the bride's body.
2. Straight-Line, Narrow Cut/ Shape Like a Slip Dress:  If you look at the wedding gown from top to the hemline, without the train part, does it look letter I-shaped, straight and narrow like a slip dress? If yes, it's a sheath dress.  Sheaths with somewhat moderate or long trains appear like a mermaid shaped dress because the train forms a fishtail. Let the shape of the wedding gown (excluding the train part) inform you of what it is – mermaid wedding gown or sheath wedding gown.  The train of a wedding gown does not count in the name of the gown's silhouette or style.   Wedding gown train styles have names based pn how long they are.
3. Soft Fabric: The easiest way to distinguish a sheath wedding gown that has a tail from a mermaid wedding gown is to look at the fabric. Sheath style wedding gowns are usually designed with non-textured materials, lighter, softer, thinner fabrics (like satin and chiffon) that cling to the curves of the body.  The characteristic loose fabric follows or outlines every curve of the body (from top downward) and makes a sheath wedding dress to cascade and flow downwards. Furthermore, the lightness of the sheath dress fabric and that it is very body-hugging (fitted and clingy) is why the style does not hide anybody's rolls or bulges (fat).
4. Does Not Flare Out; No Horizontal Cut/ Join: The sheath dress is just one continuous column of soft fabric that forms a simple, straight-line gown.  Unlike mermaid style gowns that have a horizontal cut/ join after the knee where the flaring starts, sheath wedding gowns do not have any horizontal cut or joining anywhere on the dress length.  (Note: It is the flares on skirt part of mermaid dresses that form the fishtail shape – so with or without trains, mermaid dresses have fishtail shaped flares. On the other hand, a typical sheath dress without a train does not have a fishtail bottom).
So, sheath dresses do not have flares.  Instead, the sheath or column dress softly cascades or drapes downward revealing the softness of their fabric.   Above and also blow are images of sheath style wedding gowns with a long train – can you see that it is a straight line cut without any horizontal joins? Can you see that there are no flares? Can you see that the long fishtail shaped bottom is the shape of the dress train and not the shape of the main dress flare as with the case of mermaid wedding gowns?
5. When it Has a Long Train:  Very long sheath style wedding gowns extend down at the back or around it to form a long train that resembles fishtail in shape.  That is why many brides would also call sheath wedding dresses with long trains mermaid dresses.  Wedding gown style names come from their basic shapes and not their trains, and if it's a straight, column dress with a fishtail-like long extension (long train), it is a sheath style wedding gown.  Remember, mermaid gowns (and trumpet gowns also) have a cut/ join below the hips or before the knees, from where they start to open up/ widen/ flare out. 
Above are examples (photos) of what sheath or column wedding gowns look like.  Notice the softness of the fabric and the light texture.  Notice that it is all-straight and see that there's no horizontal cut and join anywhere along the dress length?  Observe how the train (which is an extension of the dress at the bottom) softly cascades down to sweep the floor at the back. Some sheath wedding dresses are designed with shorter or even longer trains, and some come without a train.  Can you now see that is is clearly different from a mermaid style wedding gown? Hopefully, knowing this helps your wedding shopping experience.
Wrap up
'That's all about how to tell similar-looking wedding gown silhouettes apart. Hopefully, you can now tell a fit and flare (trumpet) wedding gown from a mermaid (fishtail) style dress? Also, you should clearly pick out an A-line wedding gown from a ball gown that the skirt part is not very full.  Knowing the differences will make your shopping experience smoother, as you would be easily understood when you ask for a style.
SEE MORE WEDDING TIPS:
If you've already started looking at wedding gowns at the shops, what has been your experience with these wedding gown styles that are similar?  Also, which wedding gown shape/ silhouettes are you considering? Comment down below to tell me, and let's have the discussion popping.