Looking for ideas on the best wedding gowns you could try on when shopping? Then, you'll love pictures of our picks of the latest wedding gown styles spotted on beautiful brides at top Nigerian weddings.
Here's a sneak peek into what I've compiled for you – cute sleeveless and sleeved wedding dress styles, mermaid and ballgown wedding dress styles, backless styles, lace wedding gowns, designer wedding dresses and more.
Now, let's dive straight into it – click play on the video below to see pictures of the trendy wedding gown styles.
MORE TRENDY BRIDAL FASHION IDEAS: 
Wedding Gown Styles Shopping is Easier When You Have a Rough Idea of Styles to Try On
There are many wedding gown styles in the markets and each one is specifically designed for some type of women's body.
Choosing the dress that will flatter your figure and/ or hide some the areas you want to stay out of focus (such as a big tummy, fat rolls, fat arms) is the reason why brides spend a lot of time when buying their bridal gown.
Aside from looking pretty for yourself, you also want your groom to fall in love with your wedding dress. Your dress is one of the surprises your guy looks forward to on your big day.
Believe it or not, we've heard grooms reveal that they were disappointed with their bride's dress the moment they first sighted her on the wedding day.
So, start early to find the right wedding gown style and ensure to have an idea of dress styles to try when you go shopping. Hopefully, the gallery of the latest wedding gown pictures featured above can help you find the right dress you'll never regret buying.
WEDDING GOWN SHOPPING GUIDES & TIPS: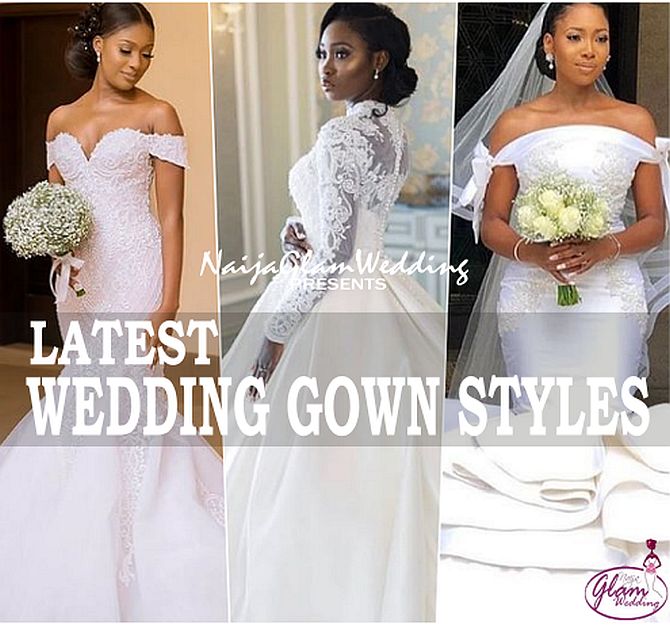 Where to Start From When Choosing a Wedding Gown Style
Every bride-to-be looks forward to picking their wedding dress after the engagement. For this reason, for engaged brides preparing to walk down the aisle, wedding dress shopping is one of the most stressful and time-consuming wedding planning activity. 
We hope that seeing photos of real-life brides in different wedding gown styles (above) has inspired you on the style of wedding gown to buy.
More Wedding Gown Shopping Guides & Tips
What Do You Think About those Wedding Gown Pictures?
So, if you are in the middle of choosing a wedding dress, the above video and images of the latest Nigerian wedding gown styles in the video above gave you ideas on the dress styles to try on when you go dress shopping.
Finally, be sure to think of how you want your groom to see you look and how you want him to feel the first time he sights you in the wedding dress.
RELATED POSTS: 
That's all on the latest wedding gown styles in Nigeria. If you like this post, help us share it on social media. Thanks in advance!
Now, I'd like to hear from you. Which of the featured wedding gown styles are you likely to say 'yes' to?  Comment down below to tell me.