If you're looking for ideas for your wedding gown shopping, check out these pictures of some of the best wedding gown styles stylish brides wore at recent Nigerian weddings – including beautiful wedding dresses styles with sleeves and sleeveless,  mermaid wedding gowns, ballroom wedding gowns, backless wedding dresses, lace wedding gowns and even pictures of designer wedding dresses like Vera Wang label.  See the pictures in video slideshow below (press Play).
Wedding Gown Styles Shopping Is Easier if You Have a Rough Idea of Styles to Try On
There are many wedding gown styles in the markets – in Nigeria, as well as all over the World. Choosing the right style that will flatter your best body assets and hide your not-so-great body features is what most brides spend so much time on, and some even end up buying wedding gowns that either look like it's wearing them or they look pregnant in or makes them look ugly. We are tired of hearing grooms tell us how disappointed they were when they first sighted their bride in her wedding gown. So, start early to find the right wedding gown style – see the pictures in the above video slideshow for the in-vogue wedding gown styles in Nigeria – call it our naija wedding gowns lookbook.
For engaged brides preparing to walk down the aisle, wedding dress shopping is one of the most stressful and time-consuming parts of wedding planning, even though every bride-to-be looks forward to it soon after her engagement. Wedding gown designers advise that brides first start from catalogues and magazines or wedding websites to compile pictures of wedding dresses they like – before starting to shop. It can get tiring if you have to try up to 20 weddings before finding the "it gown".  Most bridal shops won't even let you try-on so many of their gowns.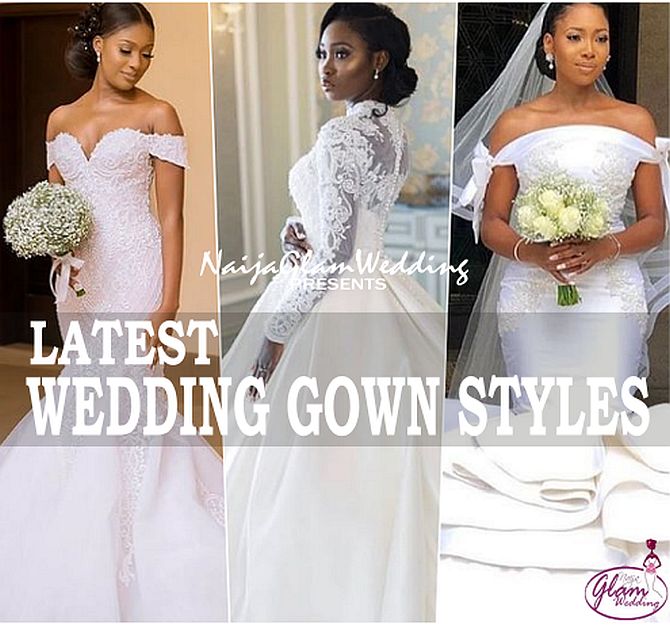 Where to Start From When Choosing a Wedding Gown Style
Wedding planners and bridal designers recommend that brides start their search from looking at pictures of wedding gowns on websites and magazines so that they can start collecting images of the wedding gown designs that catch their fancy. Brides who go shopping with an idea of the wedding gown styles (they want to try) don't have to spend weeks or try a hundred dresses before finding their "it gown".
The wedding dresses pictured above are from real weddings of real Nigerian brides of every stature and body shape, so you'll find: trendy wedding gowns with sleeves, wedding gowns for petite brides as well as plus size beauties and those with large busts, wedding gown styles for short brides and those worn by tall brides. So, hope you saw at least one gown worn by someone that's shaped similar to you?
More Wedding Fashion Ideas
What Do You Think About those Wedding Gown Pictures?
So, if you are in the middle of choosing a wedding dress, the above video and images of the latest Nigerian wedding gown styles in the video above should have given you ideas of what to buy. Hope you saw one or more wedding gown styles and designs you like, or better still you saw one or two pictures of brides that have shapes and heights similar to you – that should give you an idea of how you could look in a similar wedding dress style/ design.
So, think of how you want your groom to see you look and how you want him to feel the first time he sights you in the wedding dress. Then, tell me in the comments below, which are your top three wedding gown styles are you likely to say 'yes' to?