If you are an Igbo groom-to-be or groom and looking for ideas and picture inspirations on how to dress in native man-style 'George' wrappers on your Igba Nkwu (traditional engagement) ceremony, find below 5 images of beautiful Husband and Wife matching-George-Wrapper attire ideas for Igbo traditional wedding (Igba Nkwu).
5 Igbo Grooms in Men's George Wrapper Traditional Wedding Wears (and Brides in Matching Blouse and Wrapper)
While this post highlights the Igbo men's 'George Wrapper' traditional wedding attire, it also showcases ideas of brides' matching george gown or blouse and wrapper outfits. If you're a groom/ bride-to-be looking for an in-vogue Igbo traditional wedding attire ideas of colour combinations and outfit styles for you and yours, scroll or swipe down for picture inspirations.
1. Sleek Igbo Groom in Hot Pink and White George Wrapper Cultural Attire AND Bride in a Matching Traditional Wedding Attire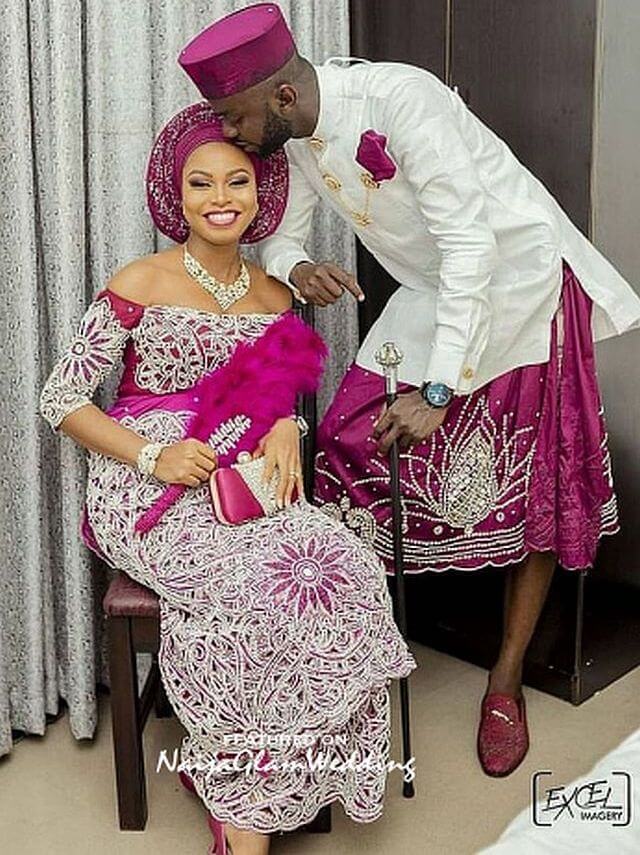 STYLE NOTES: Above, this Igbo groom ties a pink embroidered George wrapper paired with a white long sleeve shirt with pocket-square and a pink cap to complete the look. He also had matching pink shoes plus a black walking stick for more 'effect'.
His bride wears a coordinated ensemble in this pink and white George blouse on a double-wrapper with the same material.  |  His wife completes her look with a pink Ichafu (headtie), pink hand-fan and pink clutch purse with silver stones.
2. Fuschia Pink and Gold Men's George Wrapper and Shirt Attire for Igbo Traditional Wedding (Husband and Wife Matching Design)
STYLE NOTES:  The groom above dazzles in a white long sleeve shirt paired with a Fuschia pink and gold embroidered George wrapper. He went minimal on accessories – only black shoes and a coral bead bracelet.  His bride wears a matching off-shoulder puff sleeves George gown and a silver headtie (gele/ Ichafu).
3. A Dapper Groom in Blue and White Igbo Male George Wrapper Attire for Traditional Engagement (Husband and Wife Matching Introduction outfit)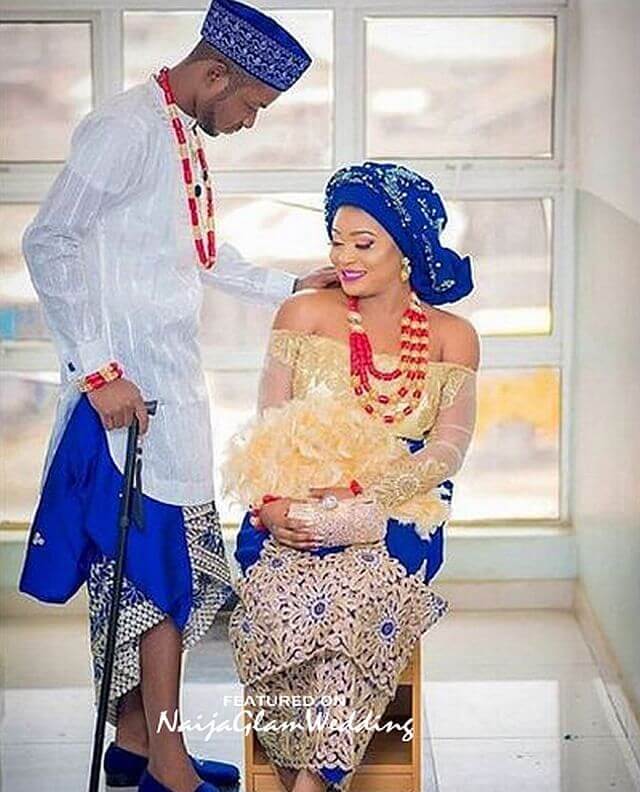 STYLE NOTES: The groom above looks dapper draping a blue George wrapper on a white long-sleeved shirt, accessorized with a blue cap, coral bead necklace, beaded man-bracelet, matching blue shoes and a black walking stick for swag.
His bride coordinates his outfit with a matching blue and gold embroidered silk George wrapper paired with a gold-coloured blouse.  She accessorized her outfit with a blue Ichafu (gele headtie) and coral beads necklace.
Latest Igbo Traditional Wedding (Igba Nkwu) Attire – 19 Dress Styles
4. Blue Plain George Wrapper and Shirt Native Igbo Groom Attire (Husband and Wife Igba Nkwu Outfit)
STYLE NOTES: The groom above looks regal in a blue plain george male wrapper with a touch of pink paired with a blue long sleeve shirt.  His George wrapper and long shirt attire is accessorized with a traditional Igbo red cap, matching blue shoes, beaded male native necklace and a black walking Stick for added swag.
His wife complements his blue outfit with a red and white off-shoulder George gown, accessorized with a red side-twisted fan gele headtie and a tan colour hand fan with red frilled edges.
Igbo Traditional Engagement List & Bride Price (Grooms Guide)
5. Wine Colour Silk George Wrapper and Shirt Groom's Igba Nkwu Attire (Husband and Wife Matching Outfits)
STYLE NOTES:  This groom's dance posture above makes us believe that he 'secured the bag' in his beautiful bride.  He looks put-together in that white shirt on wine colour silk-George male wrapper attire for hos Igba Nkwu ceremony.
He accessorized the look with a red cap and beaded necklace. Hos gorgeous bride is all smiles, wearing a matching george material and colour.  |  His wife coordinates his Igba Nkwu attire with a wine george 'blouse and wrapper', accessorized with a wine-coloured pleated Ichafu (headtie).
Igbo Men's George Wrapper Cultural Attire for Traditional Wedding and Special Events
The Igbo men's 'wrapper with shirt' cultural attire is one that is very unique and different (in a nice way), and is one of the ways that Igbo grooms dress to express their identity and culture during their traditional engagement (Igba Nkwu ceremony).
'George' is the cultural wrapper attire of the Igbo men (and women) – plain or beaded/ embellished – usually worn to occasions and by celebrants of weddings, cultural events and other types of special parties. That's aside from the 'Isi Agu' men's shirt (also a cultural attire) that is worn on trousers.
Thanks to social media, we're seeing more and more Igbo grooms with their brides choosing to rock the plain George as well as beaded/ embellished George coordinated look. The internet is the primary source of inspiration for couples when choosing what to wear for their traditional wedding (Igba Nkwu, in this case).
It's sad that there aren't as many pictures of this Igbo men's 'george wrapper with shirt attire' on the internet for inspiration to intending couples. Hopefully, this post will inspire grooms preparing for their 'Igba Nkwu'/ customary marriage introduction and traditional wedding ceremony.
The Igbo Traditional Marriage Ceremony: Stages and Custom (Grooms' Guide)
MORE HELPFUL POSTS:
That's a wrap on the latest Igbo men's shirt and George wrapper cultural attire for Igba Nkwu (traditional engagement) ceremony. I had fun writing this post for you and hope you like the featured Igbo men's (and Couples) traditional marriage attire. Please help us share this post on social media to help others see it.
Finally, I'd like to hear from you – which of those Igbo men's george wrapper and shirt cultural attire is your favourite?  Comment down below to tell me.