If you're looking for the best and trending Igbo brides traditional wedding attire styles or asking 'what does an Igbo bride wear on her wedding day?', this post is for you.  We've got them. In this post, we're presenting you with our editorial picks of gorgeous Igba Nkwu outfits for brides – from elegant Igba Nkwu long gowns to classy wrapper and blouses and more. You don't need to go looking for what hairstyles or coral bead design or style of beaded hairpiece or head-crown to complete your Igbo bridal attire look, because we have them all. We've done the wahala to pick out the best Igbo traditional dressing for brides so you don't have to bother. Swipe or scroll down to see the 19 beautiful brides' Igba Nkwu dressing styles.
This post is a complete package with the latest Igbo traditional engagement wear ideas. You don't even have to worry about choosing colour combinations because we picked the dresses with the best combos. The featured dresses will also give you an idea of the in-vogue colours and fabrics for Igba Nkwu. You'll love them.  Now, swipe or scroll down to see 19 photos and ideas showing what an Igbo bride wears for her traditional marriage ceremony.
STYLE NOTES: These Igbo brides (above) look picture-perfect in their fishtail- style attire that is fitted on top and flares out from the hips or leg area. If you choose to go with this Igba Nkwu bridal wear, be sure to complete the look with a traditional Igbo packing-gel updo hairstyle with coral bead hair ornaments (hairpiece).
If you are not comfortable with baring your upper chest and shoulders in a strapless dress, there are some popular variations of the above style of Igba Nkwu gown that includes sleeves.  Variations of that dress style include off-shoulder sleeve style (see style pictures below) which comes with sleeves (but every other thing is the same).  Another popular variation is to make the one-shoulder style variation – everything is the same only difference is a sleeve.  Talking about suitable fabrics for this Igbo attire style for brides, popular choices include george material (plain george, Indian george, 'intorica', sequined/ beaded george),  velvet 'Isi Agu' material.
#3, 4, 5: Off-Shoulder Mermaid/ Fit and Flare Igba Nkwu George Material Long Gown Attires for Igbo Brides on Traditional Wedding Day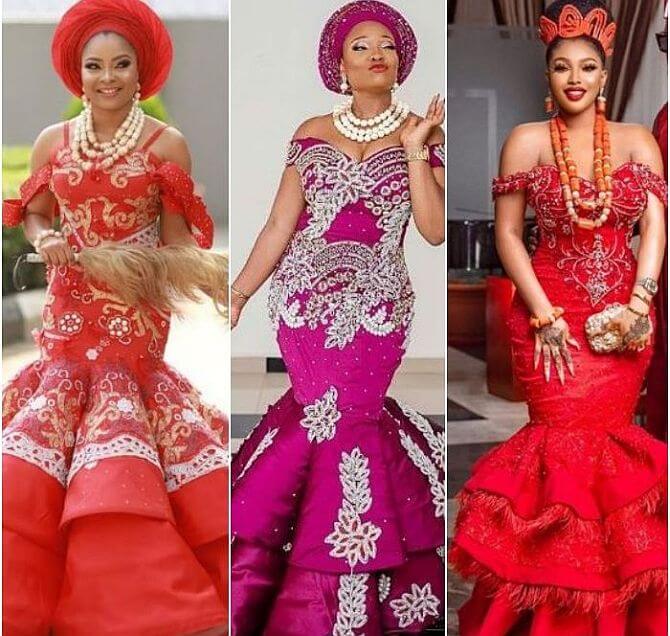 STYLE NOTES:  (Left) Coral and white off-shoulder trumpet-style fit and flare long gown attire for Igbo marriage introduction or traditional engagement.  |  (Middle) Fuschia pink and white off-shoulder fit and flare/ fishtail-style long gown for Igbo traditional marriage ceremony.  |  (Right) Red off-shoulder mermaid-style Igbo traditional wedding maxi gown with beaded top.
All the above brides accessorized with statement bead necklaces, well-tied Ichafu (gele) headtie or coral bead traditional bridal head-crown. The bride on the left also added a native Igbo horse-tail for added glam.  
Click NEXT PAGE below for more Igba Nkwu dress styles for brides.