Does the idea of going about your Nigerian marriage introduction terrify you? Here are my answers to everything a groom needs to know about organizing his marriage introduction.
In Nigeria, the white wedding is usually hands-free for grooms, but not so for organizing marriage introduction because this one is all about them.
It's even harder because they have to face the bride's family which terrifies most men. They also have to get this Marriage Introduction done with before they know whether the wedding can hold or not.
To help grooms feel less tense about starting and organizing their marriage introduction, I looked through the questions I received in the past from our male readers in order to answer questions on Everything a Groom Needs to Know About Organizing a Marriage Introduction.
I hope it helps you make your marriage introduction journey easier and less terrifying. Swipe or scroll down to read on.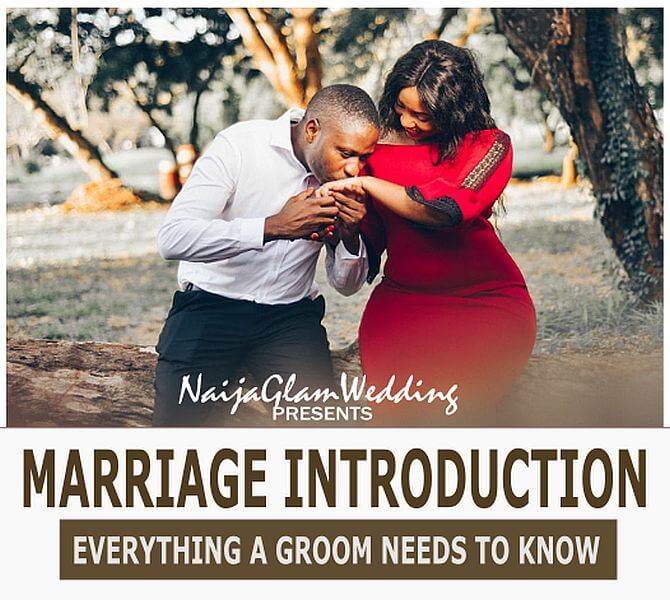 Western Marriage Proposal vs Nigerian Marriage Proposal Introduction
In Nigerian culture, marriage intention or proposal is supposed to be directed to the bride's parents and key relatives and not to the bride.
So, a groom passes through her parents and then her parents personally inform her of your (groom's) request and asks for her response which they relay back to the groom.
That is unlike the Western marriage proposal where the groom asks the bride directly. This was the culture from when every young man and woman lived with their parents until marriage.
Since a lot of people now widely travel far from their parents for work and school, we adopted the Western culture of 'marriage proposal between the man and woman only'.
Nigerian parents and families still remain true to their marriage culture and irrespective of the widespread practice of western proposal.
Even if a woman has been engaged to her fiance the non-Nigerian way, her parents and extended family would only recognize the marriage proposal that's done the way our forefathers, grandparents had done it.
And that is 'marriage introduction' which comes before the traditional wedding in Nigeria.
NIGERIAN ENGAGEMENT LIST SAMPLES FOR GROOMS
What is Marriage Introduction All About?
Marriage Introduction ceremony is where a groom brings his family to introduce them to the family of the woman he seeks to marry.
It's a 'getting to know each family' ceremony where each side gets introduced to the other, and why they're meeting.
The Nigerian culture, for every tribe and part of Nigeria, requires that a ready groom visits the bride's parents and key family members to officially seek for their daughter's hand in marriage (aka traditional wedding proposal).
Later, the bride's parents would ask their daughter if she knew the groom.
Next, they inform her of the groom's marriage proposal/ intention and then ask her if she would accept or not accept his proposal to marry you.
Is Marriage Introduction Supposed to Be a Big Event?
Traditionally, the marriage introduction is not the wedding day, and so it's not expected to be a big gathering. Usually, it's a parlour/ living room affair/ discussion.
Some couples choose to make their marriage introduction into a lavish party, and this is totally optional and not a standard.
The Purpose of Marriage Introduction
In summary,  a marriage introduction ceremony is a meeting whereby both sides of the prospective inlaws family (groom's side, bride's side) come together to be introduced and get to know each other.
It's also when the groom (through his parents) to officially present the marriage proposal to the bride's family.
Can the Groom Go Alone for Marriage Introduction?
The groom is expected to bring his parents and a few important members of his father's side of the family (the males) so that they'll be introduced to heads of the family on the bride's family side.
You may be wondering why you can't go alone, right? It's because, in Nigerian culture, marriage is considered a process to forge a new family and friendship with the inlaws.
If you're a Nigerian man, you may already know that during the family-to-family introductory meeting and reveal of the groom's intention (to marry the bride) and seeking her family's response.
In most Nigerian tribes, the marriage introduction meetings are an all-men affair, without the bride present in the room.
GROOMS MARRIAGE INTRODUCTION GUIDES
If You Have Already Proposed to a Woman, Will You Be Required to Do Marriage Introduction?
Yes, you will. That's because, in Nigerian culture, the only proposal that us recognized is the family-to-family proposal (or family marriage introduction).
Engagement vs Traditional Marriage: What's the Difference?
Engagement is the period before your wedding and the time when you proposed to a woman, asking her for her hand in marriage, and she said YES.
In Nigeria, a traditional wedding is when you ask her parents permission or consent for her hand in marriage and they agree, and a customary wedding ceremony is conducted to make it official  This is mandatory whether you proposed to her already or not.
Note that a traditional wedding is legally recognized and is as complete a wedding as a registry or a white wedding.
Who Gets to Be in the Marriage Introduction Ceremony
In some parts of Nigeria such as in Igboland, only the men are involved, and in other parts, it's a mix of men and women.
In some areas (like Igboland), the bride doesn't have to be inside the meeting (but she may or may not be anywhere around), as she can later be contacted for information.
In some parts of Nigeria, like in Yorubaland, the bride has to be around, as she would certainly be called in to be asked some questions.
In some places, a marriage introduction ceremony involves only the men (the groom, his father and a few Uncles/ and or brothers) in groom's side of the family coming to get introduced to those on the bride's side of the family.
In some parts of Nigeria, some women are also involved. You need to do your findings in advance to know how it is done where your bride-to-be is from.
Is Marriage Introduction only for Nigerian Men and Excludes Foreign Men?
The Western proposal is a foreign or borrowed culture, and so not recognized in Nigerian culture.
What is recognized is the traditional manner of making marriage proposals open, and directly to the family of the bride (her father and her father's brothers and Uncles).
The customary method of marriage proposal/ intention reveal is a mandatory pre-wedding inquiry, whether you're a Nigerian or not.
It is the real proposal, and both the groom and his family are assessed for to get an idea if they're welcoming of their daughter.
A Sneak Peek into What Happens During a Marriage Introduction Ceremony
This marriage introduction meeting/ ceremony must take place before the traditional wedding can take place.
It is where both family side (the bride's and groom's) would be meeting officially and getting introduced to each other.
It is also expected that the groom's parents speak/ present on his behalf to make the intention of their visit known to the bride's family.
The sole intention is to ask for the bride's hand's in marriage or seek the parent's consent.
During the marriage introduction, a reply is expected from her family side, which is YES or NO. Sometimes, the answer is NO, and that means that no wedding can take place.
In the olden days, the grooms family would need to first come to reveal their marriage proposal/ intention and then go back to wait for a response from the bride's family.
The bride's family, in turn, conducts secret inquiries to confirm the conduct of the prospective inlaws.
Depending on the culture of the bride's people, they would be given a reply the same day or on a specified date not far away.
Thanks to the evolution of culture and the understanding of elders to make it easy for people living far to quickly conduct weddings and get back to their work or school, the multiple-day and weeks marriage introduction ceremonies or meetings have been condensed to become one-day-only ceremony.
Can the Groom Go for Marriage Introduction Without Notice?
Usually, the groom should have set up the meeting date with the bride's father, who in turn informs his brothers and uncles to agree on a suitable date.
Behind the scenes, before the groom and his family visits the bride's family for marriage introduction, secret findings and research would be done to assess the character and reputation of the groom's parents, grandparents, Uncles, Aunts and siblings.
The outcome of such findings is what informs the family's response to the marriage proposal by the groom's family.
The bride-to-be would also be asked questions to get an idea of the groom and his family reputation, and also to find out her reply to the groom's proposal.
Family Reputation Research
In modern Nigerian, due to how everyone no longer lives in a tight-knit community, it's difficult for traditional pre-wedding-introduction reputation research to be done like in the past.
Although, family reputation research is still done where possible. Where impossible, the bride's parents would rely on what they already know of the groom and what their daughter tells them when they ask her questions.
Many fathers would probe the groom and his parents, asking a few questions of who they are, what they do and more questions.
The bride's family expects that the groom and his family should have done their research on how marriage introductions take place in the bride's hometown.
What You Should Do Before Going for Marriage Introduction
You would be discrediting yourself if you arrive at the marriage introduction without doing prior research.
That's because, traditionally, groom's families are expected to come with specific items of gifts and to present your marriage proposal/ intention in a certain way.
The items of gifts are different for different parts of Nigeria/ villages, and are customary, and not specified by the bride's parents.
Instead, it's the same items that have been brought as marriage introduction gifts over many years.
Before the groom and VIP members of his family embark on the marriage introduction visit, it is important that a groom does his research in advance.
Search the internet and local websites, ask anyone that may know or that can get the information for him, ask friends, his parents, asks his bride to ask people (her mother, relatives or friends).
The customary marriage introduction gifts are symbolic and not only peculiar to Nigerian culture (we read about the Bible people doing it in the old testament, and Nigerians were doing it before foreign religions were introduced here.
Many other countries also do it and each one does it their own way. It's expected in Nigeria that a groom follows the bride's culture when asking for her hand in marriage, even if you're from a different part of Nigeria or from outside Nigeria.
How to Get Information for Your Traditional Wedding During Your Marriage Introduction
So, if during or after the introduction ceremony/ meeting goes well, you'd be given a go-ahead to start planning your traditional wedding.
If you want to get things started soon, during the family introduction meeting/ marriage introduction ceremony is a good time to request for the engagement list/ dowry.
If you get a YES, it's also a time to ask the bride's family what you are expected to do next and how.
You may also want to share a tentative date you're considering for the traditional wedding with them for feedback whether that day would work for them.
Which Comes First: Marriage Introduction or Traditional Wedding?
In Nigerian weddings, the marriage introduction comes before the traditional marriage ceremony. The marriage introduction is the very first step, and so also comes before the White wedding. Continue reading to find out why.
Traditional Marriage vs Traditional Engagement: What's the Difference?
Both traditional engagement and traditional marriage actually refer to the same thing in Nigerian weddings. Because a typical Nigerian person hosts an average of two weddings, somehow, people preferred to refer to a White wedding as 'the wedding' and the traditional marriage as ' the traditional engagement'.
Well, again, because the traditional wedding ceremony begins with a customary proposal where the groom presents his marriage intention or proposal to the bride's family.
It's important to know that the traditional wedding is legally recognized and so is a complete wedding on its own. Some people do not have any other wedding after a traditional wedding.
I hope I have answered every possible question you have about marriage introduction, especially if you're not a Nigerian man and preparing to take a Nigerian bride.
I know how confusing it can be for non-natives to come to terms with their partner's wedding culture. I've spent time on this blog clearing up the confusion for some of our readers in this regard.
And now thought to throw out my responses to help others who such questions are standing in their way as they deal with how to organize their marriage introduction ceremony.
Thanks for reading. If this post has helped you, please do me a favour to share it on social media.
Also, consider subscribing to our GlamWedding newsletter and follow us on social media where we regularly share bite-sized planning tips and wedding fashion inspiration for guests and celebrants.
Finally, comment down below to let me know your thoughts on this topic or add a point you think I missed adding.