This young Nigerian couple didn't let coronavirus get in their way. They swapped their original big wedding plans for a socially-distanced micro wedding, and it was epic! The snaps from the event are proof that everything was perfect.
Read their wedding story to find out how they did it. Also, get to see the beautiful photos and video from their big day. Swipe or scroll down.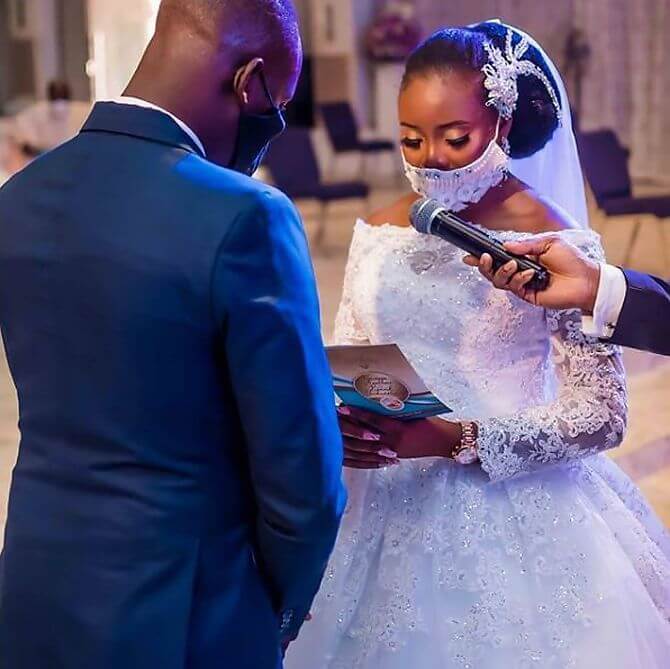 Wedding Story (by Bride, Temitope)
We had a beautiful wedding. It was originally slated for April 18th 2020. We had made a lot of (payment) deposits to our vendors, hoping that the pandemic would not affect our wedding.
By the end of March, we were about making final deposits when the pandemic became scarier, and so we held on.
Our Fave Celebs Aso-ebi Looks at Ini Dima's Traditional Wedding (Chocolate Brown Combo)
As our initial wedding date got close, I was more anxious and also sad about how things were turning out. By this time, the lockdown rules (imposed by the Government) kept us all at home.
The Moment of Reality
Then the day we had prayed and waited for came and went. It was really strange to believe that our wedding date could be shifted until further notice.
After the 18th of April, we started thinking of a possible way out. We had sold aso-ebi fabrics to a lot of our family and friends. That made the decision to have a small wedding more difficult because many people were eager to be a part of our wedding.
A lot of advice and suggestions came our way. Some people even advised us to shift the wedding to December, with the hope that the pandemic would be over by then.
Pivoting to a Smaller, Low-Key Celebration
We finally had to make our decision to have an intimate wedding.
We spoke with the church and they agreed to hold a wedding with not more than 20 people in the church premises, which includes the bride and groom, the pastors, parents (of both bride and groom) and a few more people. The church finally agreed with 30th May as our new wedding date.
Zoom Live-streaming: It was at the point of deciding (a guest list for) the remaining people who should join us at the church that we got the idea of streaming live on Instagram – so that every other person who would love to be a part of the wedding could still join.
Their Micro Traditional Engagement and Micro Wedding Was Classy
We had a very small gathering of 14 people for the traditional wedding in the morning before heading to church.
We didn't have an Alaga. My dad's elder sister moderated the engagement. She only asked everyone to introduce themselves, and our parents blessed us, then we took pictures. It was not a long ceremony; the entire engagement ceremony lasted between 30 and 45 minutes.
Dealing With Vendors After Postponement
We were able to get back some refunds from vendors we had already made deposits with which was a good sign for us.
The Most Memorable Part of their Wedding Day
The best moment we had during the wedding was when I (bride) walked into the church escorted by my dad and saw my husband-to-be crying while the processional hymn titled "the one I have waited for" was played in the background.
The entire church was scanty but beautiful. At the point, we both realized that the most important thing to us was our love and we were ready to build and nurture it for the rest of our lives
We had our wedding at Global Harvest church Maryland Lagos. It was a remarkable one for the church too.
Their Wedding Video
Event Summary:
Couple: Temitope and David  |  Wedding hashtag: #tdloveaffair
Location: Lagos
Number of Guests at Church Wedding Ceremony: 20 people in the church premises (including the pastors). Other guests joined via zoom live-streaming on Instagram
Guest Count at Traditional Wedding Ceremony: 14
Their Wedding Vendors (List):
Photography @visionimagerystudios
Videography @viswedding
Makeup @makeupbyf_a
Wedding gown @glambylami
Bouquet @glambylami
Bride's wedding accessories @glambylami
Bridesmaid dresses @dartirabridalsandtulles
Bride and Bridesmaids robes @dartirabridalsandtulles
Bridal face masks @dartirabridalsandtulles
Beads and engagement accessories @zee_jewels
Bride's shoes @bimz_ville
Bride's hair @thehaircenter_
Groom's suit @adecartel
Groom's agbada @ifeoluwa_fashion_world
Groom's shoes @dashcoll
Wedding cake @sensationalbitez
Want Us to Feature Your Wedding or Proposal Story?
If you'd like us to feature your wedding pictures and story,  or your 'how we met' story' or 'proposal story', be sure to contact us here on the blog or DM us on Instagram or Facebook or tag our Instagram page with your photos.
Was Your Wedding Also Affected by COVID-19?
I hope you enjoyed reading Temitope and David's wedding story and like their photos? Thanks for reading and please follow us on social media and subscribe to our newsletter.
Let me know what you think about the featured social distancing wedding or Temitope and David. 
Image source and credits: All photos were submitted to use by the bride. Photography by @visionimagerystudios | Couple's Instagram page: @tdloveaffair