Getting-ready wedding photos has become one of the must-haves for about-to-wed brides in Nigeria and abroad. Thinking of what you and your bridesmaids will wear while getting ready for your wedding? I've got some picture-perfect ideas to inspire you on what to wear and how to pose for your bride-and-bridesmaids photoshoot. Read on!
The featured bridal robes and bridesmaid robe sets are picture-perfect for a stylish wedding-morning getting-ready snaps, and your bridesmaids will find it comfortable to sleep in the robes, long after your big day. Read on to see the different styles and fabrics of the beautiful getting-ready bride and bridesmaid robes we are loving.
One of the must-take wedding photos in the morning of your big day is the group picture of the bride and bridesmaids wearing matching robes. This post will give you ideas of what to look for – from elegant satin robes to luxurious bathrobes, to floral and ankara bridesmaids' robes.
I also provided more tips and a buying guide, plus answered the question 'who should pay for the bridesmaid robes – bride or the 'maids?'.  Swipe or scroll down, let's get right into it!
1. SILK AND SATIN BRIDE & BRIDESMAID ROBE SETS FOR PHOTO-SHOOT – 5 IDEAS
You can't go wrong with silk or satin bridesmaid robes for your 'maids to look cute in while they have their hair and makeup done. Here are some cool style ideas to inspire you.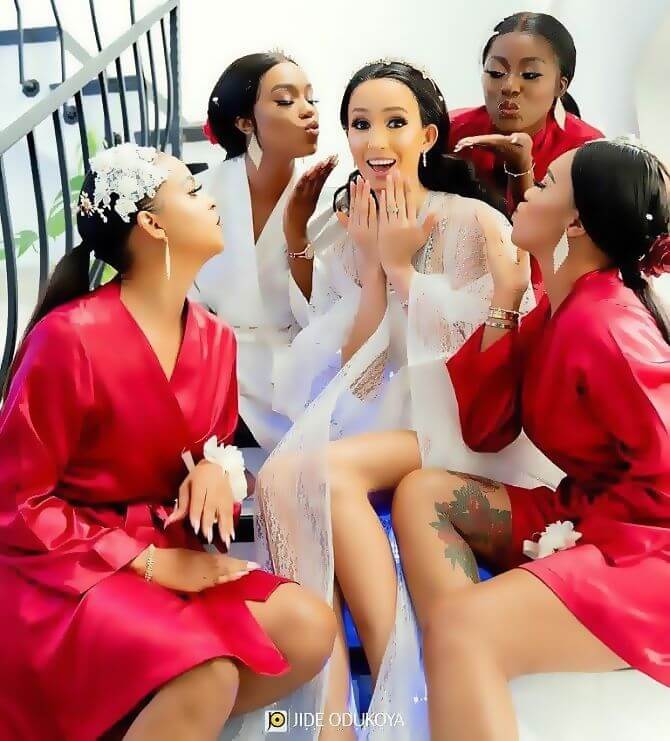 Above: Bridal party getting-ready photo featuring bridesmaids in short red satin bridesmaid robes and bride dons a sheer lace long white bridal robe.
Above: This bridal party looks all prepped up in short black satin bridesmaid robe set and bride in long white chiffon bridal robe.
Above – Flowered Satin Robes: Group photo of the bride and her squad featuring short pink floral (flowered) satin bridesmaid robes, with bride in a white robe of the same length.
Top: Bridal party photoshoot featuring navy blue satin bridesmaid robes with white lace trimmings, with the bride wearing a sheer see-through chiffon red bridal robe.
Bottom: This bride's squad looks all-set in short navy blue satin bridesmaid robe set and grey leggings. The bride looks happy and ready to be married in her short white silk bridal robe.
2. ANKARA COTTON PRINT BRIDE & BRIDESMAID ROBE SETS – IDEAS
Ankara Print Robes for Bridesmaids' Getting-Ready Photoshoot
Above: Bridal party group picture featuring yellow star print design ankara short bridesmaid robe set with satin trims. The bride wears a matching ankara long bridal robe with ruffle trimmings but opted for a contrasting red colour.
The colours harmonize nicely in the group photo, which is what every bride should aim for when choosing bridesmaid dress colours.
3. SPA BATHROBES FOR BRIDE & BRIDESMAIDS – 2 IDEAS
Above – Plush Robes: Bridal party getting-ready group photo featuring pink shawl-collared plush bridesmaids bathrobe sets, and the bride in a white super-plush bridal bathrobe.
Bottom – Waffle Bathrobes: Getting-ready picture featuring monogrammed purple bridesmaid waffle bathrobe sets, and the bride wearing a white waffle bridal bathrobe.
There's nothing as luxurious and elegant as the classic bathrobes, they give off the spa vibes. You can even make it more special by for your girls by having their names or other special wording printed on each bath robe, like the ones featured in the above photo.
Why You Should Do a Getting-Ready Photos Session with Bridesmaids
As the bride, the Getting-Ready-Photoshoot with your bridesmaids is an opportunity for a fun bonding time with your girls. You also get the opportunity to gift something to them – beautiful robes that they'll have and use, long after your wedding. Some brides also use the Getting-Ready-with-Bridesmaids Photoshoot time to show appreciation to their bridesmaids by throwing in other gifts.
Who Pays for the Bridesmaid Robes?
Short answer: The bride is responsible for buying a bridesmaid robe for each bridesmaid. (What the bridesmaids pay for is their bridesmaid dresses). Bridesmaid robes are gifts from the bride to her bridesmaids.
Classy brides look for ways to thank their brides for being part of their wedding and making sacrifices including spending their time and money.
Putting together bridesmaids goodie bags or boxes containing handpicked gifts is one of the ways that brides express gratitude to their bridesmaids. Many Nigerian brides do it.
Bridesmaid robes make a great gift item for your girls. Most brides choose to buy the matching robes as 'thank you' gifts (or parting gifts) for their bridesmaids to wear for group pictures on the morning of their wedding.
Some brides even go a step further to customize their bridesmaids' robes with wordings like bride's squad, team bride, bridesmaid, the first letter of a bridesmaid's name, etc.
Bridesmaids robes are cute and at the same comfortable to wear when getting prepared. You can be sure your 'maids will re-wear them long after your wedding, even if they'll never wear their bridesmaid dresses again.
So, you can see that it will be worth it for you and for them. Just get it!
RELATED BRIDE & BRIDESMAID FASHION & STYLE POSTS:
Bridesmaid Robe Set Buying Guide and Customization Tips
If you're looking for other colour combination ideas for your bridal party robes, white bridal robe (in the same style) is the most popular and you can't go wrong with it.
Now, here are some popular bridesmaid robe colours to go with that:
Burgundy bridesmaid robes
Black floral satin robes
Blush pink or Baby pink bridesmaid robes
Purple floral satin robes
Green satin bridesmaid robes
Purple bridesmaid robes
Onion Red bridesmaid robes
Teal satin bridesmaid robes
Burnt orange bridesmaid robes
For more ideas on how to use colours to differentiate bridesmaid dress colours, check out our post on how to make chief bridesmaid dressing to stand out.
Now, let's talk about ideas for customizing your bridesmaids' robes. When buying them, ensure to ask the store whether they offer monogramming (or printing on cloth) services.
If they don't ask if they know a printer or someone who does, or ask people you know or ask your social media followers. Many printers offer this service, anyway.
Here are ideas of what to print on your bridesmaids' robes to make them look special and personal:
Bridesmaid
Bride's Squad
Maid of Honour
Chief Bridesmaid
Team Bride
BM
First Name of each Bridesmaid
Preferred Nickname of the Bridesmaid
Every bride looks out for ways to save money when buying wedding things. You can buy a set of matching satin or cotton robes at bridal shops or in big markets across Nigeria, or online.
To cut cost, you can look for where to buy bridesmaid robes in bulk, and get a discount by buying them all in one place. Some stores even have set of 6 bridesmaid robes, cheaper than if you buy them separately.
If you're working with a small budget for your wedding planning, there are affordable and cheap bridesmaid robes.
MORE WEDDING FASHION IDEAS:
Use Beautiful Bridesmaid Robe Sets to Make Your Wedding Morning Picture-Perfect
Your wedding morning outfit (robe) is a very important part of your bridal fashion, even though many Nigerian brides overlook it. A lot is going to happen around you in the morning before your wedding ceremony. Your bridesmaids and glam squad (makeup artist, hairdresser and photographers) are going to be helping you get prepared, and also taking photos of you while at it.
You want to be looking good while getting ready. Your photographer expects you to have bought a set of beautiful robes for you and your bridesmaids. Think about it – do you want to be 'tying wrappers' when your glam squad arrive? Girl, you need to be in a picture-perfect 'waking-up or getting-ready outfit'!
The morning of your wedding marks the end of the stressful wedding planning journey. Getting-ready photo shots in your bridal robe matched with your bridesmaids' robes is a great way to start off your wedding morning with a burst of excitement and happy faces.
These fancy robes will definitely create excitement with your 'maids, plus they'll photograph beautifully. Finally, if you don't give your 'maids anything else, be sure to gift them a matching set of bridesmaids' robe in your choice of fabric – ankara print, satin, silk, cotton or jersey material.
That's it on picture-perfect bridesmaid robe ideas for getting ready in the morning of your wedding. I hope this post has inspired you on beautiful options for what you and your bridesmaids will wear.
If you like this post, do help us share it on social media. Also, subscribe to join our community of GlamWedding Insiders, and also follow us on social media.
Before you go, I'd like to hear from you. Which of the featured bridesmaid robe sets is your favourite? If you've already bought matching getting-ready robes for your squad, let us know how it's different or similar to the ones featured in this post. Comment down below and let's keep the discussion popping!