If you are looking for a low-cost wedding budget breakdown example where the couple spent N700k in Nigeria, this post is for you – it is an example of how to plan a Nigerian wedding with less than N700k budget (seven hundred thousand Naira). Feel free to incorporate ideas from this sample budget into the plans of your own small wedding.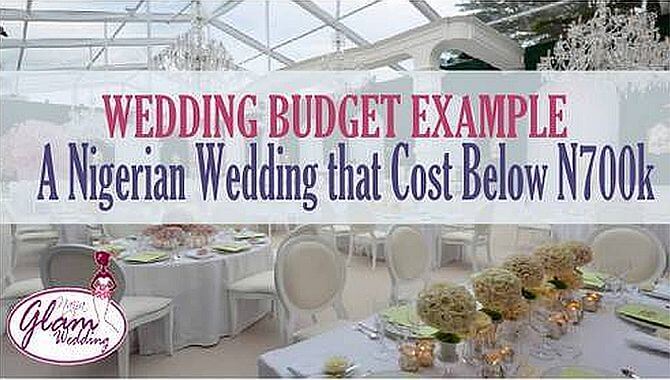 Summary: Wedding Budget Breakdown for 70 Guests, that Cost N700k
Number of Guests: 70
Total Cost of the Wedding: N668,400.00 – actually less than N700k (seven hundred thousand Naira)
Bride and Groom's attire N124,500
Wedding Venue and Decoration N110,000.00
Stationery + Souvenirs N60,000.00
Food + Drinks N202,500.00
Entertainment + Visuals N60,000.00
Miscellaneous N111,400.00
MORE WEDDING BUDGET ARTICLES:
Breakdown and Details of the N700k Nigerian Wedding
Bride & Groom's Attire
Rent a used or pre-owned wedding gown N25,000
Bride's shoes N7,500
Bridal Accessories: bouquet, veil, headpiece; earrings, necklace etc N10,000
Bridal beauty: Hair/ Nails/ Makeup N15,000
Wedding rings (bride + groom) – GL (gold plated)  N20,000
Groom's Shoes N15,000.00
Groom's wedding suit N15,000
Groom's Accessories (e.g cuff links, belt, flower boutonniere/ handkerchief) N15,000
Groom's Grooming (e.g haircut, beard shaving) N2,000
Stationery & Souvenirs
Invitation cards & program printing N15,000
Souvenirs to gift guests N45,000
Reception Venue & Decoration
Venue + Rentals(canopy tents, chairs, tables etc) N100,000
Decoration: venue, bride and groom's wedding day transportation, venue décor N10,000
Reception Food & Drinks
Wedding Cake (cost at about N300/ guest count) N22,500
Food (cost at N2,000/ plate serving) N150,000
Drinks/ Juice/ Water (cost at N400/ person) N30,000
Reception Entertainment & Visuals
Photography (No videos; only photos) N40,000
Master of Ceremony (MC) – by friend/ family member N0
DJ only (No Music Band) N20,000
Miscellaneous

 N111,400
>>Related: How to make a Nigerian wedding budget
Cost Basis for this 70-Guests Nigerian Wedding
The venue was a cheap place – town hall or garden or open field
There was no music band, only a DJ was hired
No money was spent to hire a MC – a friend was asked to do it
The bride rented a used/ pre-owned wedding gown
The couple purchased GL (gold plated) wedding rings, instead of the more expensive gold or silver rings
No other pre-wedding or day-of-wedding task was hired to paid vendors, instead, friends and family members helped out with every other task
A wedding planner was not hired because there were lots of willing friends and family members to help in one or more areas of the wedding planning
Disclaimer: The above sample wedding budget breakdown was for a real-life event that took place in Nigeria, and so the above costs/ prices of things represent what obtained in the Nigerian market as at the time of writing this article. Ensure to check the market and wedding vendors if you want to customize this budget breakdown for your own Naija wedding.
Your Thoughts on N700k Wedding Budget
This is part 2 in our series of examples of small, low-cost wedding budgets in Nigeria – part 1 is here.
There you have it, on our example of what a N700k Nigerian wedding budget expenses looks like, and an example of how to organize a 70-guest Nigerian wedding without spending more. Hopefully, you've picked one or more ideas from that budget, to use in estimating your wedding cost.
Update: The initial sample budget we featured here was a N700k wedding that had 150 guests. It is no longer feasible to host that number of guests at that cost, due to the high increase in cost of everything, and so the sample wedding budget above has been updated to reflect the current reality. Food and drinks cost, is determined by the number of guests that will be fed.
So, presently, the way to have a N700k wedding today is to have a few number of guests. It's a fact that very large number of guests is the number 1 reason why Nigerian weddings are expensive. If you can be okay with having fewer guests, you can have a budget-friendly wedding.
Now, it's your turn to say something.  Let's say, you were planning a low-cost wedding and cannot spend more than N700k, what would you do differently? Tell me in the comments below.