If you're a groom-to-be, planning an Edo marriage introduction, I know what keeps you awake at night – how much will the bride price list cost? I've got the answer in this post. For a while now, we've been receiving a lot of questions from grooms-to-be, asking to get an idea of what the Edo bride price and traditional wedding process is like. I know how most men feel when they are about to go to their Nigerian or Edo in-laws for the first time – grooms-to-be are usually nervous and afraid of the unknown cost involved. Usually, it's a fear of 'can I really afford the bride price list?'.  We discovered that, in most cases, the list is not as fearful as 'stories' make it be. In an earlier post, we provided an expo for engaged grooms-to-be who are preparing to marry an Igbo woman, and in this post, we will be giving you an insight into what to expect to budget for when going to ask to marry an Edo woman. You will also find out what days are forbidden to hold marriages and steps on how to go about asking for her hand in marriage, from her family. Scroll down to read.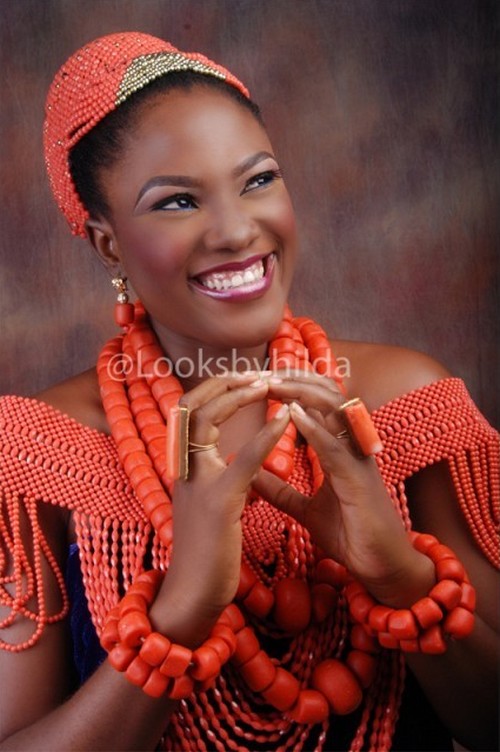 So, since I am not from Edo state, I got together with my trusty Benin-based makeup artist, Henrietta Eromonele Oziengbe, to write this groom's guide for you ('Nele is from Uvue quarters in Emuhi village Ekpoma, Esan West local government area of Edo state) – her biz contact info is at the end of this post. Read on to see what's inside the Edo bride price list, and also get to know what forbidden dates to avoid when going to pay the bride price.
The Edo Bride Price List (an expo for grooms-to-be)
If every Nigerian groom knows, in advance, how much the bride-price and engagement list (they'll receive) will cost, they will be better prepared and not afraid to meet their in-laws, without delay. The purpose of giving you a peek into the Edo bride price list (below) is to help you plan your introduction ahead of time. Note that Edo state is made up of many sub-tribes and villages, each of which has a slight difference (significant, in some) from the other. So, use the below bride price list as a guide to drawing up your marriage introduction budget, and be prepared by saving up before contacting your future in-laws.
The Holy Bible  – 1 (one)
1 Umbrella
1 suitcase filled with clothes (box of wrappers)
2 bottles of hot drinks (schnapps)
1 crate of malt drinks
1 plate of kolanuts
1 bag of salt
25 liters of palm oil for the bride's mother
1 jar of palm wine
1 carton of wine for sundry use (the groom should hold this)
3 crates of malt for women of the lineage
6 carton of beer for men of the lineage (broken down into 2 cartons of small Guinness stout; 2 cartons of Star beer; 2 cartons of Gulder beer)
28 tubers of yam arrange in groups of seven
14 tubers of yam for the eldest man in the lineage
N1,500 cash for the dowry
N5,000 cash for the bride's mother
N3,000 cash for the bride's father
N9,000 cash for the men in the bride's lineage
N6,000 cash for the women bride's lineage
RELATED: A to Z of What Happens During an Edo Introduction and Traditional Marriage Ceremony (The Process Explained)
My narrator on this grooms' guide, 'Nele, advises that you should expect a slight difference in the bride price list and traditional marriage process IF your fiancé is from another part of Edo state. She says that the traditional marriage custom across Edo state is generally similar. SEE BELOW: the forbidden dates to avoid when going to pay the bride price.
DISCLAIMER: Grooms, the above list is just a guide to help you budget ahead and be prepared. You are required to officially request the bride price list and engagement custom from your future in-laws (father-in-law and/ or mother-in-law) – ask your wife-to-be which person to ask, in a case where one or both parents are dead or separated.
SPECIAL NOTES:
a). The bride price/ dowry list is the customary gift items that a groom takes to the bride's family when asking for the bride's hand in marriage. You may want to buy them one after the other until you get all of them. Be sure to leave the perishable items for when it's close to your marriage introduction and bride price ceremony.
b). You need to know that the above bride price list value and any other culture's bride price list is not the price of your wife-to-be. Those are just customary and symbolic – did not start today. You cannot buy a woman for any monetary amount. So after paying her bride price, treat her well because you did not buy her.
Forbidden Days to Avoid for Your Edo Traditional Marriage Introduction
When choosing a date for the Edo traditional marriage introduction event, there are dates to avoid. AVOID the market days, because it is forbidden to pay bride price or conduct traditional marriage ceremony on market days.  That is the custom of the people of Emuhi village in Ekpoma part of Edo state, so you'll have to ask your wife-to-be for their own village's forbidden days. Obviously, you first and then your family must establish a relationship with the bride's family before agreeing on a date for the marriage introduction.
This post is part 1 of our Edo Traditional Wedding Planning Guide for grooms, click here to read PART 2. This article series is part of our wedding planning guides for Nigerian grooms-to-be or foreign grooms who are preparing to marry a Nigerian woman. If this article has helped you, leave us a comment down below, to let us know. And, if you've already collected the bride-price list, tell us how similar or different it is from the list above.
MORE TRADITIONAL WEDDING PLANNING TIPS & IDEAS:
Guide and Explanation for this Post were by Henrietta Oziengbe Eromonele (aka Nele):
Nele is an Edo / Benin city based makeup artist that specializes in bridal makeup, headgear (gele) tying, bridal hair, rental and making of beads costume for brides and grooms and sales of pro makeup tools. To book her wedding and event services, call her on 08062522976 OR email her at [email protected]