She knew him long ago and thought he was too nice to be single.  So, she tried to find him a nice girlfriend but he rejected all of them. To her surprise, he was in love with her.  Their wedding was full of fun and her father even surprised her with his choice of song for their father-daughter dance.  She expected him to choose a song from back in his younger days but instead, he opted for 'Dorobucci' by Don Jazzy and Tiwa Savage (a song popular with the young people).  Sshh! you will see Daddy's moves in the pictures down below. Scroll or swipe down to read their full true love story, see the wedding pictures, see what they wore and how their venue was decorated. 
First, let me tell you about how this wedding story came to be published. First, mother-in-law said 'no' to putting their wedding pictures 'in public' on a wedding blog, and Damilola (the bride) swept the idea aside. After a while, her mother-in-law asked for the name and web address of this wedding website. Damilola gave her.  After some days, mother-in-law came asking, 'Dami, have you sent the (wedding) pictures to that wedding site?". It appeared, mother-in-law had browsed and researched this blog (NaijaGlamWedding) and we're happy she approves. Read on for Damilola and Olumide's wedding story below, including how they met, how he proposed and how they planned their wedding. ALSO see their beautiful wedding pictures and engagement shoots down below.
Couple Hashtag: #damieloomie | #damiekumbi
Bride: Damilola Tella (Dami)
Groom: Olumide Adekunbi
How We Met: Damilola and Olumide's Love Story
From the bride: I had known him for a long time, but we were not close because he was my sister's friend (they resided in the same estate). At that time we were each in long term relationships (with different people). Whenever my sister talked about him, I was always (saying) like 'he is a nice person'. The next time I went to visit my sister, I saw him again and he told me he was single.  So I promised him that I would hook him up (with someone) and we exchanged contacts. So my search (to find him a new girlfriend) started.

"But I realized that he did not like any of the girls I was hooking him up with. I was also single at that time: it happened that we had issues in our different relationships. Later, while I was planning my sister's wedding, we became very close and the rest is history".
The Marriage Proposal Story
I am a very private person and he understood that. It was a one-on-one, private proposal. It was a surprise but mind-blowing. -Bride
How they Planned their Wedding
I am a very simple and private person, so I actually wanted a small wedding but my dad wanted it huge (doesn't every Nigerian parent want a big, owambe-style wedding?). So, we ended up having a big Nigerian wedding with almost a thousand guests. For a very long time (since my school days), I've had an idea of how I want my big day to look and feel, right from my wedding gown, to my makeup, to the wedding hall. I planned my wedding myself (since I am a wedding planner) and it took us a whole year to plan. The very first wedding-planning thing I did was buying my wedding dress (doesn't every bride do that?, haha).
Their Wedding Day
The couple had a big wedding (like her Dad wished) and between 800 and 1000 guests, with 8 bridesmaids and 8 groomsmen.
Daddy's Got New Dance Steps: This is this bride's most memorable moment of her wedding day
Damilola (bride) remembers: The most memorable moment from my wedding day was when my Dad chose for me and him to dance to 'Dorobucci' song during the father-daughter dance.  What I had in mind was slow, sweet music but (to my surprise), my dad said he wanted DORO-SOMETHING (he meant 'Dorobucci'). That was very funny.
Look! Someone Else Made Some Surprising Dance Moves
Their Toast of Love
Bride's Advice to Brides-to-Be
On choosing your bridesmaids and groomsmen: Please only choose the friends and people that can make your big day interesting and memorable.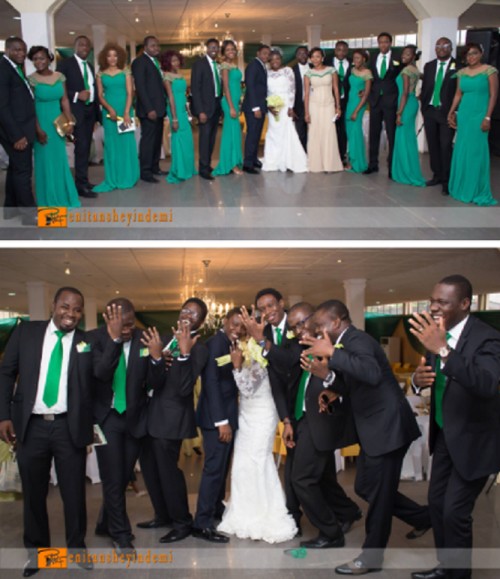 On choosing who to marry: 'Love is a beautiful thing and marriage is an institution you never graduate from, so please do not compromise or be desperate or have self-pity' on yourself).  She said this about her husband: "he was really worth the wait'.
When most men would boast of their bank account and cars, Olumide (the groom) says: "my greatest achievement was my ability to be able to persuade my wife to marry me".
On life after the wedding day, Dami (the bride) advises about-to-wed couples: Marriage is a beautiful thing that has to be shared with two different individuals who will disagree to agree. Respect and love each other no matter what, and most of all be very prayerful.
More Pictures from their Court Registry Wedding and Traditional Wedding
Wedding dates: 13th and 15th of November 2014 (traditional wedding and court registry wedding).
The Wedding Vendors they Hired
If you like this wedding and wondering who and who she hired to help organize it or if you simply want to recreate a wedding like this one, check out their wedding vendors and suppliers below:
Photographer: ProfPixels
Bridal Makeup: Nuyu Studio
Music Band: Tayo Tayor
DJ (Disc Jockey): DJ Skils
MC:  Odogwu Comedia
Ushers: Arodat Catering Services
Catering: Arodat Catering Services
Aso-ebi: Nuyu Studio
Wedding Dress: Justin Alexander
Story and Photo Credits
Editor's note: A very big 'thank you' goes to the bride (Damilola) for sending me all the pictures you see here, and also for sharing her lovely wedding story.  I also want to thank her mother-in-law and her husband, Olumide Adekunbi for their consent. 
People, let me tell you, we have some of the best brides! Dami was patient through this story; even when the internet was acting up at about 11 pm one night, we decided to shift base to Facebook messaging and finally got the photo transfer okay.
And they Lived Happily Ever After!
So, that's how the matchmaker (Damilola) got hitched to her single, bachelor client (Olumide). We here at NaijaGamWedding wish the couple a very happy married life. Please leave a comment or congratulatory wish to them. Check out their family portrait pictures below.
MORE: 50 Shades of Yellow: Read their Stylish Wedding Story and Gorgeous Outdoor Wedding Decor
ALSO: 2 University Sweethearts Said "I Do" in an Inspiring Lagos Wedding: Read their Wedding and Proposal Story
SEE also: Tosin's Lagos Wedding and How She Got her Dream, Handmade Designer Wedding Gown
If you have a wedding or honeymoon story, or even a marriage proposal story to share and want to see them featured on this blog, click here to tell us OR follow us on Facebook and chat about it with us. Thanks for reading, and I'll see you on the next real-life Nigerian wedding story – check here for fresh new editions. And, please leave a comment down below or a congratulatory wish for the couple.