Are you getting married soon and looking for unique henna design (laali) ideas for your Nikah ceremony or Hausa/ Fulani traditional wedding? In this post, I curated for you loads of unique wedding henna designs for hands and legs.
Whether you prefer simple or intricate laali (henna) art patterns, you'll find something you like.  Play the video below to see the henna design pictures.
RELATED ARTICLES: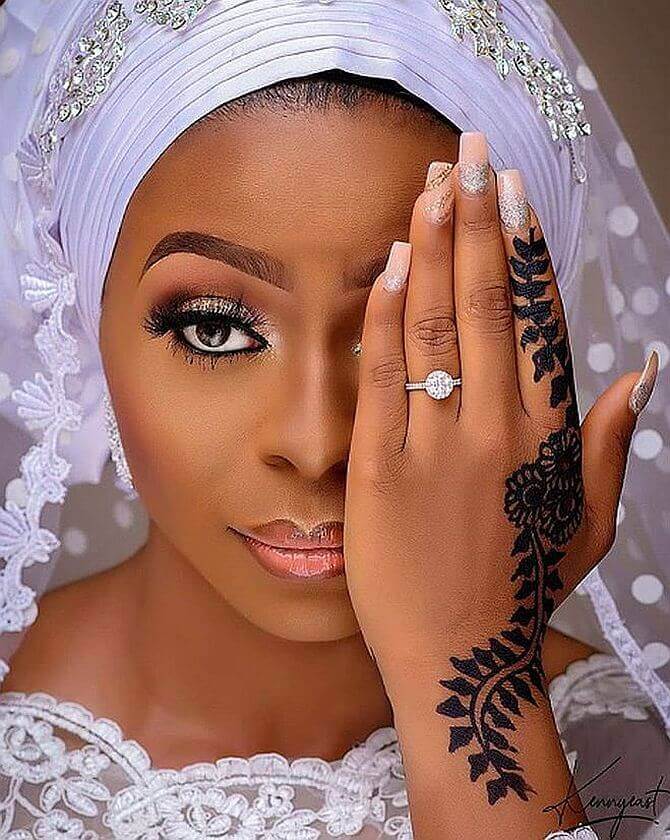 What is Henna Tattoo or Laali and How is it Made?
Laali is the Nigerian Hausa name for Henna. Indians call it Mehndi. You may be wondering: what is henna tattoo and what is it made from? Henna or Laali tattoos are non-permanent body art using henna dye.
Henna tattoos on hands and legs are a big part of the beautification Hausa and Muslim brides go through when preparing for weddings in Nigeria. While henna designs range from simple to complex, they all look stunning on the hands or feet.  Also known as laali in Nigeria, they are not only worn by brides for weddings but are generally worn by women for beautification, just like makeup or tattoo. This type of temporary tattoos are also worn by close friends of the brides and generally by women in Northern Nigeria.
Henna dye is obtained from dried leaves of Henna Tree, ground into powder.   In its dry form, the henna dye is not activated. To make dye for henna tattoo, water is added to the powdered leaves to form a paste. This paste stains the skin/ body and does not immediately wash off.  A henna stain is temporary and lasts a couple of weeks.  Another use of henna is for hair conditioning.
How is Laali/ Henna tattoo applied?
Laali/ henna tattoos are part of the Nigerian Hausa Muslim weddings. They are used to decorate the bride's hands and feet. The method of application is similar to icing (cake-art). Similarly, the henna paste is put into a cone that has a small, open tip. The henna artist applies light pressure to the cone, in order to draw the desired design on the body. Usually, the application is done by a Henna Tattoo artist.
Some women let the henna tattoo artist come up with a suitable design for them, trusting that it would be beautiful. However, some stylish Hausa/ Fulani women or brides like to show their laali/ henna artist a picture of what they want to be designed on their hands or feet.
In Northern Nigeria, laali/ henna tattoo artists can easily be found on the streets and in the local markets. These artists have usually gathered up lots of designs through their years of experience, and most draw up designs without looking at any book.
Nowadays, some makeup artists in the North have also added learned how to draw laali art on legs and hands. So, it's no longer uncommon to find henna tattoo artists in posts neighbourhoods in any part of Nigeria, not just the Northern region.
RELATED ARTICLES:
Latest Trends in Laali: Nigerian Bridal Henna Tattoo Designs
We are used to seeing black and reddish-brown colour henna (laali) designs in Nigeria – those are the classical, traditional designs.
Henna art has literally grown up and evolved. These days, you can find diverse colours and more beautiful henna designs and patterns. We particularly fancy the latest bridal henna colours we are seeing in magazines and Pinterest such as:
White and silver henna design colours
Gold-coloured henna designs.
Still, on bridal henna designs, the uncluttered, simple, less-is-more floral and lace patterns of henna designs on hands and feet look the most elegant. They are still elegant if they have a small dash of colour, and if the design does not cover the entire skin on the hand or feet.
The Place of Bridal Henna Tattoo in Hausa Traditional Wedding Custom: The Bridal 'Henna Night'
Hands and feet henna tattoo is one thing that many Muslim women, especially those from Northern Nigeria (Hausa, Fulani, Kanuri etc) adore not just because it has become part of the Hausa culture but because of how beautiful the henna body art design and patterns look.
Many Hausa women (young and old) absolutely love getting inked with beautiful floral and lace patterned henna designs on a regular basis, not just for weddings. Thankfully, getting a henna tattoo is not a painful exercise.
The application of henna on brides-to-be is part of the Muslim pre-wedding/ pre-Nikah rites for brides, and it is also practised by Muslims outside Nigeria (Egypt, Dubai, India, Pakistan, Morocco, and many others).
This 'ritual' of bridal beautification and preparation is called the 'henna night' – the bride's hands and feet are decorated with henna.
RELATED POSTS:
About Henna Body Art (Laali): Temporary Bridal Tattoo
Just in case you're a history freak, I'm going to tell you a bit about the origin and history or laali (henna).
Henna (known as 'laali' or 'layla' in Nigeria; mehndi in India) is a temporary, non-painful body tattoo that is made from a natural dye.   Further reading:  Henna FAQs.
The art and practice of body decoration with henna is one that is over 5,000 years. History has it that bodies of ancient Egyptian mummies were designed with henna tattoos.
Other history geeks say that henna tattooing originated from parts of Africa (notably Egypt), the Middle East (notably Pakistan and India) but has now become popular all over the world, even among American celebrities and musicians.
What do you expect – it's a cheap and painless way to get tattooed. The only downside is that it fades after a few weeks. But since the process of getting henna body art is painless, you'll be motivated to try on each of the above designs from time to time.
RELATED ARTICLES:
What's Your Bridal Henna Tattoo Style?
Hope you were inspired by all the beautiful bridal henna design pictures? And, you now know that modern brides are adding their own twists to henna by getting trendy white, silver and gold coloured henna for their Muslim Nikkah wedding ceremony.
So, there you have it for our 100 latest henna (laali) designs for Hausa and Muslim weddings. Share this post with your friends on Facebook, Twitter, Instagram, Pinterest or email it to someone who you know is preparing for her Nikkai.
Have you ever had henna tattoo drawn on your leg or hand?  If so, share the experience with us  – how long did it take to complete the design and how long did the colour last on your skin? 
Also, I'd like to know which of the above bridal henna designs (laali) is your favorite. Tell me in the comments box down below.