Looking for the latest ankara styles to sew as wedding aso-ebi? In this post, you will see pictures of over 100 beautiful ankara styles and native-wear dresses appropriate for female wedding guests. The featured ankara outfits are trendy and include different types of styles – long and short gowns, skirt and blouse styles, and trouser ankara styles. You'll love them. 
To ensure that you have more than enough styles to send to your tailor, we curated the best of this season's unique ankara wears for you. Swipe or scroll down to check out photos of latest ankara styles, and down below is part 2 of this post featuring 100 more images of beautiful ankara styles.
3 Colourful Ankara and Chiffon Combination Styles with Statement Sleeves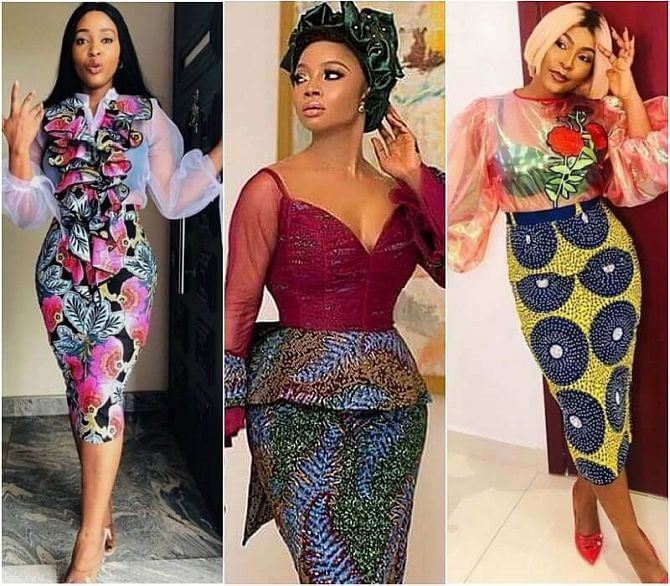 2 Simple Ankara Shift Dress Styles that Are Perfect for Wedding Guests
3 Cute Ankara Off-Shoulder Gown Styles You Can Wear to Weddings & Occasions
3 Flashy Ankara Maxi Skirts and Above-the-Ankle Dress Styles
100 UNIQUE ANKARA STYLES FOR WEDDINGS & OCCASIONS (VIDEO)
MORE STYLES LIKE THE PHOTOS ABOVE:
About Ankara Fashion Trends
Ankara clothing is loved by Nigerian women as aso-ebi fabric, sewn into different styles and worn at weddings and special occasions. Ankara clothing material is also used to sew casual-wears and other traditional or native-style attire for men and women.
It's common to see ankara materials combined with other types of fabrics to give the outfit a kind of different vibe.
So, we have all sorts of ankara mix, such as ankara mixed with lace material, ankara mixed with chiffon, ankara mixed with plain materials, and ankara mixed with denim or even jersey (aka t-shirt material).
About Ankara Cloth: The African Fashion Cloth
Ankara is a multi-coloured, multi-patterned cotton fabric mostly worn by Africans.  To non-Africans, Ankara fabrics look like a piece of artwork on cloth.
How Ankara Fabrics are sold: They are sold in packs of 5-yards in Nigerian and African markets.  That's how they are manufactured. However, sometimes, you can buy smaller pieces of ankara fabric, if the seller agrees to sell two and a half or 3 yards to you.
There are many ways and styles that Nigerians and Africans, in general, wear their ankara materials, including the traditional single wrappers (iro) or double wrappers worn with blouses.
African wrappers are similar to sarong worn by Indians, and women wrap it around their waists while men either wrap it around the waist or chest.  Ankara fabrics are also made into other types of beautiful outfits such as ankara gowns or skirts and blouses, or even ankara trouser/ pants and tops.
Both men and women use ankara fabrics to sew any type of outfit they desire. Sometimes, for occasion-wear, Nigerian men wear ankara outfits with the traditional men's hat (fila) while women wear ankara outfits with statement bead necklaces and traditional headgear (gele) or ankara turban headwrap.
Most Ankara clothes in Africa are not sold as ready-to-wear,  The tradition here is for one to buy some piece of fabric, pick a style from a fashion catalogue, website or magazine and have your local local tailor sew it for you.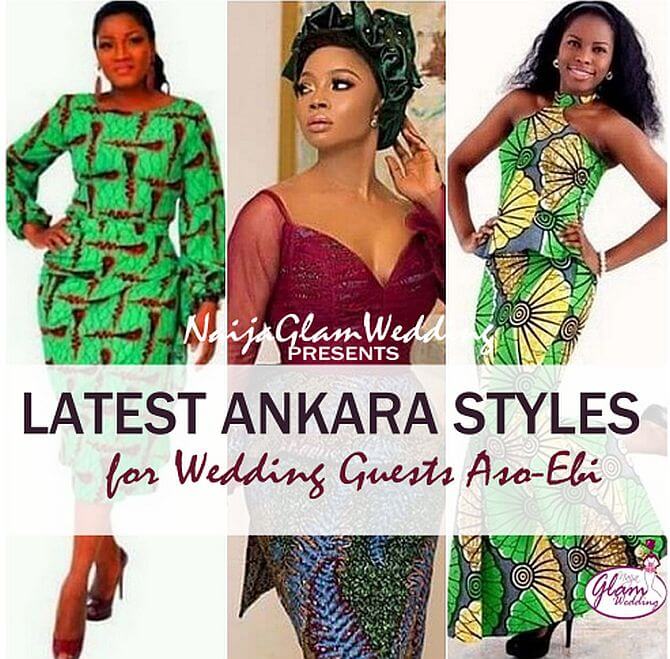 MORE OCCASION FASHION STYLES:
Some History and Other Names of African Ankara Fabric
In case you didn't know about the origin and history of this fabric, ankara is the name of the popular, colourful patterned, cotton fabric extensively worn by Africans.
Ankara fabric is worn across Africa, and also well-loved, especially because it is made of mostly cotton material, and so friendly to the warm African weather.
While ankara is known as the cloth for Africans, it originally was manufactured in Holland (Netherlands) and I think, England, hence the name 'Dutch wax' and 'English wax' by which our mothers and grandmothers call it.
SEE MORE STYLES:
These days, ankara is being made in many other countries, including China and African countries, and also by numerous companies, apart from Vlisco (one of the Dutch premium ankara fabric maker).
Some Nigerians refer to ankara fabric by other names such as print, ankara wax, or simply 'wax' or 'English wax'. While many African countries also call it 'ankara', other names by which this clothing material is known in some African countries to include: kitenge and chitenge.
Outside Africa, most people (especially non-Africans) would refer to ankara clothing materials as Dutch wax, Holland wax or just African wax or African wax prints.
If you're looking to buy ankara fabric from the USA or Europe and use any of those names, you're sure to be handed one or be directed to where they are sold.
Ankara is synonymous with 'traditional wear' in Nigeria. Popular brands of this fabric include vlisco ankara wax, daviva, uniwax, Ghana wax (ATL and GTP),
English wax, super print/ wax, Hallandais/ Dutch wax, HiTarget, Nigerian wax, woodin print and a whole lot of other African print fabric brands.
Because ankara fabric is popularly referred to as 'the African cloth', one would think that it originated from Africa. Thing is, it did not – the Europeans were some of the first manufacturers of the fabric we all now know as 'ankara'.
In fact, those regarded as the high quality or premium ankara fabrics are made in Europe.  Vlisco's Hollandais is one of the premium ankara wax, and loved by Nigerian women, and generally African women) of all ages.
MORE NIGERIAN WEDDING GUEST FASHION STYLES:
What's Your Ankara Style?
It's the season of wedding parties and Nigerian women are (almost, always) checking complete fashion magazines and Bella Naija for pictures of slay queens rocking the latest ankara occasion outfits of the season.
There you have it on the latest styles of sewing ankara/ kitenge outfits for Nigerian and African women. I hope you like them. How do you like to wear your ankara dresses to occasions – with or without a Gele headtie?
Now, tell me – which of the above in-vogue ankara styles do you like best? Comment below to tell me.  And, don't forget to share this post with your friends – Facebook it/ Instagram it/ tweet it/ email it.