Looking for the latest skirt and blouse fashion styles to sew as aso-ebi for an upcoming wedding or any other Nigerian occasion? This post has loads of new styles for you.
In this article, you will see pictures of over 100 latest skirt and blouse outfit styles in various trendy, in-vogue fabrics including ankara/ wax print and lace. You will also see pictures of the latest skirt and blouse combinations and designs – from colour combinations to skirt and blouse outfits made by combining 2 different fabrics. Now, let's dive in – scroll or swipe down:
There's everything to love about this colour combination. @duchees looks gorgeous in this shimmering, sequined charcoal skirt and blouse outfit with a touch of emerald green. She complements the look with a green gele headtie, a silver necklace and silver clutch purse.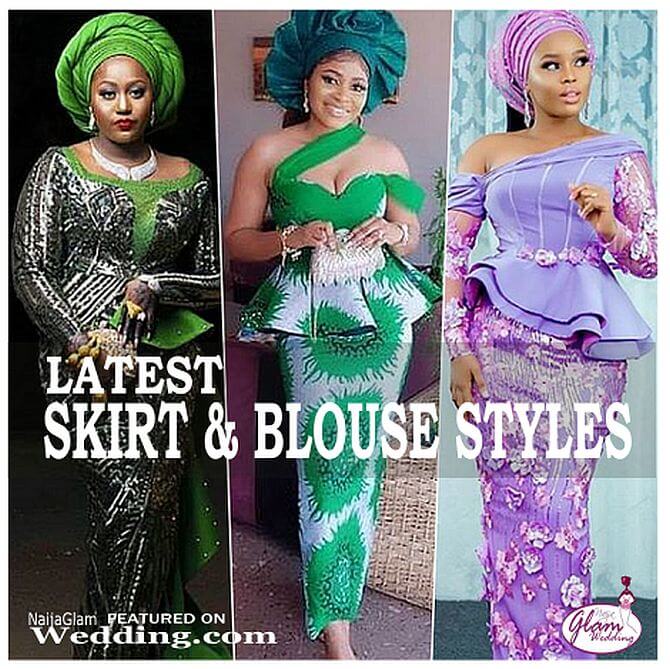 Play the video slideshow below to see photos of the latest Nigerian skirt and blouse styles.
MORE WEDDING FASHION STYLES:
About Nigerian Skirt and Blouse Styles
Nigerians and Africans abroad are always looking for the latest outfit styles that women are wearing back home because they know that English-style skirts and blouses (or any other outfit) are not like cut the way native Nigerian styles are.
Also, the type of fabrics and fabric patterns and colours that appeal to Nigerians and Africans are very different from those that appeal to our Western sisters.  Hence, we all love our Nigerian styles of skirt and blouse outfits.
Nigerian skirt and blouse styles are similar to the styles we see on the red carpet, the fabrics are usually ankara or wax prints, lace, brocade or George fabric, and lots of other exquisite fabrics – sometimes tailors mix different fabrics to get a unique look for any outfit.
For occasion wears, with the help of talented tailors here, Nigerian ladies love to do their own twist of 'the red carpet looks' with our local traditional fabrics (such as ankara, lace etc.) and the finished outfits look really gorgeous and beyond simple.
Popular occasion-wear skirt-and-blouse shapes and cuts Nigerian women sew with locally available fabrics include pencil skirts, skirts with slits or splits, peplum skirts, mermaid style skirts, flared skirt, Nigerian wrap skirt styles (aka Oleku/ Tulip skirts).
Go Slay in Your New Skirt and Blouse Styles
Hope you like the skirt and blouse styles we presented in this post. Feel free to tag us on Instagram with your pictures, when you sew any of the above occasion-wear Nigerian skirt and blouse fashion styles.
Who knows, maybe you could be on the next edition of BellaNaija's asoebi bella.  And, don't forget to share this post with your friends – Instagram it /Facebook it/ tweet it/ email it.
MORE NATIVE-STYLE OCCASION FASHION FOR NIGERIAN WOMEN
Before you go, comment below to tell me which of the featured styles you like best.