For some women, a courthouse wedding doesn't need any dressing up, but not so for the stylish woman, especially if the location is an upscale court like the infamous 'Ikoyi registry'. While the registry wedding calls for a toned-down 'civil' look, who says you can't find outfit styles that ooze both of style and elegance?  If you're looking for cool ideas of what to wear for your court wedding (in Nigeria or anywhere at all), in this post we're presenting 10 elegantly chic court wedding dress styles some stylish Nigerian brides wore to get married at the courthouse.
That's not all, I also shared court wedding dressing tips for men – read to the end to see the tips.  Now, swipe or scroll down to see the inspirational pictures on what to wear for your court wedding.
#1, 2, 3: Formal Short and Knee-Length Fitted Gowns for Registry Wedding – Accessorized with Bridal Hats  |  Monochrome White Look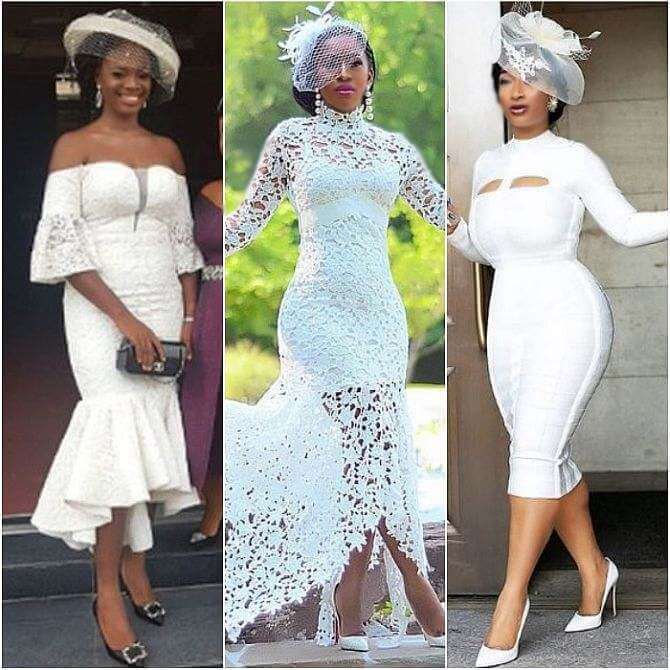 Above left, this bride wears a white off-shoulder fit-and-flare court wedding dress with high-low ruffle hem. She completes her registry wedding look with a matching colour white hat, black court shoes/ pumps, and a little black clutch purse to match her shoes.
Middle (above):  This is a monochrome look with a fit-n-flare white high-low lace court wedding gown, white pumps (shoes) and a matching white feather fascinator birdcage that features an over-the-eye french netting.
Right (above): White knee-length long-sleeve scuba material bodycon gown with high-neck. She accessorized the look with a fascinator net hat.  |  Choose from any of the above styles of fitted monochrome white dresses and ensure to add the right accessories, as in the pictures, to get the perfect but simple bridal look for your registry wedding.
#4: Sexy and Sleek Bridal Jumpsuit for Court Wedding
Above, this bride wears a cream/champagne-coloured high-neck and illusion lace-top satin wedding jumpsuit with a detachable draped waist cape/ train. This bridal jumpsuit is perfect for court wedding.  She completes the look with a black and white strappy high-heeled sandals, which amps up the glamour of her entire dressing. Bridal jumpsuits are such a perfect one-piece ensemble for any court wedding and are also a great option for a wedding reception look. 
These special pantsuits look good and classy on most body types.  Wedding jumpsuits are a super-sleek option for a bride who wants a stylish outfit that she can wear again for occasions, after her big day.  The above bridal jumpsuit style has a long removable train/ waist cape that you can detach right after your registry wedding and wear it in a different look for the reception party. How cool is that?
#5, 6: Chic Minimalist Pencil Dress Court Wedding Look
Above left: Streamlined fitted white long-sleeved maxi gown court wedding dress idea, accessorized with a matching white Fascinator hat, contrasting black-with-gold strappy high-heels and brown purse in-hand.
Above right: This is a simple but elegant 2-piece brown and sky-blue fitted skirt and blouse court wedding dress idea.  She completes the look with a matching nude/ brown court-shoes and a clutch bag and accessorized with a fascinator hat, wristwatch, and clutch purse.
#7, 8: Cocktail Dresses and Dressy Jumpsuit Court Wedding Styles | Featured Below: Off-Shoulder Short or Midi Length Registry Wedding Outfit Ideas
Above left, this bride wore a pretty mustard-yellow strapless chiffon short gown with waist cape for her court wedding look and completes her look with a green and white flower bouquet with yellow accents. Her bouquet gives off a beautiful contrast to her dress.
Above right: This happy bride flaunts her flower bouquet, wearing an all-white midi-length sweetheart-neck strapless jumpsuit with waist cape and sparkly metallic silver belt. She completes her look with a matching white strappy high heels (open-toe sandals).
#9, 10: All-White Court Wedding Dresses Accessorized with Netted Hats (and their Grooms in Neutral Coloured Sleek Two-Piece Suits)
STYLE TIPS: You don't have to wear an elaborate floor-length bridal gown, but you can wear a short wedding gown for a court wedding. Short English gowns also make perfect registry wedding attires.  You can make any simple white fitted gown look like a short wedding dress by accessorizing the look with a hat. White netted or feather Fascinator bridal hats look the most flattering when going for a registry wedding look.
Finish the look by throwing wearing a crystal drop earrings, a pair of court shoes or pumps and clutch a purse in your hand. Don't forget to do a flawless makeup.  Book a professional to do it for you, if you don't know how to; some are very affordable.
Court Wedding Dressing Tips for Men
Stylish men make the effort to look special with their registry look, and that's the mindset every groom should have. Dressing up for your courthouse wedding should not be left for only your bride-to-be. It's also your day, so put together a special-occasion look.
For the groom, suits are the most popular court wedding attire. This can sometimes resemble the office corporate look and uninteresting if the groom is usually dressed in a suit for work. It doesn't have to be like that. The right suit accessories can help transform a groom's court wedding suit from boring to interesting.
Do not limit yourself to neutral-toned suits.  Coloured wedding suits for men also look cool. Take some time to check out occasion-suit styles and colours worn by male celebs for inspiration. You don't have to buy the exact same clothing brand if you cannot afford to.
Simply look at the photos to know what's in-vogue styles, pick a style you like and get something similar within your pocket. We featured some cool men's wedding suits in a previous post.
RELATED ARTICLES: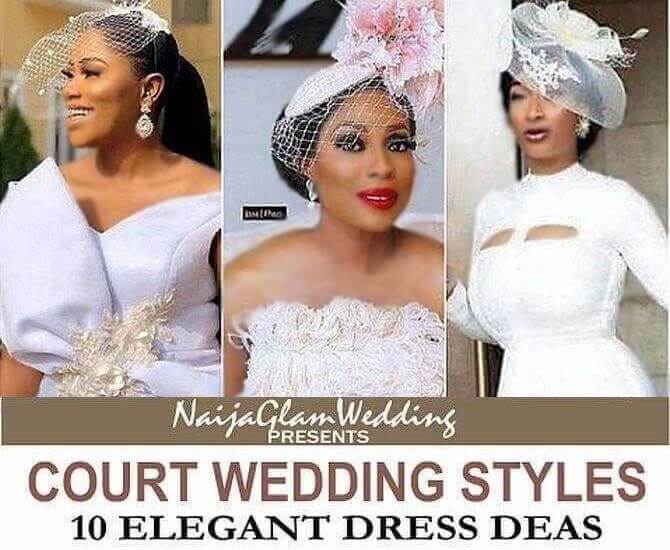 Recap and Conclusion
If you read up to this point, below are some ideas of what to wear for a court wedding: a short or knee-length gown, a maxi gown, a dressy jumpsuit, a trouser suit or skirt suit, peplum-top dress and cocktail dresses. Do not be afraid to wear off-shoulder neckline dresses for your court wedding if you're comfortable with pulling off the look.
I also talked about suitable accessories for a court wedding such as sparkly drop earrings, bracelet and/ or wristwatch, court shoes or strappy heeled sandals, bridal turbans (for Muslim brides), bridal headpiece or feather/ net fascinator hat and a clutch purse. Flower bouquets flatter styles of court wedding outfits that look similar to church wedding attires, if that's the look you're going for.
Finally, I touched on court wedding dressing ideas for men, and what they can add to transform their look from ordinary to special-occasion look.
TIPS TO SIMPLIFY YOUR WEDDING PLANNING:
There you have it on court wedding outfit ideas that will stand out and flatter every type of body shape. Thanks for reading. If you like this post, I'd appreciate it if you help me share it on social media to help others find it.
Now tell me – what's your favourite of the 10 outfits featured above? Which one are you likely to wear if you're planning your registry wedding? Also, what do you think is the best dressing style or type of attire for men to wear to their registry wedding? Let me know in the comment section down below.