We can't stop obsessing over the gorgeous ankara pencil dresses we recently spotted on some of our fave celebrity wedding guests. From Toke Makinwa's stunning ankara-mixed-with-chiffon pencil dress with statement sleeves, to Kate Henshaw's mix-and-match two-piece ankara fitted maxi dress, these styles will make you repent if you'd ever felt that ankara was a boring material.
In this post, we're sharing our favourite beautiful celebrity ankara pencil dresses.  Swipe or scroll down to see them.
1. A Two-Piece Mix n Match High-Waist Ankara Pencil Skirt and Blouse with Flutter Sleeves |  Kate Henshaw Stuns in this Black and Gold Top Paired with a Yellowish Block-Print Ankara Long Pencil Skirt
STYLE NOTES:  Above, Nollywood actress and fitness guru, Kate Henshaw, dazzles in a block-print high-waist ankara maxi pencil skirt paired with a flutter sleeved top. She completes the look with a black Turban Gele with rosy front-knot, and a clutch purse in hand.
2. Ankara Peplum Pencil Dress with a Chiffon See-through Top  |  Toke Makinwa Glows in Burgundy Chiffon Top  Dress Mixed with Ankara Bottom and Completes with an Emerald Green Turban-Cap
STYLE NOTES:  Above, Toke Makinwa, looks radiant in this chic peplum-style ankara-and-chiffon dress. This cute outfit features a burgundy-coloured sheer chiffon top with funnel sleeves.
She completed the look with a ruffled velvet turban cap and a cute little black handbag. Toke is a master of delightful colour combinations.  Her overall attire looks perfectly coordinated and well-blended in colour. 
Her pencil ankara skirt has a combination of emerald green, blue and a touch of burgundy which ties in perfectly with the burgundy top part of the dress. Again, she ties-in the emerald green in her ankara with that emerald green turban cap, and also a matching colour mini-handbag.  How cool is that?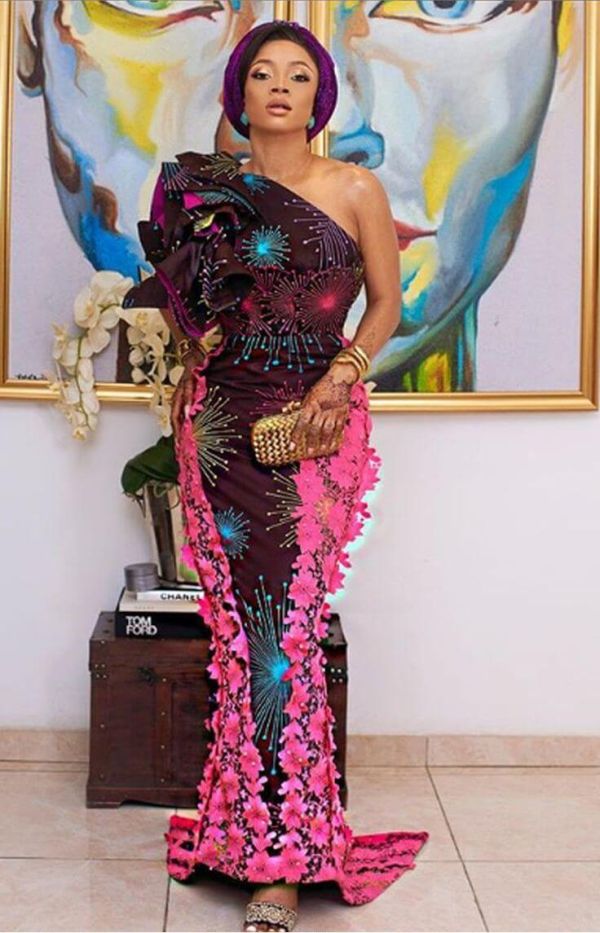 STYLE NOTES: Again, media personality, Toke Makinwa, slays in a fitted one-shoulder ankara long gown with pink flower design details on the skirt area. She complements her ensemble with a turban-gele and a gold clutch purse for added bling. 
Here again, Toke displays her colour combo mastery with this number: purple turban cap combined on a mahogany asymmetric neck ankara dress with pink flower details.
4. Halter Neck Fitted Ankara Pencil Dress Style to Show Off Your Buff Shoulders
STYLE NOTES:  This chic has the most beautiful shoulders and she knows it, and shows it off.  Above, Ebony Life TV girl, Bolanle, was spotted at Akah and Claire's Wedding looking all glam and flaunting her buff shoulders.
She looks well put-together in this long, yellow and black fitted ankara pencil gown with halter-neck style. She complements her look with a brown headwrap and a clutch purse.
5. Fitted Ankara Pencil Gown with Thigh-High Side Slit and Flutter Sleeves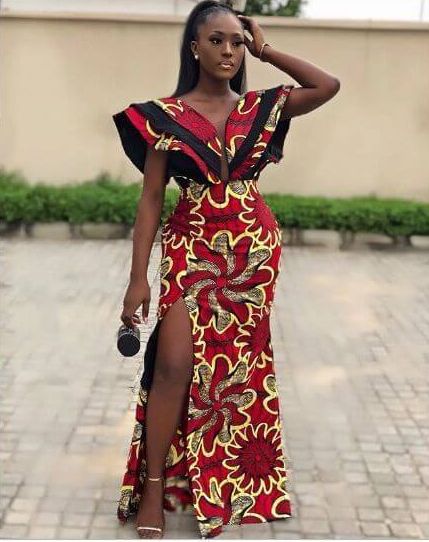 STYLE NOTES: Above, Linda Osifo looks gorgeous in a red patterned ankara long gown with a thigh-high side slit and flutter sleeves.
More Celebrity Wedding Guest Styles You'll Love
Nigerian celebrity weddings are some of our favourite places to spot the hottest and in-vogue as-ebi and occasion-wear fashion trends. Looking at beautiful dresses from society weddings like this one and this one is one of our favourite past-time thing-to-do.
SEE MORE CELEB WEDDING GUEST & ASO-EBI STYLES:
Time to Get Your Own Ankara Pencil Dress
We know you love Instagram-worthy outfits. That's why we love sharing our finds of the best-dressed celebrity wedding guests with you.  I hope you like the dresses we presented to you in this post.
Next, see how you can recreate some of your favourite ankara pencil dresses from the featured celebrity Nigerian wedding guest looks in the gallery above!  Who knows, maybe a photo of you in your celeb-inspired pencil ankara dress could be on the next asoebibella?
By the way, see we have more celebrity wedding guest outfit styles in our Ankara and Aso-ebi styles section. Check them out.  If you enjoyed this post, why not help us share it on social media to help others find it.
Also, consider following us on social media to see our bite-sized aso-ebi styles and wedding planning tips. Subscribe to our NaijaGlamWedding community to be first to know when we publish fresh new posts.
Before you go, I'd like to hear from you. What do you think about this post? Which of the featured celebrity ankara pencil dresses is your favourite? Comment down below to let me know.