Do you like short gowns, and here looking for ideas on the latest short gown styles to wear as a wedding guest or to rock to any other type of occasion? Let's treat you to an assortment of the short gown styles that include both the Nigerian-style short gowns (sewn with ankara materials, lace, etc) and beautiful short English gowns spotted on our favourite female celebs. Our readers love taking style cues from the celebrity fashion playbook, and this post features pictures of some of the best celebrity short gown styles – the latest Nigerian-style short gowns and trending English-style short dresses. This post is in 2 parts. Let's get straight into the action – see part A first, and then scroll down to see part B.
Latest Nigerian Short Gown Styles (PART A)
Let's dive right into the styles. Play the video slideshow below to see the latest native-style Nigerian short gowns. [After that, scroll down to see the English short gown styles are down below].
Wait, there are more styles below
12 Celebrity English Short Gown Styles for Nigerian Wedding Guests (PART B)
It's not every time that one feels like wearing Nigerian-style wears to weddings or occasions. To inspire you on dress styles to buy (ready-made) or cut-and-sew when considering rocking a  short English-style gown, this section of the post will feature the latest styles of English short gown styles spotted on female celebs at Nigerian weddings and events.  Here you go:
#1. Champagne Gold Lace English Short Gown with Draped Side Detail AND Green Satin, Peplum Midi Fitted Pencil Dress. Both Ladies Completed their Look with a Matching Hat/ Fascinator and Clutch Purse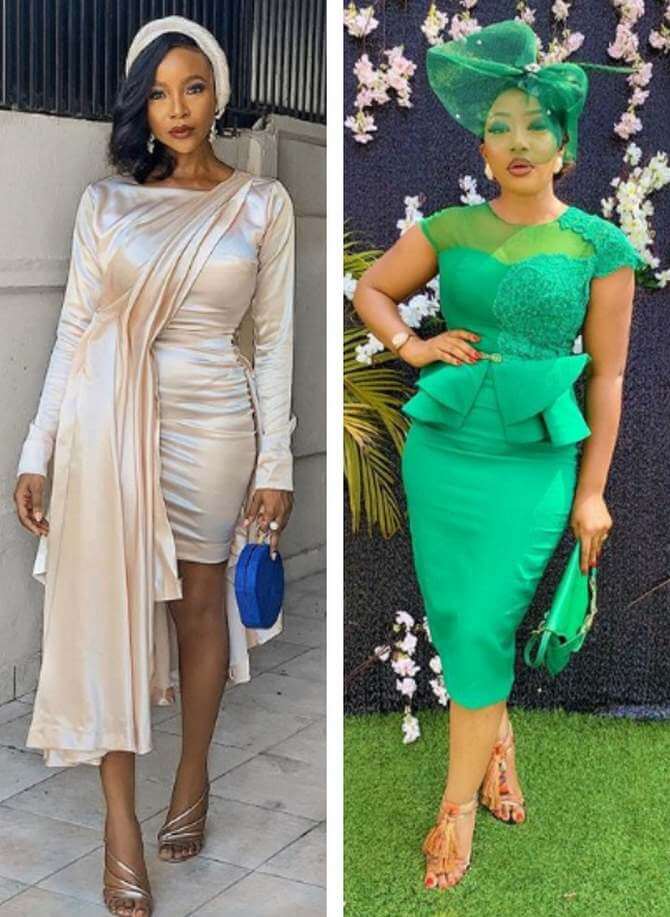 #2. Ooze of Confidence: Ogo Looks Elegant in Black Midi Bodycon Gown with Side-Drape AND Nina Dazzles in this Gold Short BodyCon Dress with Puff Sleeves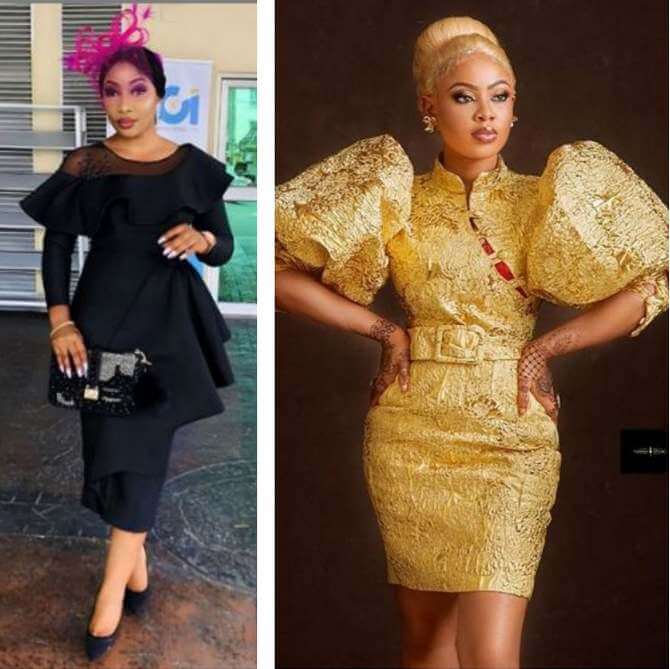 #3. The Amped Glam: Mustard Yellow Off-Shoulder Short Tiered Ruffle Dress with Puff Sleeves AND Pink One-Shoulder, Midi Skater Gown with Black Details
#4. A Dose of Glamour: Black Short Pencil Dress and Yellow Midi Bodycon Dress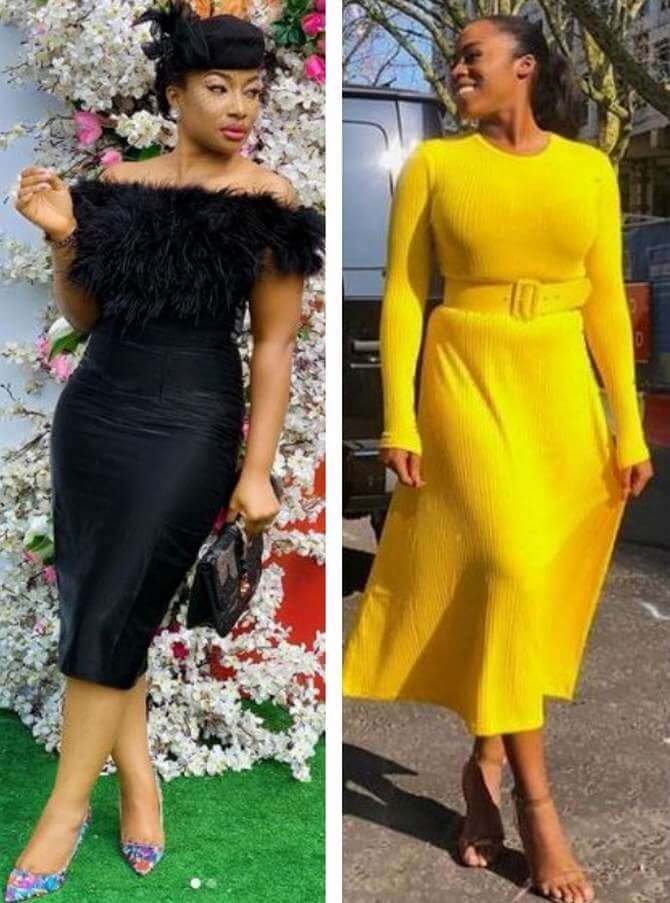 #5. Classic Elegance: Toke Makinwa and Stephanie Linus-Okereke Prove to Us that Short Lace and Print Skater Dresses Never Go Out of Style
#6. Lady Boss Elegance: Ini Dimma Okojie Oozes Class and Elegance in this Green, Trumpet-Hem Midi Gown with Crossover Neck and AGAIN She Gives Us 'Effects' in the Asymmetric Pink One-Shoulder Short Frill Dress
WANT TO SEE MORE CELEBRITY STYLES? 
Nigerian women love variety when it comes to dressing for weddings and parties. Besides sewing their wedding guest outfits in the popular native-styles using lace, ankara fabrics and others, female wedding guests in Nigeria are often seen to wear englishwear-style short- or midi-gowns to Nigerian weddings. When invited to a wedding and you're not compelled to wear a uniformed aso-ebi outfit, the English-style short gowns are a smart and elegant option.
Dare to Recreate Any of Those Styles of Nigerian and English Short Gowns?
It's no secret that Nigerian women wear some of the most elegant occasion-outfits, and that includes short gowns. For some time, Nigerian women gave a long break to wearing Englishwears to weddings. English-style gowns are steadily making a comeback, with our female celebrities turning up in short and long English-style gowns at weddings.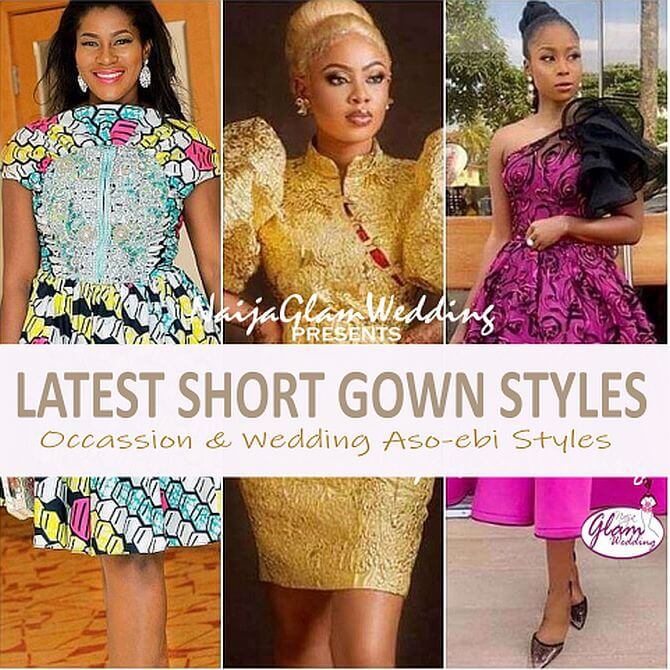 With the number of Nigerian fashion designers now making ready-to-wear dresses, female wedding guests are no longer limited to buying their Englishwear gowns abroad. They can now buy it locally at cheaper prices – and our tailors have stepped up their game. If you like to follow celebrity fashion, the good news is that our female celebs are not shy about revealing or tagging their Nigerian designers/ tailors on Instagram, and we also list them on posts where we featured celebrity wedding guest dress styles.
Anyway, not every Nigerian wedding guest buys their short gowns ready-made. If you have a good tailor and prefer a 'cut-and-sew' outfit to a ready-made one, types of fabric for sewing the English short gown styles include scuba and materials, lace, satin, jacquard and more. If you prefer to cut-and-sew, you can find good Englishwear materials in nearly every Nigerian market.
MORE NIGERIAN WEDDING GUEST FASHION IDEAS:
What's Your Short Gown Style?
There you have it on the latest short gown aso-ebi styles and also the trending English gown short styles to wear to a Nigerian wedding. You should have more than enough styles and looks to recreate in a year when invited to a wedding or to wear to any special occasion or church.
Thanks for reading. If you enjoyed reading this post and looking at the styles gallery, definitely help us share it on social media so that others can also see the styles.
Now, I want to hear from you: which is your preferred style – English short gowns or short gowns using Nigerian-type fabrics? Also, tell me: which of the above trending short gown styles are you likely to buy or sew next? Comment below to tell me.  One last question, which of the above celebrities rocked it better?