When planning to marry an Igbo lady, at some point, you'll have to meet her parents face-to-face. How do you prepare for that first meeting with your Igbo in-laws? How many times is a would-be-groom expected to visit his future Igbo in-laws before getting their consent to marry their daughter?
What are the things a groom expected to bring along during his first official (introductory) visit and subsequent visits to the bride-to-be's parents and extended family? What should you expect and how can you ensure that you make a good first impression?
We have all the answers for you, plus more to help you nail your first meeting with your in-laws, including what they expect of you, questions you should ask, ideas of gifts to take to them. Swipe/ scroll down to see them, and make sure to read to the end if you don't want to miss a thing.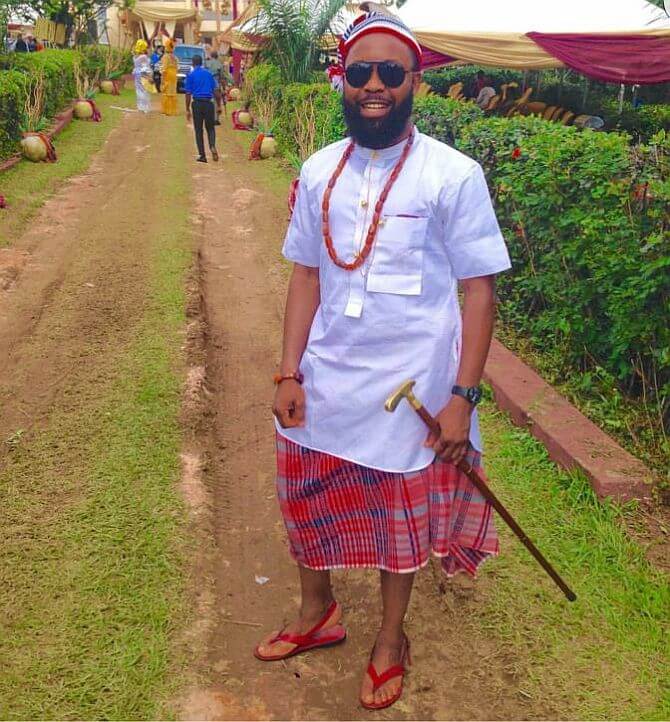 Most men dread the part when they have to meet with their future father-in-law, but it's not that scary if you know what to expect.  This post will give you the  'expo' to ensure that you will be fine through it all.  There's a right and wrong way to show up, and there's an expected way to go get a 'YES' from the family of an Igbo woman when asking them for her hand in marriage.
These days, the visits can be compressed, depending on the readiness of the groom, and how fast he has established familiarity with the bride's parents. Now, let's get straight into explaining the different customary visits a groom makes towards taking an Igbo wife – first a video illustration, and then the steps explained in detail.
Video Illustration of Groom's Meeting With His Igbo In-Laws
Meeting Your Igbo In-Laws: How to Prepare for the Igbo Customary Marriage Introduction
The Igbo traditional marriage rites and the process can be broken down into 4 main stages, and the groom-to-be with his family members are expected to visit the bride's direct and extended family for the necessary discussions and bride price negotiations. First, I need to share with you a common mistake you should avoid (below) that could cause you to spend more money.
Common Mistakes Men Make When Trying to Marry an Igbo Girl/ Lady
In Igboland, your marriage proposal (with your fiance) is not enough to take her to the altar. You need to meet and ask her senior members of her ancestral family/ her father's family. Asking her father or Uncle (guardian) is not enough, although it's the right first step.
Note that the process is simple, friendly and not complex at all – although most men let hearsay keep them from taking the next bold step. Read on to know how to go about marrying an Igbo lady according to the Igbo custom.
Many grooms-to-be to igbo ladies make the mistake of jumping this stage. Some take their very first visit to the bride's extended family to mean the 'traditional marriage'. When they do that, they're surprised to be told that they've just started and there are a few steps before the traditional marriage.

They're then informed that they need to (i) formally request and obtain the traditional marriage list and (ii) prepare to do the 'ime ego' (bride price payment) and (iii) finally have the 'igba nkwu' (traditional engagement/ wedding ceremony).

Curtesy and tradition demands that you first meet-and-greet elders of her family, make your marriage intentions known to them, and them OFFICIALLY ask them how to proceed to marry their daughter.

You can't copy an Igbo Traditional Engagement/ Marriage List from anywhere or the internet to use. Just use them for your budgeting purposes, to get yourself prepared. Besides, 'the List'  varies slightly or significantly across different Igbo villages. The right way is to meet the your bride's father and officially request for it. 

Meeting the Father-In-Law & Bride Telling Her Parents (True Stories from Real Couples)

However, on the very first visit, do not go empty-handed, make a good first impression by taking some good quality gifts (usually some bottles of wines and hot drinks, and anything else) – again, courtesy demands that. That's (almost) how it's done everywhere in Nigeria.

In Igboland, if a groom-to-be mistakenly brings the engagement list on his very first visit, your intentions would be suspicious, the items you bring would be received (but not regarded as 'traditional marriage list gifts') and you will still be required to bring the bride's village official/ customary engagement list gift items – meaning you will spend more.

Read on for the correct way (according to Igbo customs) to go about asking to marry an Igbo woman.
VISIT #1 – Iku Aka or Iju Ese (Door-Knocking): Officially Meeting Her Parents, Accompanied by Your Family, Presentation of Marriage Intent/ Seek for Parents Consent/ Inquiry
The purpose of this visit is to introduce your parents and a few family members to the family of your intended bride, so that they can (on your behalf) present your 'marriage proposal' (or intention to marry their daughter) to them.
If you're a foreigner reading this, you need to know that in Nigerian tradition, marriage proposals are presented to the bride's family (and not the bride). So, even if you have proposed to her, you need to do the traditional proposal to get the parents' consent (before a wedding can take place).
The Igbo translation of iku aka is 'to knock on the door' and "Iju Ese" is translated as: 'to ask about or inquire'. This is the very first visit of the groom-to-be to his prospective in-laws. Accompanied by a few members of his family and maybe a close friend or two, the would-be-groom makes an introductory visit and formally introduces himself and his family members to the bride-to-be's family.
The purpose of this visit is to officially make known his intent to marry their daughter and then 'ask' for the bride's parents' consent.
Nigerian Marriage Introduction: All a Groom Needs to Know About 'Door Knocking'
Who Should Escort the Groom: You (the groom) should not go alone for the 'iku aka' visit – you are expected to be accompanied by your father and elderly relatives, plus a few close friends (optional). Here, the groom-to-be, accompanied by his parents and a small group of close family members (one or two uncles and aunts) visit the bride's parents.
Sometimes, if the groom's father cannot go with them, the groom goes with a few of his close family members, including someone that represents his father.
The purpose of the visit is to officially announce his interest in marrying their daughter and also asking the girl's hand in marrying their daughter. His father or an elderly Uncle would be the spokesman at this visit.
Go with Discretionary Gifts. Don't Go Empty-Handed: When going for the 'iku aka', the groom is not expected to take any gift along, but you can use your discretion to take a few gifts – not good to go to your in-laws empty-handed.
We see some grooms taking some hot drinks (some kolanuts, a small gallon of palm wine, alcoholic drinks such as schnapps/whiskey, and/ or non-alcoholic wine), on this initial visit to his future in-laws.
The Bride's Response to Her Parents in the Presence of Everyone: The bride may or may not be present during the 'Iku Aka' if she does not live with her parents. If she lives with her parents, she would be called in and asked for her own consent.
If her answer is "yes", the gifts (kolanuts and drinks) are accepted and shared there. Her parents also have a say – they can accept or deny your proposal to marry their daughter (even if she said 'yes'). So, in this meeting, the bride's parents would also let you know if it's a 'yes' or 'no'.
If the bride replies with a 'No', the meeting would come to an end. If the bride-to-be lives far from her parents, her family will tell you that you will be contacted with the answer/ response, whether a 'yes' or 'no'. If you receive a 'yes', you proceed to the 'ime ego' stage.
Next Steps After a 'YES': If the bride's answer is 'YES', then the groom should formally inform the bride's parents of how soon or the possible date he intends to do the traditional wedding and also asks for information on the process. He would be told about 'the traditional marriage list and bride price document' and how to get it.
Any further visits would be scheduled, but usually, there's none. The next step is for the groom to start preparing to get the items in 'the list' presented to the bride's family and also do the traditional wedding – both can be done on the same day or on separate days (as the groom decides).
Click on NEXT PAGE below to finish reading