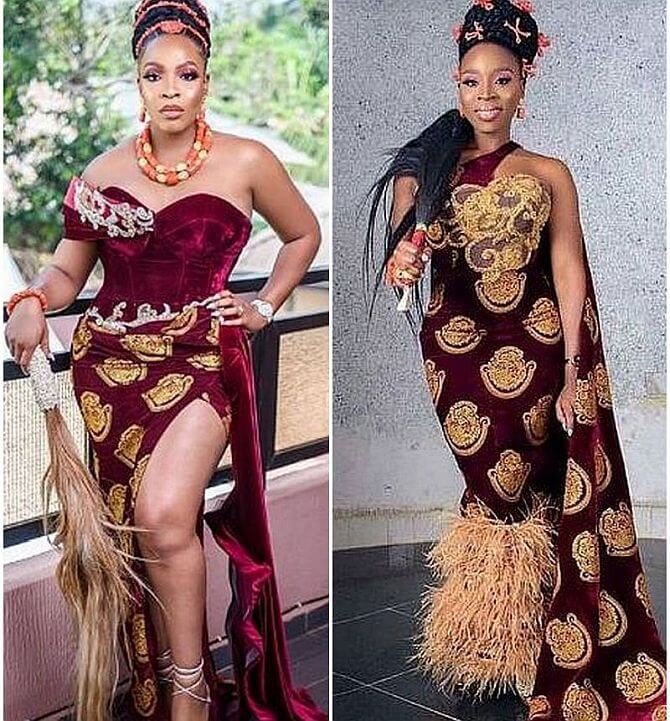 STYLE NOTES:  These brides look absolutely gorgeous in their Velvet Isi Agu Maxi Gowns AND horsetail accessory. The updo Igbo bridal hairstyle with coral bead hairpieces suits their attire so well.
The 'isi agu' fabric/ material is a cultural identity of Ndigbo and is held in high esteem in Igboland. 'Isi Agu' means Lion Head (translated to English). It used to be more popular among Igbo men, but this has changed – thanks to brides creatively making beautiful dresses out of this native Igbo fabric.
Above are our best picks of Isi Agu Igbo brides attire. You can switch up the styles a bit to make your own unique version – for example, you can have your tailor or designer make a no-slit version of the above strapless Isi Agu maxi gown.
#16, 17: Igbo Princess Bridal Attire with Removable Train/ Waist Cape Accessorized with Igbo Maidens Native Updo Hair and Coral Bead Hairpiece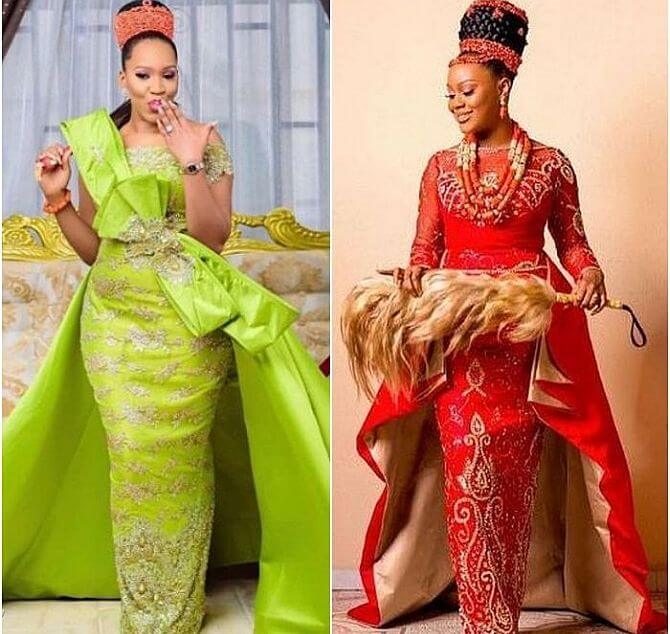 STYLE NOTES:  These Igbo brides look like princesses in this slim-fit lime-green Igba Nkwu princess attire in george fabric embellished with a touch of gold  (left), AND the red-and-gold-embroidered-George maxi gown with long waist cape (right). Both dress styles are very similar but also have slight differences in details, such as: different necklines and different sleeve styles.  You may also want to have yours with entirely different neck and/ or sleeve styles for a uniquely different look.
This is a beautiful convertible Igbo traditional wedding dress – the waist cape/ train can be removed and re-attached at any time. It is very similar to the wedding gown Claire wore at her Lagos wedding.
With this style of Igbo traditional wedding attire, you can create two different outfit looks – one with the train and another with the waist cape removed.  When the waist cape/ train is detached, it converts into a straight fitted gown.  When the waist cape/ train is attached back, it looks like it does in the above pictures.  
#18, 19: Sequin George Bubble Sleeves Ruched Gown-Wrapper Igba Nkwu Attire Paired with Traditional Igbo Bridal Headpiece | Brown & White Igba Nkwu Dress AND Gold and White Igbo Brides Attire with a Traditional Headpiece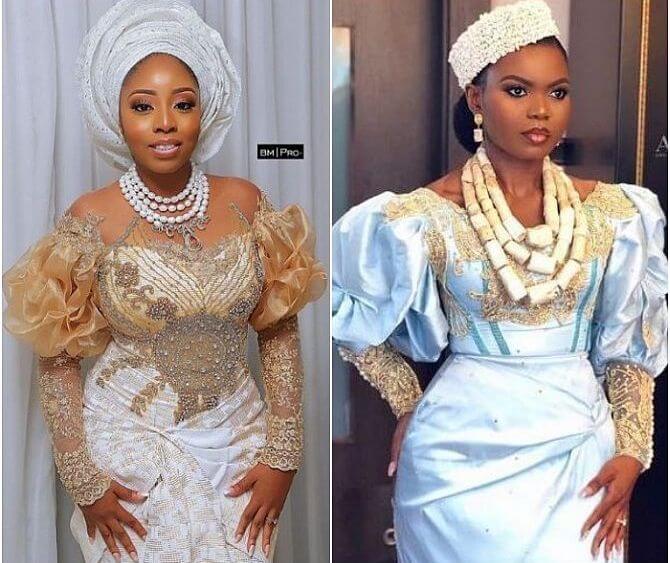 STYLE NOTES:  These brides (above) have their entire look on fleek, in their white and gold/ brown combination sequin George long sleeve ruched Igbo traditional wedding gowns attire with bubble bishop sleeves.
(Left) This pretty bride looks elegant in her brown and white fitted sequin George gown and accessorizes the look with a white gele headpiece/ Ichafu. She finishes off with a white layered beaded necklace that complements her wrapper colour.
(Right) This gorgeous beauty looks royal in her white and gold sequined George gown with bubble bishop sleeves.  She accessorizes her Igbo bridal attire look with a white coloured native beaded head-crown and a bold, white traditional bead necklace and matching earrings.  This is a classy Igba Nkwu look that will look great on most ladies.
RELATED ARTICLES:
Click NEXT PAGE below to see more Igbo traditional wedding attire styles for brides.