Want to pull a red carpet look at your next outing, get yourself a one-hand long gown because it makes it easier to look stylish, even with minimal makeup.  We've got celeb styles inspo for you.
This year, we have been seeing plenty of one-hand ankara and aso-ebi style inspirations from our favourite Nigerian female celebrities at weddings, and we are always 'shook' by how red-carpet-worthy every style of the one-hand occasion dress looked.
Interchangeably referred to as one-hand, mono strap dress, mono shoulder dress or one-shoulder outfits, this is one of the hottest wedding guest styles in Nigeria. If you're a fashionista, we think you should have a few one-shoulder maxis and midi-length dresses in your wardrobe.
If you are looking for fabric and style ideas on one-shoulder dresses, swipe down and let's serve you our edit of the most-chic one-shoulder occasion dresses you should try.
Here are 13 beautiful one-hand wedding-guest-worthy maxi dresses spotted on stylish female Nigerian celebs.  Enjoy and be inspired!
13 Must-Have One-Hand Ankara and Aso-ebi Wedding Guest Dresses Spotted on Stylish Celebs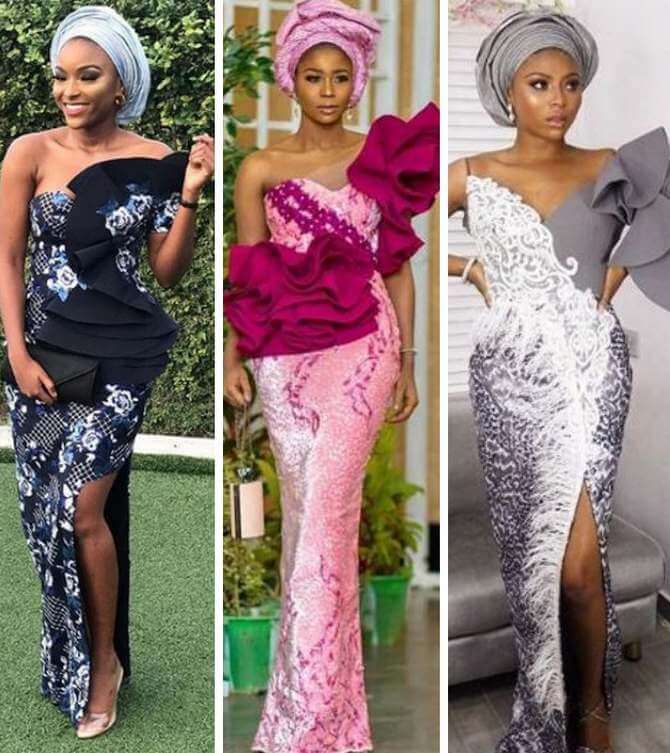 Style Notes: On the left, Korede Ajasa (@korayajax) stuns in a black and white one-shoulder maxi gown with side slit and ruffle details. Her dress was designed by @saphelcouture
(Middle) Lilian Afegbai in a baby-pink strapless one-shoulder maxi gown with burgundy ruffles
(Right) Stephanie Coker in an appliqued metallic-silver one-shoulder dress with side slit, sweetheart neck, and layered sleeve.
4, 5, 6: Floor-Length Cross-Shoulder One-Strap Floor Length Nigerian Wedding Guest Dresses
Style Notes: All three ladies above looked nothing short of perfect. Linda Ejiofor looked so good in that pink and black aso-ebi dress she wore to Mo Abudu's daughter's wedding. @MizWanneka  had one of the best aso-ebi styles at TV girl Tomike's wedding.
Style Notes: (Left) Peach is a popular Nigerian wedding aso-ebi colour and this gorgeous peach-coloured one-shoulder double strap mermaid dress looks all shades of perfection.
Our girl, Nina (on the right), never disappoints. She looks sexy in that champagne coloured fit-and-flare one-hand maxi dress with fishtail flounce and twisted ruffles on top. The fullness of the six-pieces bottom part made the outfit more flowy and even more elegant.
9, 10: Fitted One-Shoulder Double Strap Maxi Dresses for Nigerian Wedding Guests
Style Notes: Linda (left) in a dark green double-strap bodycon one-shoulder aso-ebi dress and an orange sash that drapes to the side. She's got the perfect colour combo with that bright orange accent piece there.
On the right above, ex-BBNaija star, Busola steps out in a bottle-green flower-lace asymmetric dress with champagne-gold lining, and ruffle details on the top. The taupe-brown gele is just the perfect colour combo for this attire.
Style Notes: Ini (left) looks radiant in a metallic purple one-hand dress with asymmetric neckline | In the middle picture, Choma looks radiant in her red one-sleeve maxi gown with asymmetric neckline and side drape. She finished her look with a matching turban cap.
On the right end of the image above is a one-hand ankara and chiffon combo dress with puffy bubble sleeve. The colour of the chiffon was perfect. Also, having the chiffon on top, as though it's separate like a blouse, elevated the style a notch higher.
More Nigerian Wedding Guest Style Ideas
Extra Styling Ideas & Best Fabrics for One-Hand Ankara and Aso-ebi Dresses
One-hand dresses have been trending as one of the most popular Nigerian wedding guest styles. There is hardly any Nigerian celebrity wedding or big occasion without some slay queens styling their own aso-ebi fabric in an elegant asymmetric outfit, either the one-shoulder gown or an off-shoulder maxi or midi length gowns.
These style of occasion and wedding guest dresses are chic, simple and effortlessly glam.  They make it super easy to look sleek and sophisticated. Here are extra styling ideas to add some spice to your look:
#1. NECKLACE & SUITABLE ACCESSORIES: Should you wear a necklace with a one-hand dress? The answer is "it is not necessary".  One-shoulder dresses need no accessories. Yes, you don't need to wear any necklaces with them.  Take a look again at each of the above images of celebrities, and you can see that they are not wearing necklaces.
Here's why – because one-hand outfits have the strap or sleeve high near the neck, a necklace may not show up, get lost or hide in the dress' material.  The style's neckline makes this style adequate and beautiful without a necklace.
With that saying, if you're a jewellery lover that feels 'naked' without a necklace, a few types of necklaces that work well with one-shoulder outfits include choker, y-shaped chains.  Suitable earrings for one-hand styles include stud and dangle earrings.
Don't be shy to throw in other types of accessories such as rings and bracelets.  Cuff bracelets also work with this dress style.
#2. HOW TO COPY SOMEONE'S STYLE BUT MAKE YOURS DIFFERENT: If you're an adventurous person, here's a cool tip to make any dress style(s) you sew unique and different from the original one(s) in the image above – change the neck or sleeve/ strap style. Here's how:
Pick one style
Change the neckline – pick a different style's neckline for it;
Change the sleeve style – pick another style's sleeve to go with it.
(Optional) Change the bottom part style – pick a different style's bottom for it. Maybe that could mean adding or excluding the slit; adding or excluding ruffles; making the dress bottom part straight or adding flounce/ six-pieces cut, et.  Just switch up the style as your heart desires, and there you'll have a different-looking dress from the main one you picked.
Tadaaa! You have yourself a unique one-shoulder dress. Most Nigerian are familiar with this – just show them the different part choices.
Talking about suitable fabrics, lace materials are still up there in the Nigerian wedding guest aso-ebi trend, and they look so absolutely good in one-shoulder styles. Other styles that go well when sewn in one-hand outfits include ankara, satin, jacquard, scuba, poly materials.
Go Ye and Slay in a One-Shoulder Maxi Dress
It's not every time that one likes to wear the usual skirt and blouse outfits or the predictable wedding aso-ebi styles.
Sometimes, we just want a glam look but also want an outfit that makes it all effortless. Yes, especially when attending a Nigerian wedding and there's a uniform aso-ebi fabric involved.
At times like that, turn to the one-shoulder dress and replay a look served by one of Nigeria's finest celeb fashionista.  The result is magic.
Now that you know that little fashion secret, the next time you're invited to a wedding in Nigeria, buy or sew one of the above-featured one-hand dress styles.
Next, throw on a simple makeup, finish it with a cute side-twisted fan gele or a turban cap and bam! You're better than ready with your red-carpet-style Nigerian wedding guest outfit. 
If you like, slide in a few rings and a cuff bracelet.  Now, check yourself in the mirror. You should be looking exotic like a celebrity in no time!
This post is loaded with plenty of one-hand outfit ideas in pictures for you to try.  You can't go wrong replicating a celebrity look. Now, you have over a dozen looks to serve you a whole year, assuming you have one wedding event per year.
When next you're invited to a special occasion or Nigerian wedding, you know how to dress unique and different from the crowd. That's all on that – over 10 of the sexiest one-shoulder aso-ebi and ankara wedding guest styles.
Thanks for reading. If you like this post, we have tons of other wedding guest styles inspo posts with pictures. I'd like for you to help me share this post with someone or more on Facebook, Instagram, Twitter, and Pinterest – click the share button down below.
Also, subscribe to our glam wedding community and follow us on social media to be the first to know when we have a new awesome post.
Finally, tell me – which of the one-hand aso-ebi and ankara dress styles (above) do you like best? Comment down below to let me know, and let's get the discussion popping.