Don't just plan on giving your guests any type of gift. Give them only the type of gifts they will love, use and keep on using. In this post, I've got over 60 ideas of thoughtful souvenirs you can give at any occasion, including weddings, marriage anniversaries, birthdays, naming ceremonies, and even burial ceremonies/ funerals.
These gift ideas are also perfect for end of year party souvenirs. I made sure to pick out souvenirs for every type of budget – cheap souvenirs, pricey or luxury souvenirs and edible souvenirs. Now check out our samples of various gift items that make useful and unique wedding souvenir ideas (below).
Cheap Souvenir Ideas for Weddings and All Other Occasions
Paper Jotters
Pens and Key Holders
Mugs
Colourful Plastic Kitchen Colander/ Strainer bowl in bright attractive colour
Plastic Kitchen washing-up bowls
Kitchen Cutlery Drainer
Kitchen Napkins
Umbrellas
Table Clocks
Wall Clocks
Towels
Ceramic or plastic trays
Printed Carrier Bags/ Tote bags
Mini Electric Hand Fan
Business Card Holder
Notebooks/ Jotters
Pens
Back Scratcher
Foldable hand fan or plastic hand fan
Keyrings
Plastic cutlery drainer/ organizer
Portable food flasks/ coolers
Chest Freezer – this one is an unforgettable gift that the couple will keep using for years.
Mini Fridge (for bedroom)
Ceramic or Plastic serving trays
Ceramic flat plates
Kitchen cooking spoons
Chopping board
Foot Mat/ Door Mat
See Real Wedding Budgets Breakdown: Samples From 6 Weddings in Nigeria
Mid to Pricey and Luxury Wedding Souvenir Ideas Nigerian Guests will Love
Mobile Phones, iPhones
IPAD or Tablet (Tablet Phones or Tablet Computers)
Box of Sweet Treats (including chocolates, cupcakes, cookies)
Fabric (6 yards premium fabric such as Aso-Oke, Lace, Hollandais ankara, Woodin, Guinea Brocade, Adire, HiTarget ankara, etc.)
Personal Care Set in a box (including some or all or some of these: bath soap, lotion, body butter, lip balm, scented candle, hand sanitizers, mini perfumes, body spray, sheet masks)
Hair Grooming set in a box (hair oil, beard oil, essential oil)
Luxury Business Card Holder set in a box, containing a keyholder and ballpoint Pen
Luxury planner with diary
Luxury Journal with Pen gift set in a box
Gift box with a mug, a tassel keyholder and notebook
Box of assorted brand-name chocolates and mints
Box of wine
Leather-bound Diary
Table mats, drink coasters and table napkins enclosed in a gift box
Luxury Water Bottle
Pressing Irons
Luxury serving trays
Plates rack/ drainer
Mobile Power Bank
Knife sharpeners
Leather wallets
Set of breakable flat plates
Box of body sprays and perfumes
A pricey perfume
Set of towels (including face and body towels)
Set of quality kitchen towels
Wooden spoons set (for cooking)
Wellness Box containing a Humidifier and Fragrance Oils or essential oils
Jewelry box
A piece of nice jewelry, such as a wristwatch, a set of earrings, a bracelet, beaded necklace and/ or bracelet beaded, or a jewelry set
Scented candles
Box of assorted seasoning and spices
Wedding Expenses List: Things to Buy When Preparing for Nigerian Wedding
Edible/ Food Wedding Souvenir Ideas
Pack of Cupcakes or a box of cupcakes
Pack of Donuts.
A box of Popcorn – obviously you can customize it with a label that reflects your wedding. You may also skip the box and have them nicely wrapped or packaged.
A box of mini Pizza for each guest
A pack of Chin Chin or coated peanuts. Even better if you pack them in creative containers or food boxes (similar to pizza-boxes). Thanks to one of my readers, Christiana O., for this Souvenir idea.
Champagne or Wine in a box. If you can find the champagnes that come in mini bottles, that would save you some cost. You can attach to each bottle a customized label that displays your names and your wedding date
 A mini basket of Sweet Treats such as cupcakes, chocolate bars, biscuits, mini donuts, sweets – wrapped like Christmas hampers.
Wedding cake slices in a box – put slices of your wedding cake in cute, small boxes and give out to each wedding guest as a souvenir. To save cost, you can buy your normal fancy wedding cake for display, and then buy a separate, cheaper undecorated plain cake for this, and have slices cut out and pre-packaged for guests as your wedding souvenir.
40 Kitchen Wedding Gifts Every Nigerian Couple Will Love (and Actually Use)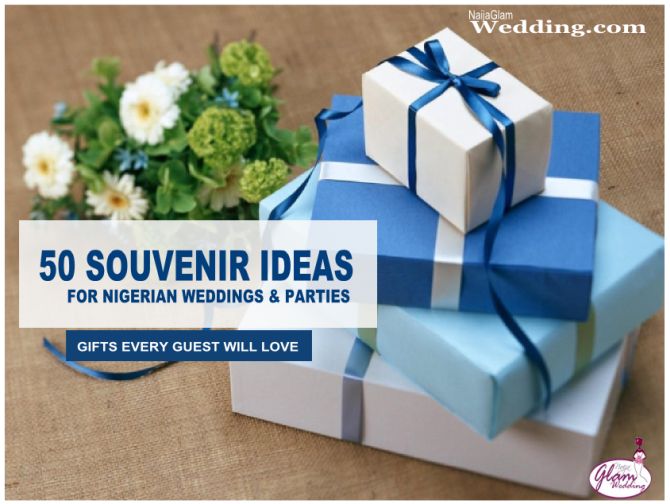 Ideas to Make Your Souvenirs Feel Even More Special
Brand Your Souvenirs: Customize and brand your souvenirs to make them personal and memorable. Generally, putting a branding on your souvenirs makes you unforgettable to your guests – they'll remember your wedding or party every time they see that souvenir. Printing your event branding on your souvenir reminds guests of where they were gifted the souvenir, names of the celebrants, the date and/ place of the occasion. For example, you can print your names and wedding date on the souvenir. There are many Nigerian printing shops that do printing on objects and gifts.
Special Packaging: Pack your souvenirs in paper boxes or drawstring gift pouches (in satin or organza). You can ask professional printers for samples of printed packing boxes you can buy to make your souvenirs look and feel more special to your guests.
Wedding Expenses List: Things to Buy When Preparing for Nigerian Wedding
See Real Wedding Budgets Breakdown: Samples From 6 Weddings in Nigeria
For many couples, budgeting for the souvenirs is not a top priority, and some couples wait until the major wedding expenses are taken care of to determine how much is left for souvenirs. If Souvenirs are important to you, know that weddings with fewer guests can easily find extra cash to splurge on Souvenirs, and even have some more to customize the souvenir items.
You can ask around for people or companies that offer gift packaging services – ask from gift shops and shops that sell hampers. You can even throw the question open on your social media page, for anyone that knows someone that offers gifts packaging.
If you choose to give personal care items in your souvenirs, an idea is to source for local makers of bath soaps, body butters, lotions and scented candles in your city or on Instagram or Facebook. They can make smaller sizes and pack them in cute customized boxes or drawstring bags. You can have the soaps and lotions stamped with your wedding date and names, to make them even more memorable. It's different and your guests will love them.
Different Colours and their Colour Combinations for Nigerian Weddings (LISTS)
What is a Souvenir?
A souvenir, also known as party/ wedding favour, is a gift that an event host gives to guests as a token of appreciation for showing up, and also to help them (the guests) remember they attended your party, wedding, or burial ceremony of your loved one..
Put in another way, a Souvenir is a gift you receive (from the host) for attending their wedding or party. Souvenir usually have the name or the party or wedding host printed on them.
Does 'Souvenir' mean the same thing as 'Party Favour'?
Yes, what is known as 'Souvenirs' in some countries is known as 'Favours' in other countries. The term 'Wedding/ Party Souvenir' is used in Nigeria. The British and Americans call them 'Wedding/ Party Favours' – with the obvious spelling difference of the letter 'U' omitted by Americans (hence, theirs is: Favors).
You'll usually hear people say things like: wedding favours, wedding souvenirs, party favours, party souvenirs. They all mean the same thing – souvenirs.
HELPFUL WEDDING PLANNING GUIDES
Conclusion: Best Souvenir Ideas for a Special Occasion in Nigeria
Whether you're planning a wedding, naming ceremony, wedding anniversary, birthday party or burial/ funeral, you can't go wrong with our picks of souvenirs ideas (above) to gift to guests. The above example souvenirs check our boxes of 'unique and useful', and your guests will love them.
Now tell me – which of the souvenir ideas above is your favourite? Is there a souvenir type I forgot to mention? Tell me about it in the comments down below.