6. Bridesmaid Dresses Similar to Bride's Wedding Gown
Whoever said that brides should not twin with their girls? Well, today's brides are breaking that rule and having their bridesmaids wear similar styles dress with them. The photos above show the two different ways we see this latest bridesmaid fashion trend being pulled off in Nigeria – one, in which the bridesmaids wear a similar dress with the bride, but a different colour.
The second way is where the bridesmaids wear a similar dress to the bride, also in the same colour. – but the bride's dress is differentiated by some detailing such as a different neckline styles or different sleeves.
7. Bridesmaid Dresses with Headpieces (Fascinator Hats)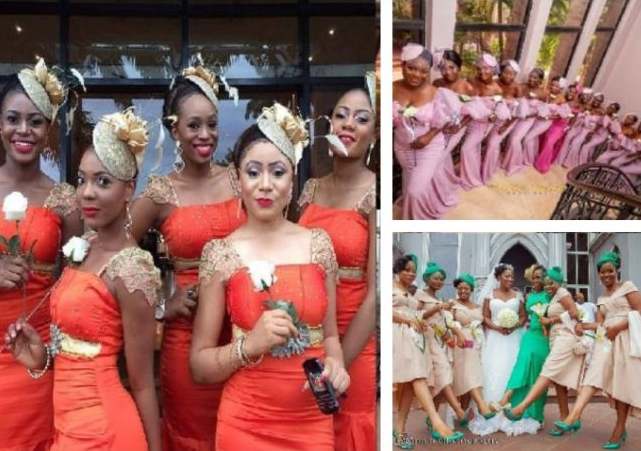 This one has been in the trend for quite some time and doesn't look like it's going anywhere soon. Some brides choose a subtle variation of this trend, which is to have the girls wear a simple but metallic, shiny hairpiece. Brides who like a bolder look, opt to have their bridesmaids wear a hat or little headpiece.
The photos above are examples of ways you can pull off this bridesmaid dress trend. To make this trend work, you should either have your girls wear the same colour of headpiece or hairpiece as their dress or make their fascinator hats the same colour.