Planning an one million Naira (N1m) wedding in Nigeria and have no clue where to begin? Looking at other people's N1m wedding budget breakdown is a great way to get ideas flowing in your head. In this post, I'll show you a sample wedding budget. Hopefully, it will inspire you and get you started.
You'll get to see exactly how this couple spent their N1m budget. From how much they spent on wedding venue, food and drinks, their outfits and vendors – you'll see their entire expense breakdown. Now, swipe or scroll down to check it out!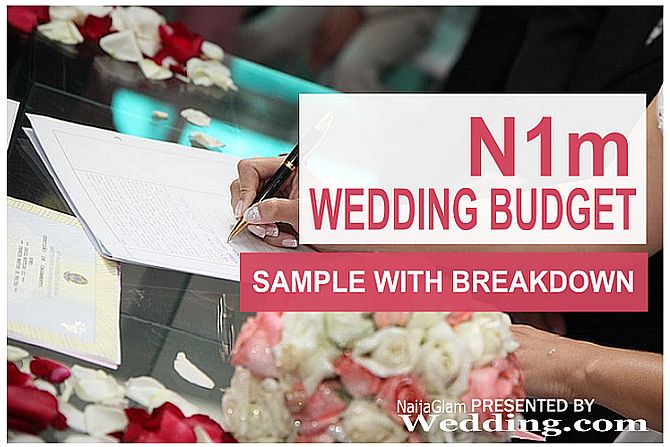 Number of Guests invited: 75  |  Total amount spent: N920,400.00 (i.e. nearly N1 million Naira)  |  Type of Venue: Indoor reception hall
SUMMARY OF EXPENSES in Naira (see their wedding budget breakdown below)
Bride and Groom –     N194,500.00
Stationery and Souvenirs –     N60,000.00
Venue and Decoration –     N175,000.00
Food and Drinks –     N202,500.00
Entertainment and Visuals –     N135,000.00
Miscellaneous (other things) –  N153,400.00
DETAILS OF WEDDING EXPENSES (N1 MILLION NAIRA SAMPLE)
Bride & Groom's Wedding Things

New wedding gown purchase – N55,000.00
Bride's shoes – N7,500.00
Bridal Accessories: bouquet, veil, headpiece; earrings, necklace etc – N10,000.00
Bridal beauty: Hair/ Nails/ Makeup  – N15,000.00
Wedding rings (bride + groom) – GL/ gold-plated  or Gold wedding ring – N50,000.00
Groom's Shoes  – N25,000.00
Groom's wedding suit – N15,000.00
Groom's Accessories (e.g cuff links, belt, flower boutonniere /pocket handkerchief) – N15,000.00
Groom's Grooming (e.g haircut, beard shaving)  – N2,000.00
Stationery & Souvenirs
Invitation cards & program printing – N15,000.00
Souvenirs to gift guests  – N45,000.00
Venue & Decoration (for Reception) – an indoor reception hall
Venue hire (incl. necessary rentals such as canopy tents, chairs) –  N150,000.00
Decoration: venue, bride n Groom's cars, venue décor – N25,000.00
Reception Food & Drinks 
Wedding Cake (assuming N300/ guest count) – N22,500.00
Food (Assuming (N2000/ head)   – N150,000.00
Drinks/ Water (Assume: N400/ head)   – N30,000.00
Reception Entertainment & Visuals  
Photography &/or Videography  – N100,000.00
Master of Ceremony (MC)  – N10,000.00
DJ only (No Music Band)   – N25,000.00
Miscellaneous Expenses – N153,400.00
According to one of our married readers (ZainMum), an example of what to include in the miscellaneous section are expenses for family members (outfit for bride and groom's parents, siblings outfits, transportation and more). This is something that most Nigerians do, as a kind of wedding gift to their family members).
Wedding Expenses List: Things to Buy When Preparing for Nigerian Wedding
See Real Wedding Budgets Breakdown: Samples From 6 Weddings in Nigeria
60 Souvenir Ideas for Nigerian Weddings and All Other Occasions
UPDATE: The initial sample budget on this page was a One Million Naira (N1m) wedding that had 150 guests. Today, it is no longer feasible to host that number of guests at that cost, given the high increase in cost of everything, and so the sample wedding budget above has been updated to reflect the current reality.
Disclaimer and Important Notes When Using This Wedding Budget Break-down Sample
Disclaimer: This wedding budget example is only a guide, and so I expect you to customize, reduce from it or add to it, it to suit your particular situation. Understand that prices of listed items may have changed, from the time this wedding was held – so confirm from your local market.
NOTE: The above sample wedding budgets is of a wedding event that held in Nigeria, and so prices reflect Nigerian market prices for low- and mid-income neighbourhoods, and so prices of items should be higher for weddings located in high-brow cities of the country, such as Maitama or Wuse 2 in Abuja or Lagos Island.
These budgets exclude wedding planning services, not because they are unnecessary, but because this article is especially for those of our blog readers who are using the help of their family and friends in place of a wedding planner. We highly recommend using a wedding planner if you're very busy and don't have helpers around. So, please add the cost of a wedding planner to your budget, if you want it.
Helpful Wedding Budget Planning Guides
Your 1 Million Naira (N1m) Wedding Budget
So, people, that's an example of how to plan your wedding with one million Naira (N1m) in Nigeria. Now that you've seen what it looks like, go and prepare your own budget using ideas from this post – I expect you to modify things to suit your style.
Now, I'd like to hear from you. If you've already made your budget or had a N1m budget, how was it similar or different from the featured sample breakdown? If you're using our sample N1m wedding budget, what are you changing or removing? Comment down below to tell me.