Are you looking for the latest Niger-Delta traditional wedding styles to rock your traditional engagement? We've got you covered with over 100 inspirational pictures – every Niger-Delta tribe is covered. In this post, we have curated over 100 assorted Niger-Delta traditional marriage wears that fashionable real brides and grooms are wearing – including Ishan/ Itsekiri/ urhobo/ Isoko traditional dressing, Ikwerre and Delta-Ibo traditional bridal styles as well as styles from other  tribes such as Bayelsa, Rivers, Cross River and other Niger-Delta states. Play the video slideshow below to see photos of the Nigeri-Delta traditional marriage styles.
Typical Niger-Delta Traditional Wear
I love my Niger-Delta people – dem no dey carry last for fashion. Their native wear is too fab, and they're very proud of their heritage. At any traditional engagement event, you'll see them all glammed up in wrappers and double gele with gorgeous Niger-Delta blouses, while some are dolled up in red coral beads and beaded head-crowns.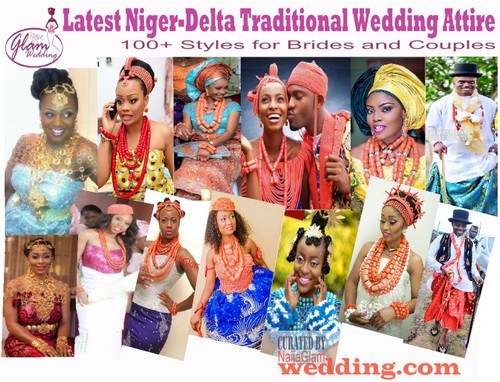 And, the Niger-Delta men are not left out – grooms are usually clothed like a royal, in wrappers or trousers, Niger-Delta style of men's shirts and hat (similar to President Jonathan's style). And, they usually complete the look with a costume walking stick.  I love the looks in the above video.
How Our Niger-Delta Lookbook of Traditional Wedding Attire Can Help You
If you're a Niger-Delta woman planning for your traditional marriage, or you're from elsewhere and about to marry a Niger-Delta man, you will agree that it can be hard to decide what to wear, and what colours to combine.
That's where the above pictures come in – they will help you decide and choose the best style and colour of coral beads and outfits to wear.
Shopping for Niger-Delta Traditional Wear Is Now Easier
Hopefully, after seeing those pictures, you won't be flying blind about what to wear (as a bride or geoom) to your Niger-Delta traditional marriage – you have over 100 pictures to inspire any style-savvy bride or groom. Be sure to re-watch the above video slideshow a few times again, and use your favourite styles to go shopping – just show them the picture of the look you want to achieve.
SEE also: How to Tie Double Wrapper – the Igbo and Niger-Delta Style
Have Wedding Pictures You Want Us to See and Publish?
We love wedding pictures – too much. And, if you're like us and want to post a Nigerian wedding photo for us to see, click here to post it on our 'Wedding Pictures' Facebook group (click here) – join us FREE, it's a fun place.
RELATED: 100 Latest Bead Styles for Traditional Wedding
So, that's it from us on the in-vogue traditional wedding wears from Niger-Delta people. Hope you enjoyed this post. Let me hear what you think in the comments area down below.