Lace blouse over double-wrapper attire is the cultural fashion identity of women of Eastern Nigeria (not only Igbo women), especially married women and middle-aged and older women; also worn by brides during their traditional wedding ceremony.  If you're looking for ideas on the latest lace blouse styles to sew for an occasion, scroll or swipe down to see over 100 beautiful madam-style Igbo-style lace blouses you can wear with double-layered wrapper outfits.  Now, play the video below to see the Nigerian lace blouse styles pictures gallery:
The featured lace blouses featured in this post are traditionally worn with george wrappers, abada' (i.e. wax prints, hollandais/ dutch wax, ABC English wax), vlisco hollandais,  super wax, hitarget, etc.).  What sets any double-wrapper attire apart is the style of the lace blouse, and so even a cheap wrapper can look expensive with a nice style of lace blouse and am expensive wrapper can look cheap with a mediocre blouse. Hopefully, the styles in this post will help you elevate your lace blouse wrapper and two-wrapper attire game.
Switch Up Your Style With New Lace Blouses for Your Double Wrapper Attires
Blouse and wrappers are a fashion staple of older and married women in Nigeria.  They are occasionally worn by younger women, especially brides on their traditional engagement ceremony.  For women from the eastern part of Nigeria (Igbo, Urhobo, and entire Niger Delta region), their traditional mode of dressing is tying two wrappers (layered on each other) and finishing the attire with a lace blouse.
If you're an Igbo bride-to-be whose Igba Nkwu (traditional engagement ceremony) is coming up soon or planning for the annual August meeting, you want your madam-blouse style to be gorgeous and different.  If you're a married woman, you want a new style of blouse that none of your meeting women has – something new, different and smells utterly elegant. That's why we curated over 100 Igbo women attire for you.
It's that time of the year when Nigerian weddings take place almost every day, and (almost) all a woman thinks about is the latest fabrics in town, the latest wrapper designs and the "reigning" styles for every kind of women fashion, from blouses to skirts-and-blouses, to aso-oke designs and aso-ebi styles.
MORE WOMEN FASHION & STYLE IDEAS:
About Madam Lace Blouses that Igbo and Eastern Nigerian Women Wear to Traditional Occasions
The Igbo women blouses are usually sewn of lace and ankara/wax fabrics. The lace blouses are mostly (but not always) worn during the occasion, and usually finished with a well-tied big Ichafu scarf/ headtie and a bead necklace or nice gold necklace.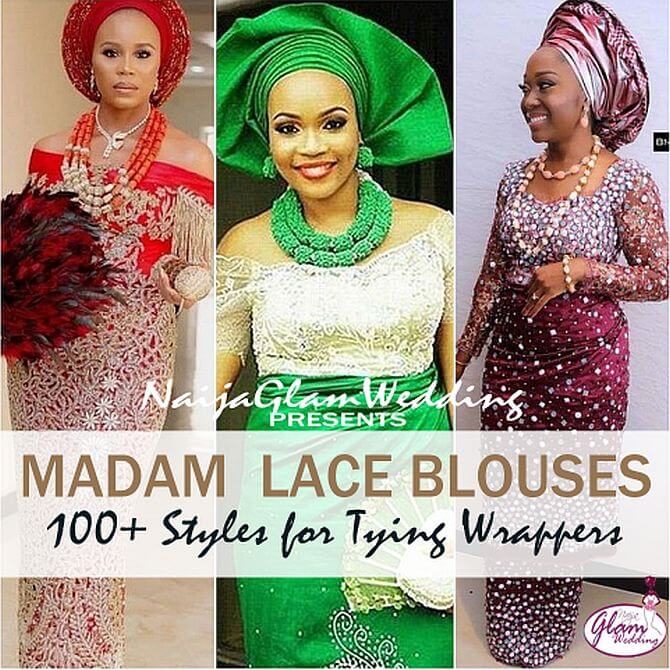 The traditional attire/ dressing of the women of Eastern Nigeria is double-tied-wrapper on a lace blouse.  The two-wrapper attire is an everyday-wear for the women of Eastern and Niger-Delta part of Nigeria, which includes the Igbo women, and women of other East and South-South states and tribes including Delta state, Edo state, Rivers state, Urhobo women Ishekiri women, Isoko women, and others.
You also see this 'Igbo style' blouses worn by women of North-Central Nigerian states such as Kaduna, Niger state, Adamawa state, etc. – they also wear the blouse styles on double-layered wrappers. These styles of blouses are sometimes also called 'African blouses for wrappers', likely because it is also one of the traditional women's fashion of other African countries (especially West Africans).
Honestly, I don't know why people call it 'Igbo blouses', because the blouse and wrapper style of traditional wear is worn by women of other Nigerian tribes, aside from the Igbos. Well, that's how some things are – the 'Igbo blouse' has become a sort of general name for these styles and designs of women blouses – even though other people wear them.
CELEBRITY WEDDING GUEST DRESSES YOU SHOULD SEE:
Enjoy Dressing Up in Trendy Madam Blouses!
So, now that you've seen over 100 trending blouse styles, your next step is to buy some lace blouse materials, come back to this post and show your favourite style to your tailor so that s/he can sew a new blouse style for you to show off at your next women's meeting or another occasion.  Also, help us share this post with your friends on social media.  e blouse.
Thanks for reading. If you enjoyed this article and want us to write more stuff like this, leave me a comment down below to tell me the Igbo blouse style you liked best, from that video above.