Looking for the latest lace styles and designs perfect for occasion dressing? We've got the goods, including lace gowns and two-piece lace skirt and blouse outfits spotted on Nigerian fashionistas and some of our fave celebs at weddings. Scroll down to see all the styles. This post is divided into two parts, with PART A featuring the trending celebrity lace dresses and the PART B featuring 100 assorted lace styles for women, including pictures of the beautiful skirt and blouse lace styles as well as lace gowns. Now, let's get into the styles image gallery:
PART A

: 8 Celebrity Lace Aso-Ebi Styles for Nigerian Wedding Guests
It's no secret that the most stylish women look to the most fashionable celebs for ideas of what to wear to weddings and events.  Our readers are no different, they love to copy the best celeb looks spotted at big Nigerian weddings, and make sure to bring it to them.  Since we're talking about the latest lace styles for Nigerian women, here are our top picks of beautiful lace dresses your favourite female celebrities wore to weddings and special events. Here you go with photos of the trending lace styles (make sure to also see PART B, down below, featuring a gallery of 100 assorted styles – lace skirt and blouse, and lace gowns):
1. Bonang Matheba Looks Regal in this Burgundy Lace Skater Dress with 3/4 Sleeves, finishing her look with a cute, Rose Auto-Gele AND Toke Stuns in a Black, Fitted Lace Maxi Gown with Dramatic Bell Sleeves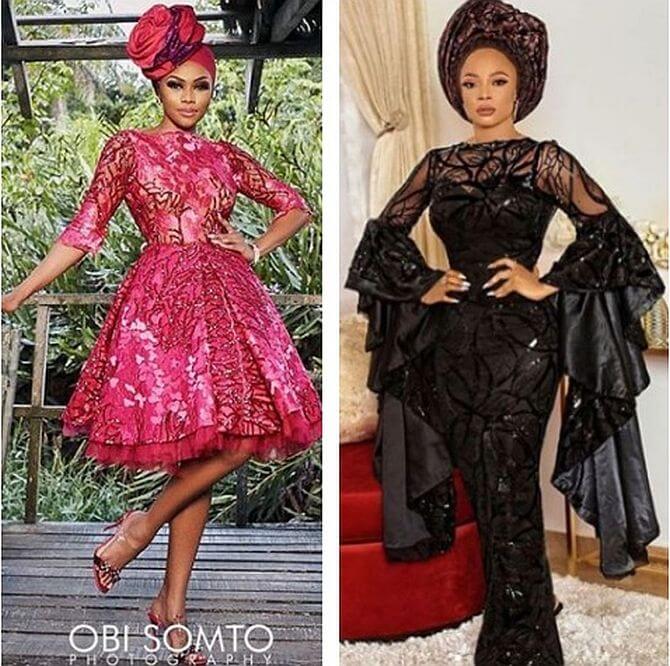 2. Off-Shoulder Maxi Lace Dress with Thigh-High Split (left) AND Off-Shoulder Lace Pencil Gown with Twisted Fan Gele (right)
3. Turquoise and Black Lace Dress with Asymmetric Neckline (left) AND One-Shoulder Pink and Black Lace Aso-ebi Long Gown with Side-Split (right)
4. Mimi Onalaja in a Blue, Patterned Lace Aso-ebi Gown with Chiffon Puff Sleeves | Hot Pink Fitted Maxi Gown with Asymmetric One-Shoulder  Sleeves
MORE WEDDING GUEST STYLES & GELE:
PART B

: 100 More Lace Styles (incl. Skirt and Blouse Gown Lace Styles
In this section, you'll get to see an image gallery of up to 100 different lace styles spotted on stylish Nigerian women and celebs.  If you're looking for trending lace outfit style ideas to sew for your wedding guest or bride's traditional wedding attire, find below a gallery of over 100 beautiful and latest lace styles and designs spotted on some of the most fashionable Nigerian women and celebrities.
The featured trending lace styles below are perfect ideas for Nigerian wedding guests.  In the styles gallery, you'll find sewing-styles of the latest french lace, bling sequined lace, in-vogue cord lace/ guipure and many other types of current lace fabrics in the Nigerian market.  Also included are pictures of assorted lace aso-ebi styles, iro and buba lace styles, ankara and lace combination, skirt and blouse lace styles, long and short gowns in lace fabric, and lots more.  Play the video below to see the 100 assorted lace styles for women.
About the Lace Materials in Nigerian Women Aso-ebi Fashion
In Nigeria, lace fabrics are not only for tablecloths and curtains, but they are also a premium clothing material for sewing special-occasion-outfits. Outside Nigeria and Africa, most people know lace as the fabric used to sew curtains and tablecloths, and as lace trimmings on lingerie and fancy dresses. Other popular uses of lace by non-Africans include wedding dresses and some occasion wears. The case is different here, Nigerian women often wear dresses made only with lace material.  Lace is a staple fabric for wedding and occasion-wears and many native-style wears such as Iro and Buba, and Bubu flowing gowns.
Up Your Glam With Lace Occasion-Dresses
Lace is also a bestie for Nigerian brides-to-be (and grooms too). If you're preparing for your wedding, the above lace styles are great ideas for the second or third traditional wedding attire. Some of those lace gown styles pictures will make a great reception dress for your white wedding.
EVEN MORE WEDDING GUEST STYLES:
What's Your Favourite Lace Aso-Ebi Style?
Lace is a very interesting fabric, with loads of design and texture options, from guipure/ cord lace to paper lace, net lace and more. Even more interesting is how talented Nigerian tailors and designers create unique, beautiful pieces from even the sheerest/ lightest lace material.
That's it on the latest lace aso-ebi styles for Nigerian wedding guests. Since dress styles change and evolve, we'll try to keep this page fresh by updating with the latest lace style trends in Nigeria, so be sure to check from time to time.  If you like the outfit styles in this post, please help us share it on social media, so that more people can also see them. Tell your friends too.
So, that's it from us on the latest lace styles that are trending in Nigerian fashion. I hope you liked them? If so, please share this post with your friends – Facebook it/ tweet it/ Instagram it/ Pinterest it/ email it
Before you go, I want to hear from you. Leave me a comment down below to tell me, which of the above pictures of Nigerian lace styles and designs is your favourite?