History and Meaning of Aso-ebi
Have you ever wondered where and how did this aso-ebi wedding fashion for guests even start? Here goes… Aso-ebi (pronounced "ar-shaw-aybee"),  is a social culture that originated from the Yoruba people of South-West Nigeria. By direct translation, aso-ebi means "uniform, solidarity outfit of the family".  And, it used to be just that – reserved for the family. An aso-ebi is a uniform outfit worn by family members of a celebrant during an occasion, and it is a way for guests to easily identify the relatives of a celebrant.
So, you can say that aso-ebi is a kind of guests' 'identity card' (literally) at occasions. Wearing one was not only for fashion; it was firstly symbolic.  The wearing of aso-ebi is a gesture to signify their support and solidarity to the person who is celebrating. It is usually in the form of a piece of fabris and a Glee scarf (for women) or cap (for men).
In the olden days, the main aso-ebi fabric were handwoven traditional fabric, asooke. Today, the aso-oke is one of the oldest Nigerian indigenous fabrics that is still widely worn in and outside Nigeria. The aso-ebi culture is largely responsible for the continuity, spread and innovation of the Yoruba aso-oke  and tie-and-dye handmade fabrics. Today, you can find wedding guests wearing aso-ebi in diverse fabrics – there are the lace aso-ebi, ankara aso-ebi and more.
Wedding Aso-ebi Styles, Colours and Designs
In the old Yoruba culture, while planning her wedding, a bride would choose the aso-ebi (colours, fabric, patterns/ designs and Gele headtie and caps) she wants her wedding guests to wear. Then she purchases several quantities of the aso-ebi, resells them to her guests, with a small profit on top to enable her raise extra money for her upcoming wedding. Out of this money, she also buys 'thank you' gifts for each person that purchases her aso-ebi.
The gesture of purchasing someone's aso-ebi fabric and showing up to their wedding in an aso-ebi attire, a guest is showing his/ her honour, solidarity and support to the celebrant (bride/ groom). Everyone who buys is expected to find a tailor to sew the material into an outfit. Sometimes, the celebrant (bride or groom) would specify a uniform design or style (or dress code) that s/he wants close friends to make.
Men are not left out in the aso-ebi trend. Men also select the aso-ebi fabrics that they want their family and friends to be identified with, at their wedding.
How Aso-ebi Makes Weddings More Colourful
In a Nigerian wedding, you can easily spot the bride's girlfriends (ore iyawo, in Yoruba language) from their uniform, coordinated aso-ebi dresses and Gele head-wraps, and sometimes in a uniform beaded necklace. The groom's friends are not left out – they also wear their aso-ebi outfits in a uniformed colour, style and design. Other types of guests that can be spotted from their aso-ebi colours or fabric pattern designs include the groom's family and friends, the bride's family, bride/ groom's parents' friends and colleagues.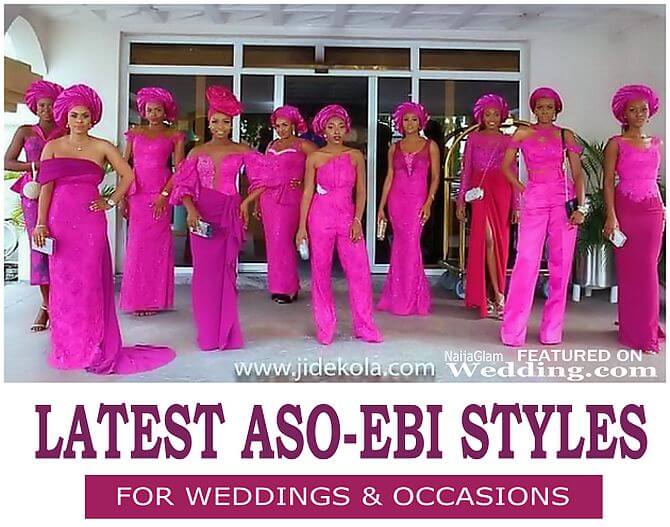 Here's an example of how a couple may use aso-ebi colour themes to identify guests at their traditional wedding: the bride's family may wear red fabric with gold Gele headtie, the groom's family may wear blue asoebi fabrics with silver headtie; the groom's friends may wear white aso-ebi outfits with blue caps (called 'fila' in Yoruba language) or scarfs, and the bride's friends may wear yellow dresses with white headties.
For wedding guests, there's the desire to look different in the sea of sameness. Every wedding guest strives to be the best-dressed guest, look absolutely 'hot' and totally dressed up to "kill". So, the female guests (especially) are often searching the pages of ovation magazine, complete fashion, 'bella naija', Instagram and Nigerian movies for the latest aso-ebi styles to give their tailors.
The end result? Aso-ebi guest attire can transform any ordinary wedding from dull to unique and colourful, and the pictures always come out nothing short of glamorous.
Why Nigerian Wedding Guests Love the Aso-ebi Idea
Dressing up in a wedding aso-ebi gives wedding guests a sense of belonging and close relationship to the celebrant.  So, an aso-ebi guest is a special guest and the pride of the celebrant. If the celebrant is rich and famous, many sociable wedding guests are happy to show up in the celebrant's chosen aso-ebi. These days, it's common to see wedding guests posting photos of themselves wearing an aso-ebi for a wedding they recently attended.
How the Aso-ebi Culture Has Changed & Spread Over Time
The wearing of a uniformed fabric is not only for weddings, but also extends to any other kind of event, including naming ceremonies, burial/ funerals, political events and more.
Everyone loves the colour and glamour that aso-ebi brings to any event, and so this culture has fast become practised by people of other Nigerian tribes – the Igbos, the Hausas, the Efik, literally all Nigerians. Even peoples of other culture, Africa and beyond, are buying into the aso-ebi culture. Even the Obama presidential campaign had an aso-ebi, similar fabric like that which Nigerian politicians make.
Today, aso-ebi is no longer reserved for family members of a celebrant; it is now worn by members of social groups (religion, clubs, political parties, friends, office colleagues, classmates etc.) during an event. The aso-ebi culture has since spread across the other parts of Nigeria, Africa and beyond. Today, aso-ebi is part of the Nigerian culture and identity and you'll see groups of people wearing aso ebi attire at many Nigerian events and parties, even burials, birthdays and naming ceremonies.
Why We Hate to Love the Aso-ebi Trend
While we all love the aso-ebi trend, there's the ugly side of the modernized and changing aso-ebi trend that many wedding guests hate. In spite of the cash crunch in the country, every weekend is a time to behold women (and men too) dressed to weddings in stylish aso-ebi outfits.
We are seeing brides choosing expensive aso-ebi fabrics as the wedding dress code for their families and close friends. We see some costing tens of thousands of naira, even hundreds of thousands of naira.  For society wedding guests, the problem is that it's hard to wear an aso-ebi again after one wedding because 'everyone' already knows that dress as 'a uniform' (a stigma). So, women are borrowing to 'meet up'.
<<PREVIOUS |  >>Next Page